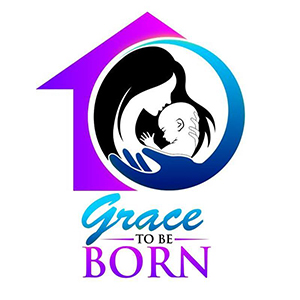 Love and Care for the Unborn
Together with other young pregnant and unwed women caught in dysfunctional relationships and contemplating abortion, have found shelter in Grace to Be Born.
Grace to Be Born Maternity Home and Nursery, is a halfway house established
in 2009 by Basti and Betty Roxas-Chua. This place serves as a temporary shelter
for pregnant unwed mothers and an orphanage for the children there.
Objectives/Goals
We want that the pregnant girls/women in crises and the infants achieve the following while they are admitted in the home:
      Pregnant girls/ women in crisis
To be able for them to experience a wholesome physical, psychological and spiritual ambiance and services.
To be able to empower them to deal with their crisis situation
To be able for them to arrive at realistic and attainable decision concerning the care and development of the baby at birth and the succeeding years of the child.
      Child Care:
To be able to provide a temporary shelter for the newborn babies while their mothers are recuperating.
To be able to provide the material and medical needs of the newborn babies while temporarily staying in the shelter until their mothers return for them.
To be able to facilitate surrendered and abandoned child for the Certification on the Declaration that the Child is Legally Available for Adoption.
History
 Statistics from Pro-Life Philippines headed by Sr. Pilar Verzosa and former Manila Mayor Lito Atienza show there are more than 300,000 unwanted pregnancies every year in the Philippines, many resulting in abortion. In the USA alone, more than a million babies are murdered every year due to legalized abortion.
A study in 2006 showed that 800 Filipina women die each year due to abortion complications.  Compared to adult women who commit abortion, adolescents who abort are 2 to 4 times more likely to commit suicide, develop psychological problems, and 3 times more likely to be admitted to a mental hospital.
In July 2008 the couple Rey and Myrna Ortega went on a pilgrimage to Our Lady of Guadalupe Shrine in Mexico City. One of the things they learned there was that our Lady of Guadalupe was the Patroness of the Unborn.  After they arrived from that pilgrimage, by a strange coincidence, Bro. Bo Sanchez, a Catholic lay preacher, delivered a passionate talk in Valle Verde about abortion. The next day, Rey sent him an email about his dream to have services in order to stop abortion.  Bo answered back, and after a few weeks of texting and emails, they agreed to organize a new ministry. However they had no building and no money to start a new ministry.
On November 19, 2008 Rey was asked by Bro. Bo to proxy for him at the Rosary for Life  Movement to give a talk during their prayer meeting in Makati. Betty Roxas Chua, the organizer of that prayer meeting and foundr of Rosary for Life Movement  called Rey the following day and offered to allow Bo and him to use her building in Pasig indefinitely, free of rent.
Bo began to organize a core group of like-minded individuals to form a Board of Trustees of this new ministry. Bo Sanchez, Betty Roxas Chua, Ditas Espanol, Doris Lee and Rey Ortega composed the first Board.
They named this new pro-life ministry – GRACE TO BE BORN, a maternity home. It came to life on May 8, 2009 with the opening the door of the building to pregnant  girls  and women in crisis, unborn and newly born babies.
A Holy Mass presided by Rev. Fr. Roy Rosales of the Immaculate Conception Cathedral, a Parish in the Diocese of Pasig, preceded the ribbon-cutting ceremonies that formally opened the shelter located at 53 Dr. Sixto Antonio Avenue, Kapasigan, Pasig City.  This GRACE home has a capacity for 20 pregnant women  and a dozen babies. The ministry is duly registered in the Department Securities and Exchange Commission, Department of Social Welfare and Development, BIR and Mayor's Office.
Grace to be Born ministers to pregnant girls/ women in crisis, the unborn and newborn babies.  Helping interventions focus on making these girls/women and the babies feel the love of Jesus for them despite their circumstances in life and help them realize that as God does not condemn these girls/ women, neither do we. "Do not judge others, and God will not judge you; do not condemn others, and God will no condemn you."   (Luke 6:37)
ADDRESS
53 Dr. Sixto Antonio Ave., Bgy. Kapasigan, Pasig City 1600
Contact
Landline – (+63) 2 654 1377
Mobile – Ester – (+63) 932 8880780
Joy – (+63) 932 8880781
Email
gtbbofficial15@gmail.com
Accepts Donations Thru Bank
Shepherd's Voice Radio & Television Foundation, Inc.
Banco De Oro C/A # 3970019804
Banco De Oro S/A # 160506123
Volunteer
Your presence is one of the best gifts you can give our mercy ministries.
Schedule a visit to a KFAM ministry today.
Sign up
Vision
We are a Catholic community upholding the sanctity of human life through defending, protecting and nurturing the unborn babies from the moment of conception until their birth.
Mission
Our mission is to express the infinite compassion of God, the Author of Life, by bringing girls and women in crisis pregnancy to experience a taste of God's loving care by providing them with confidential and wholistic services to be able to bring their unborn babies to birth successfully, joyfully and lovingly.
Pag-Asa ng Pamilya
admin
2021-10-02T20:11:11+08:00
Grace to be Born
admin
2021-07-17T11:37:53+08:00
Jesus Christ Cares For Cancer, Inc.
admin
2021-11-16T18:07:27+08:00