GRACE TO BE BORN PART 3 God's Love Defined By ANNALYN OJERO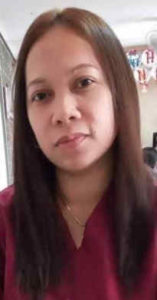 GOD'S LOVE has many meanings. I found a clear, good meaning in Grace To Be Born, our shelter for pregnant women in crisis and an orphanage for children.
The women have various stories— why they are in Grace. But a common point is that every woman is here to give her baby, yes, the grace to be born.
I've been blessed to be a caregiver in Grace. Yes,
I take care of the young women — attend to their daily needs, especially making sure they undergo healthcare procedures so that they are strong enough come their labor and eventually delivery time.
What's important is just to be there beside them, lend a caring, listening ear when they need to talk— unburden pains of the past, and anxieties over an uncertain future.
The best is praying together with them— for indeed, what can really heal them is knowing and truly experiencing God's Love.
I know— because I myself am a living testimony that God's Love overflows through this Ministry.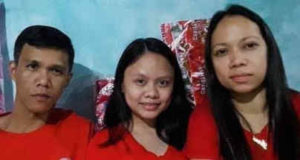 Family Time
Grace To Be Born has been a key to my own healing from a not-so-easy life. I grew up in a household that could hardly make ends meet. I finished high school at Rizal Experimental Station and Pilot School of Cottage Industries, Pasig. I didn't get the chance to go to college.
Now, I have a little and simple family. My husband Jomon, whom I've known since high school, is an electronic technician. We got married in 2006, we have a daughter, Aira Jade, now 11 years old.
We live in Tanay, Rizal, but since I am working in Grace, I go home to Tanay only Saturdays.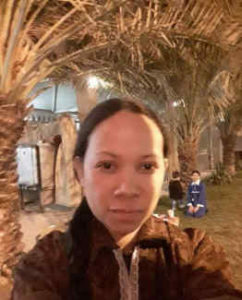 Saudi Stint
Before I got employed at Grace, I worked overseas. Starting in 2013, I served as a domestic helper in Riyadh, Saudi Arabia.
I struggled through this tough job for six years.
At left, here's a selfie I took when I was in Saudi.
Before long, I realized Aira, already growing up, needed me to take care of her. I felt I was missing out on the days that
I should be with her and my husband.
So, in 2019, I decided to go back to the Philippines.
Facebook Grace

Yes, there's grace in Facebook. Also in 2019, while browsing some Facebook posts,
I got to see the account of Grace To Be Born.
Taking a chance, I sent a message asking if they were hiring.
I was told what they needed were volunteer caregivers for the mothers and the children. So, I volunteered.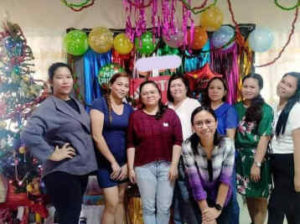 Eventually, in 2020, Grace hired me as a regular employee.
Serving in this Ministry, I've learned to appreciate whatever
I have— even amid the struggles in my life.
I feel inexplicable joy taking care of the children. I've learned to love them— even if they are not my own. We Grace servants may be the only ones available to support them.
As I pray with the mothers, to help them be close to the Lord,
I actually also get closer to Him.
Like the women I am helping, I get
to know Him more— how much He loves me.
Also, I've found a second family here among my co-servants. Above, here we are one Christmas party, from left: Rochelle Del Monte, Enrallyn Orbong, Mary Joy Reyes, our Executive Director Ester Palacio, Gloria Christina Sampang (forefront), yours truly, Jinky Tubonglupa, and Melody Dela Hente.
I can go on and on about blessings that I enjoy since I've been serving in Grace.
Let me just summarize them in two words: God's Love.