GRACE TO BE BORN YEAR 14 PART 4 Alternatives to Abortion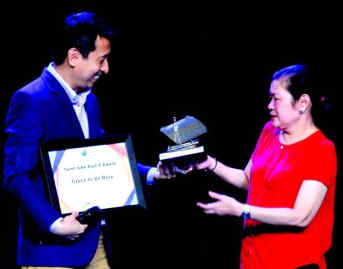 ON June 8, 2019, Grace To Be Born won the Saint John Paul II Award, a special grant of the Catholic New Evangelization Award.
As we shared in an article in Woman Today, Grace To Be Born received the Saint John Paul II trophy and a certificate which states that the Award has been granted to Grace To Be Born "in recognition of the organization's active service in the promotion, celebration, and defense of family and life."
Here, Sis. Ester Palacio, Grace To Be Born executive director, presents the trophy and certificate to Bro. Bo Sanchez.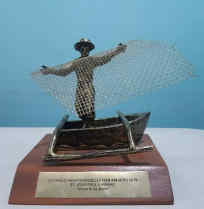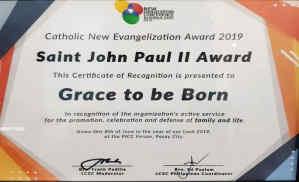 New Evangelization
During his time as head of the Catholic Church (2005-2013), Pope Benedict XVI called for a New Evangelization, for renewal and intensification of the Catholic Church's missio ad gentes— Latin for "to the nations" — to reach out to those who no longer practice the Christian faith.
On June 8, 2019, Live Christ, Share Christ (LCSC) Movement held the New Evangelization Conference 2019 at the Philippine International
Convention Center (PICC). And one of the highlights of the Conference was presentation of the Saint John Paul II Award.
The Saint John Paul II Award honors Pope John Paul II, head of the Catholic Church from 1978 until his death in 2005, for his exemplary leadership in pursuing the Church's evangelization mission particularly in social, political, and other dimensions of life "influenced by the globalizing secularist and materialist culture."
Grace To Be Born merited the award for indeed, it has been established to preserve life by taking care of indigent unwed, pregnant women so that they will not resort to abortion.
In 2005, our Light of Jesus Family was already celebrating our 25th Founding Anniversary, doing our part to uphold Church teachings in defense of family and life.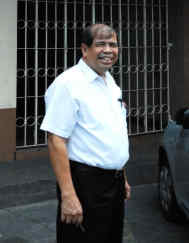 As we said in Part 1 of this series on Grace To Be Born (The Feast Family, March 5, 2023), this Ministry began when Bro. Rey Ortega, devoted member of our Light of Jesus Family, and brainchild of most of our Mercy Ministries, and his wife Myrna went on a pilgrimage to Our Lady of Guadalupe Shrine in Mexico City. There, they learned that Our Lady of Guadalupe is the Patroness of the Unborn and there's a ministry in Mexico advocating for saving the unborn from abortion—the deliberate termination of pregnancy.
Bro. Rey at once wished that we would have such a ministry in the Philippines.
Back in the Philippines, as they usually do, Bro. Rey and Sis. Myrna attended The Feast at the Valle Verde, Pasig City, led by Bro. Bo Sanchez.
By coincidence—or we must say by Divine Design– Bro. Bo's topic that day was abortion and its ill effects.
Long story short, Bro. Bo supported Bro. Rey's advocacy and they found another supporter, Betty Roxas Chua, founder of Rosary of Life Movement who offered the building she and husband Sebastian own in Pasig City as venue of the new Mercy Ministry.
What the Grace Is All About
Given the venue, Bro. Bo promptly organized a Board of Trustees composed of pro-Life advocates Ditas Español, Doris Lee, together with Bro. Rey, Sis. Betty, and Bro. Bo. And they all happened to be free for a first meeting on May 8, 2009, the birthday of Bro. Bo's mother, Sis. Pilar, No. 1 intercessor for Bo's concerns and our Light of Jesus Family.
So, on May 8, 2009, the ministry was born to give the chance for the unborn to be born: the Grace To Be Born.
Yes, it's all about Grace—the Grace of God, the Creator of Life. So, what is this Grace all about?
Here are details from the website of Kerygma Family, now named The Feast Family, the online faith gathering established by Bro. Bo (https://kerygmafamily.com/home/grace-to-be-born/)
Love and Care for the Unborn
Grace To Be Born Maternity Home and Nursery is a halfway house serving as a temporary shelter for pregnant unwed mothers and an orphanage
for the children there.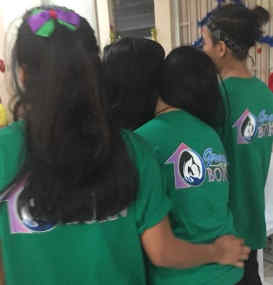 Objectives/Goals. We want that the pregnant girls/women in crises and the infants achieve the following while they are admitted in the home:
Pregnant girls/ women in crisis. To be able for them to experience a wholesome physical, psychological and spiritual ambiance and services.
To be able to empower them to deal with their crisis situation.
To be able for them to arrive at realistic and attainable decision concerning the care and development of the baby at birth and the succeeding years of the child.
Child Care. To be able to provide a temporary shelter for the newborn babies while their mothers
are recuperating. To be able to provide the material and medical needs of the newborn babies while temporarily staying in the shelter until their mothers return for them. To be able to facilitate surrendered and abandoned child for the Certification on the Declaration that the Child is Legally Available for Adoption.
Yes, to present these alternatives to abortion.
Grace To Give
If you feel God is calling you to support the mothers and babies of Grace
To Be Born, here are sharing details available through Facebook, Google+/Twitter
Address53 Dr. Sixto Antonio Ave., Bgy. Kapasigan, Pasig City 1600
Contact Landline – (+63) 2 654 1377/ Mobile – Ester – (+63) 932 8880780
Joy – (+63) 932 8880781
Accepts Donations through bank accounts of Shepherd's Voice Radio and Television Foundation, Inc./ Banco De Oro C/A # 3970019804/
Banco De Oro S/A # 160506123.
For donations in kind, here is a list of the needs of Grace To Be Born:
MOTHERS:
Body scrub Underwear (M-XL) Bra (36-42)
Lotion
Hair Comb / Hair brush
CHILDREN:
Pencil (Jumbo)
Scissors with design
Puncher
Hair clips



OUR VISION
We are a Catholic Community upholding the sanctity of human life through defending, protecting, and nurturing the unborn babies from the moment of conception until birth.
OUR MISSION
Our mission is to express the infinite compassion of God, the Author of Life, by bringing girls and women in crisis pregnancy to experience a taste of God's loving care by providing them with confidential and wholistic services to be able to bring the baby in their womb to birth successfully, joyfully, and lovingly.
Yes, to be blessed with God's Grace to be born.
Published by THE FEAST MERCY MINSTRY (May 21, 2023)