GRACE TO BE BORN YEAR 14 PART 1 A Divine Design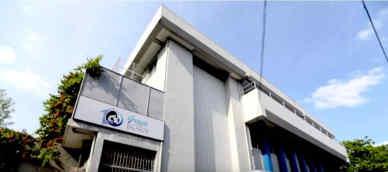 WE do not reveal their real name to protect their privacy and if ever we have to tell their story, we change some circumstances so they will not be identifiable — again to protect their privacy.
Like Corazon– not her real name. She was in her 20s, carefree, adventurous. One day, she left home for a vacation in the hometown of a friend.
There, she a met boy. They fell in love.
"I'm pregnant. I can't go home. I can't face my mother," she says crying, as we interviewed her for an article about Grace To Be Born.
Yes, Corazon is one of the pregnant women in crisis Grace To Be Born takes care of.
A friend happened to know about Grace and arranged that Corazon stay in the GTBB home while she is pregnant.
God's Grace
Yes, Grace To Be Born is all about God's grace.
In July 2008, Bro. Rey Ortega and his wife, Sis. Myrna, members of our Light of Jesus Family faith community, went to Mexico for a pilgrimage there at the shrine of the Our Lady of Guadalupe.
They found out that Our Lady of Guadalupe is the Patroness of the Unborn– and there is a ministry there taking care of unwed pregnant women to prevent them from resorting to abortion.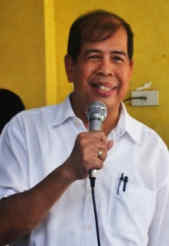 Bro. Rey came back home asking, "Why don't we have such a ministry here?"
Then, as they usually did, the couple attended The Feast, our faith gathering that our founder, Bro. Bo Sanchez, was holding at the Valle Verde Country Club in Pasig City.
Some might call it coincidence, but now we believe it was by Divine Design: that Bro. Bo's talk that day happened to be about abortion and its ill effects.
The following day, Bro. Rey sent an email to Bro. Bo suggesting a ministry for unwed pregnant women in crisis.
Bro. Bo readily supported the idea. But the problem was logistics– LOJ was focused on building prayer groups, and already taking care of some ministries, it just did not have funds for another one.
Now, another coincidence– or Divine Design. On November 19, 2008, Bro. Bo was supposed to give a talk at the Rosary for Life Movement prayer meeting in Makati. He could not make it. He sent Bro. Rey to proxy for him.
Bro. Rey then got acquainted with Sis. Betty Roxas Chua, founder of Rosary for Life Movement. Bro. Rey chatted about the ministry for women and just like that, Sis. Betty offered her building in Pasig City as venue for the envisioned home for the women — rent-free, indefinitely.
Core Group
So, not wasting a second, Bro. Bo organized a core group of friends to form a Board of Trustees of this new ministry. Along with Bro. Bo, Bro. Rey, Betty Roxas Chua, the first Board members included Ditas Español and Doris Lee.
But busy with their other ministries, they could not find a common time to hold their first meeting– until at last, everybody was free on May 8, 2009. Bro. Bo couldn't help chuckling about that because May 8 happens to be the birthday of his mother, Sis. Pilar– his number one intercessor for all his concerns.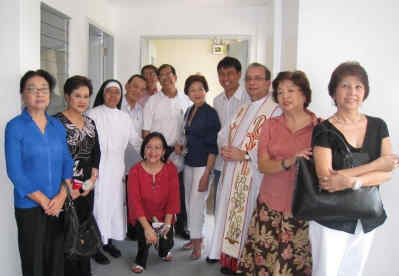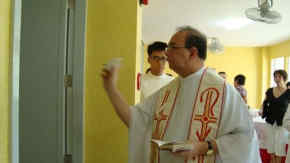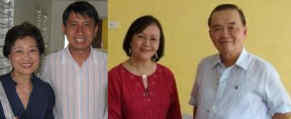 GTTB Launching Day, clockwise from above left: Bro. Rey (middle, 6th from left) with supporters; Fr. Roy Rosales, Chancellor and Parish Priest of the Immaculate Conception Cathedral in Pasig City, blessing the Grace building; Betty Roxas Chua, Bro. Bo Sanchez, Myrna Ortega, wife of Rey; Sebastian Chua, husband of Betty.
And so, LOJ found a home for the mothers—complete with a nursery for the babies—yes, they who are blessed by God with grace to be born.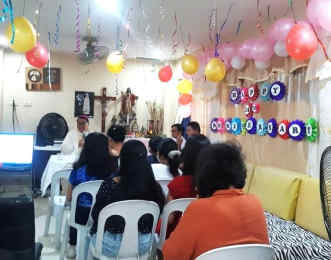 Year 14
On May 8, 2023, Grace To Be Born celebrated its 14th Founding Anniversary. hosted by the GTBB mothers.
Most Rev. Mylo Hubert Vergara, D.D., from the Archdiocese of Pasig, celebrated the Thanksgiving Mass and here, at right, he chats with the mothers.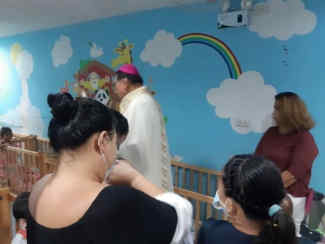 During his homily, Bishop Vergara said all of us need help amid life's challenges. He pointed out that especially the Grace mothers, despite their struggles, are fortunate to have someone — institutions like Grace to Be Born—who can assist and help them through the grace of God.
Bishop Vergara also blesses the children and the nursery.
Grace toddlers gratefully respond with dance numbers.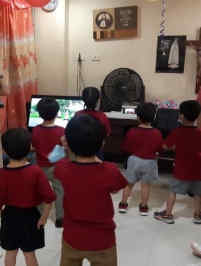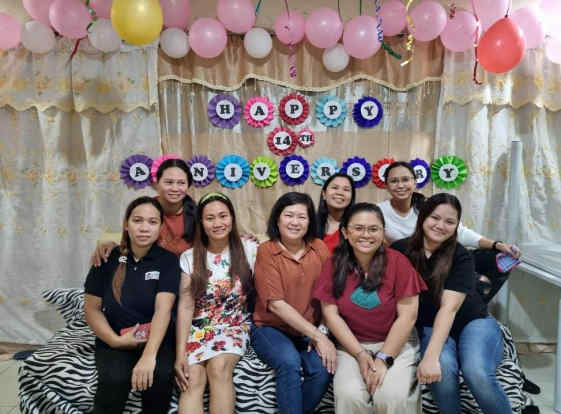 Blessed To Serve. GTTB Executive Director, Sis. Ester Palacio, RSW
(front row, 3rd from left) thanked the beneficiaries for their active participation.
She also expressed her gratitude to the visitors who generously shared their time to celebrate with our mothers and their children. Plus, she honored the Grace staff who happily did their best to make the celebration possible.
Above, the Grace Team, well blessed to serve, from left:: Anna Ojero, Melody Dela Gente, Ann Alianza, Ester Palacio, Jinky Gilo, Joy Reyes, Tin Sampang, and Rona Orbong.
–With reporting by Cybill P. Bayto
Published by THE FEAST MERCY MINSTRY (May 14, 2023)