To Love and To Serve Amid Adversities
By DIANA ST. JAMES
LIGHT OF JESUS DISASTER RECOVERY MINISTRY
PART 4
AT THE beginning of the year 2020, we received the unfortunate news– disconcerting, to say the least.
On January 30, 2020, the World Health Organization (WHO) declared the outbreak of the Coronavirus Disease (COVID) as a Public Health Emergency of International Concern, and confirmed a COVID Pandemic on March 11, 2020.
The Pandemic has changed not a few of us– our values, our priorities.
For us in the Light of Jesus Family, the Pandemic set our Mercy Ministries, led by Bro. Hermie Morelos, particularly our LOJ Disaster Recovery Ministry (LDRM), led by Bro. Marvin Tan, into prompt action to reach out to those who needed immediate help.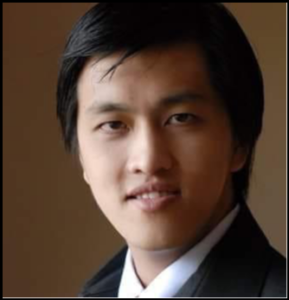 In The Feast Family November 7, 2021 issue, we featured the vision-mission and general functions of the LOJ Disaster Recovery Ministry as led by Bro. Marvin. Next, in The Feast Family November 14, 2021, issue, we shared the testimony of a beneficiary of the Ministry, Sis. Cherry Marcos, whose family and community were among those for whom the Ministry mounted relief operations. In the November 21 issue, we presented a generous donor, the Feast Orchard Thursday Singapore, led by Feast Builder Bro. Paul Hernandez, with the story of Sis. Laarni Buenaventura, Council member, on how this Feast has been able to gather support for our Ministry.
In this, The Feast Family December 19 issue, we present a volunteer servant of the LOJ Disaster Recovery Ministry, Bro. Jhun Que, who serves as assistant head, helping Bro. Marvin in the efforts to source donation, process and deliver assistance to various relief operations and charity ministries of the LOJ Community.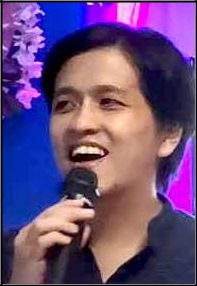 Leadership Foundation
For Bro. Jhun, being able to be a volunteer servant in this Mercy ministry is a privilege, a blessing he actually did not imagine receiving.
Bro. Jhun told The Feast Family he was actually an introvert, and he grew up with a few friends, rarely playing outside.
But he would eventually have a firm foundation on leadership that he would later on put to good use as a Feast leader.
He said he's "naturally curious about science and law" so, apparently, he took his education seriously. First, primary education at the Northern Rizal Yorklin School. Then, when it was time for him to go to high school, a major financial crisis hit Asia. And not spared by the crisis, his parents had to transfer Jhun to a state-run institution, the Caloocan High School, where he said he was exposed to the lower economic strata community. Realizing how privileged he was, he thus endeavored to make the most of his studies, and so, he became a consistent honor student and campus leader. Then, he went on to the Pamantasan ng Lungsod ng Maynila on a full scholarship, where finally, he earned his Bachelor's degree in Business Administration.
It wasn't, however, a simple walk in the park for Jhun.
His father suffered a kidney ailment and he had to be confined in hospital for a long time and undergo hemodialysis, a treatment doing the function of a healthy kidney to filter wastes and water from the blood. To help provide for his father's medical bills, Jhun had to work, struggling through odd jobs.
He says this exposure sparked the passion in him to persevere in life.
"Not to give up. And also, to help others as much as I can," he says.
His father eventually got well and so, Jhun then already focused on his career in business administration.
Then, later, he found love with Liezl– in 2009.
"I quickly proposed marriage in less than three months and we got married in less than a year," he chuckles.
Faith Journey
Humbly, Bro. Jhun makes light of his faith journey.
He says in jest, "Would you believe, I'm once the pillar of the Church?" How?
He quips, "Because I was just standing at the corners of our church while everybody else was worshipping the Lord."
He laughs, "I also used to be what's called "Zimbabwe"—simba-uwe—(go to church, go home). Some considered me an occasional churchgoer. I went to church only when there was an occasion. And to my friends, I was an outstanding one— always just standing outside the church building."
He adds, "I saw church life as a vending machine that you use only when you needed something. Nothing more."
This, even as his mother is one of the elders of the Shrine of Our Lady of Grace in Caloocan.
But things changed when he found out about the Light of Jesus Family and The Feast.
This is how this happened…
While surfing the net, his wife Liezl found out about the Light of Jesus Family on YouTube. She eventually learned about our founder, Bro. Bo Sanchez, and The Feast which he leads at the Philippine International Convention Center (PICC).
At first, Bro. Jhun watched the Feast videos. Then, Liezl asked him to try to attend the live Feast.

Recalls Jhun, "I was amazed how this guy can bring together under one roof people with different faith convictions, saying that everyone is welcome to The Feast." Gradually, Jhun says, his faith deepened and he felt growing mature in his spirituality as he served in The Feast. Raring to share lessons he learned at The Feast, he emailed Bro. Bo asking permission if he could build a Feast in his place—because Feast PICC was far from his community.
Jhun and Liezl live in Bulacan where they have several businesses. One business was an events place where he proposed that a new Feast be planted. Bro. Bo responded by sending Bro. Marvin Tan and Bro. John Cruz to help set up what then would become the Feast Light Calumpit (FLC).
Together with several members of LOJ, they founded Feast Light Calumpit which has also become their base of operations for most of the latter outreach programs of the Light of Jesus Disaster Recovery Ministry. Pre-COVID, they held live Feasts at the Eden Oasis Events and Banquet Hall, 22 Garnet St., Capitol View Park, Malolos City, every Wednesday, at 7 p.m.
"To infinity," adds Bro. Jhun.
Earthquakes!
In October 2019, a series of strong shallow earthquakes struck the province of Cotabato—6.3 to 6.5 in magnitude, with depths ranging from 7 to 9 kilometers that destroyed homes for the least of our brethren.
Post-quake investigation revealed that geologic impacts ravaged the facilities and private properties in the region, including Kidapawan City– which would be served by the Light of Jesus Disaster Recovery Ministry.
At the time of the earthquakes, Feast Light Calumpit, built in 2018, was planning the celebration of its second founding anniversary in 2019. One day, while on his way to attend a planning meeting on the anniversary, Bro. Jhun heard news that the Governor of Cotabato was asking for assistance because relief operations amid the devastation had practically depleted the provincial budget.
Thus, during the meeting with his Council members, Bro Jhun proposed that Feast Calumpit just donate to Kidapawan the Feast's budget for the anniversary celebration. And the Council and later, Bro. Marvin, readily approved his proposal.
The disaster damaged houses, particularly the roofs, of some 50 families in Kidapawan. So, Feast Calumpit gathered roofing materials through the coordination of members Bro. Lando and Sis Mel Ortiz with various direct suppliers in the area.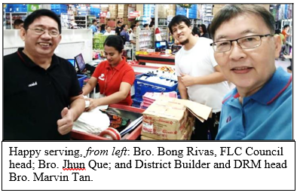 Relief Operations for Kidapawan
Through Bro. Marvin,
Bro. Jhun initiated a call to help the people of Cotabato following a request from the Notre Dame University in Cotabato run by the Oblates of Mary Immaculate (OMI), a member of the Notre Dame Educational Association, a group of Notre Dame schools in the Philippines with the Blessed Virgin Mary as patron.
Why Kidapawan?
Bro.  Jhun  happens  to  have    a godfather who is part of the congregation– Rev. Fr. Eliseo Mercado Jr.,OMI. Fr. Mercado referred Bro. Jhun to the Bishop of the Diocese of Kidapawan leading relief operations for victims, organizing teams all over the city to raise funds for the benefit of dioceses affected by the earthquakes.
This "micro contribution" as Bro. Jhun puts it, inspired other corporate sponsors of the Diocese to help — not only repairing roofs but building new houses as well for a total 250 indigent families. These residents were mostly informal settlers in the community and so, for good measure, the Kidapawan Diocese eventually donated the land to them, thus building an entirely new community.
And since the day Feast Light Calumpit helped Kidapawan, it has been donating its budget for anniversaries for LOJ Disaster Recovery Ministry's projects.
Infectious Mercy Love
It is said mercy love is infectious. True. Other Feasts, apparently finding out what Feast Light Calumpit was doing for disaster victims, entrusted to this small group of Feasters their donations for distribution to the disaster victims and other charity missions.
For one, FLC was able to respond to calls for relief operations in evacuation centers in Padre Garcia, Batangas, when Taal Volcano erupted in January 2020 and residents had to flee their homes.
Their needs were so immense FLC had to ask the entire district of Bulacan, the Philippine Military, down to the Philippine National Police to send volunteers to repack and deliver goods to the victims—to send God's love from The Feast.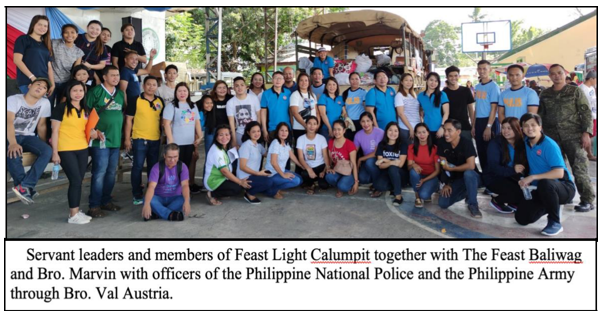 For the theme of the relief operation for the Batangueños, Bro. Jhun added a Batangueño expression to The Feast slogan "You Are Loved," coming up with "Ala eh, You Are Loved!"
Relief from COVID
The COVID Pandemic spread without let-up all the way to Bulacan communities.
"We turned to Bro. Bo to ask how we can help," Jhun says.
So, with blessings from Bro. Bo,Feast Light Calumpit was able to mount relief operations in Bulacan.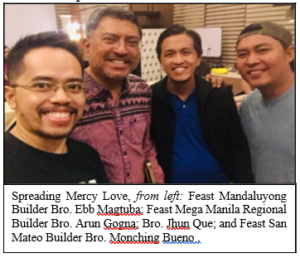 Finding out about FLC's relief operations, Bro. Arun Gogna, Regional Builder of Feast Mega Manila, called Bro. Jhun to ask if the FLC team could do relief operations as well for the Alabang district.
Promptly, FLC organized various relief operations in Alabang with Bro. Arun. Then they went on to help Feast builders, sending relief goods to their respective communities during the COVID onslaught.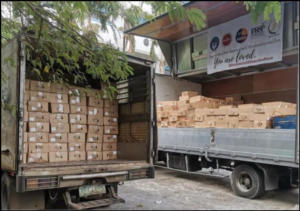 Bro. Jhun shared Bro. Arun's call on his Facebook wall, and to his pleasant surprise, other concerned groups requested for such relief operations for their own beneficiaries – Smart Communications, ABS-CBN, Coca Cola, Standard Charter Bank, RFM, as well as non-governmental organizations such as Project PEARLS and Philippine Business for Social Progress Inc. (PBSP) through Sis. Tin Rivadelo, and Bayanihan Musikahan led by Master Ryan Cayabyab and several artists like Ms. Lea Salonga, Gary Valenciano among other celebrities, that run online concerts to raise funds for this cause.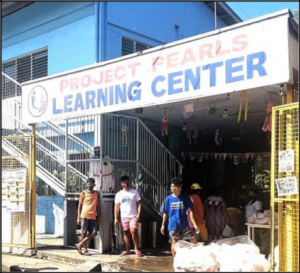 To date, Feast Light Calumpit has reached more than 75,000 families affected by the COVID Pandemic– providing their weekly family food needs.
Relief from Man-Made Disasters
Aside helping victims of natural disasters, Bro. Jhun and his Feast Light team have well responded to God's call to provide relief for victims of what may be called man-made disasters—poverty, abuse, and other life challenges.
Jhun says, "Even I'd been with The Feast for a long time and I'd been given several chancesto preach and lead where I felt the empowerment of the Holy Spirit, these were not fulfilling enough for me — until our small Feast Light Calumpit decided to reach out to other people such as the students of the Alternative Learning System (ALS) of the Department of Education."
What would have been just a simple outreach has so become a life-changing moment for Bro. Jhun and his team that it is now a weekly activity (pre-Pandemic) for them to help students in three other schools within the municipality.


According to the Department of Education's website, ALS is "a parallel learning system in the Philippines that provides a practical option to the existing formal instruction. When one does not have or cannot access formal education in schools, ALS is an alternate or substitute. ALS includes both the non-formal and informal sources of knowledge and skills…The Governance Act for Basic Education, otherwise known as the Republic Act 9155, stipulates the establishment of the Alternative Learning System (ALS) to provide out-of-school children, youth, and adults population with basic education."
Almost all of these ALS students were once dropouts or out-of-school Filipinos and not just youth because their ages range from 12 to 60 years old– because of various life challenges such as abuse, drugs, crime, broken families, teenage pregnancy, being orphaned, and even abandonment.
Jhun and his team found out that some of their co-servants in FLC experienced the same struggles but were able to succeed in life.
So, Feast Light Calumpit members became unofficial life coaches for these beneficiaries and the results where amazing. With the passionate devotion of teachers, ALS Calumpit South has the country's best-performing students in the country. It has the highest percentage of graduates and many of them are now professionals in their respective fields.
"Yes, the wound that once made them outcasts of formal education was healed and now they are in a better position to pursue their life's purposes that God meant for them," Bro. Jhun points out.
Today, aside from helping the 150-200 students of ALS Calumpit South district, Bro. Jhun's team has been commissioned by an international non-governmental organization to provide more than 600 scholars weekly food assistance through several American-Filipino donors.
Blessings After Blessings
Jhun says, "Yes, we have blessed people with our blessings. But still, as we often say, God cannot be out-given.
He shares three of God's blessings for him:
1.Graduate school. "Because of my humble story, I got full financial assistance to enroll in my dream school, the Asian Institute of Management. I enrolled in AIM to pursue my vision to lower the cost of food and improve its accessibility for the Filipinos and elevate from poverty our farmers, fisherfolks, and other agricultural workers. They are now part of our Corporate Social Initiative, my capstone in AIM, humbly the crowning achievement of my life's journey."
God-entrusted business. "I used to work for several major conglomerates in Metro Manila up to the title of senior vice president. But I resigned from my high-paying corporate job just to pursue a simpler and more reasonable life– to be closer to my family and have a life of service to a Christian church in our community.
 "But without the job, our savings dwindled so fast that I even had to borrow money just to survive. One day, my wife, said, 'How can you tell others that your God is rich if your own family is hungry?'
 "Ouch. Her simple but meaningful question made me realize that my first ministry is to provide for my family. So, we built a small business starting with only P22,000 capital–selling fish in small scale, using an old motorbike in May 2016. That business has grown into multiple businesses now expanding to the Visayas and Mindanao regions through God's Grace and Wisdom.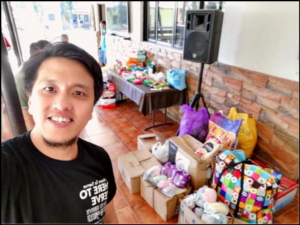 Worldwide Ministry. "Also with my story, I was asked to represent our country in the recently concluded United Nations Food System Game Changer La where we discussed with world leaders and intellectuals the possibilities and solutions to improve the food systems all over the world that will alleviate hunger and promote equality and social justice. This expanded my horizons, making me realize that our problem in the Philippines is just the same in other parts of the world and theirs is far worse than ours, which make me think that we Filipinos are much blessed to help"
Recently, Bro. Jhun was invited to take part in the Peace Sustainability and Development Program in the Bangsamoro Autonomous Region in Muslim Mindanao (BARMM) to continue the legacy of his godfather Rev. Fr. Eliseo Mercado Jr. who is instrumental in peace building in the region.
Fr. Mercado is one of the ten priests chosen by Pope John Paul II to study Islam so we Catholics can better understand and serve with Muslims. He was also invited by Ms. Irene Santiago, chairperson of the Government Implementing Panel for the Bangsamoro Peace Accords, to seek peace in Mindanao, to teach Sustainable Agriculture Entrepreneurship in the current development of the Peace Academy, the first institution dedicated to secure and maintain peace in the world.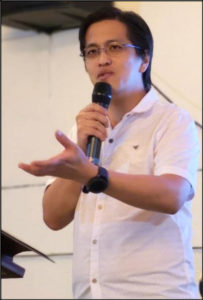 Parable of Talents
For this article, The Feast Family asked what's Bro. Jhun's guiding Biblical verse.
He says it is not a verse but The Parable of the Talents found in Matthew 25:14–30.
He adds, "I strongly believe that if you use your God-given talents for good and for His Kingdom, He will give you more to grow and be able to do what is His purpose for our creation. Conversely, He also said in the same story that it is one of the worst sins not to use your talent for good as you'd be called, in verse 26: 'You wicked and slothful servant."
Also, when he faces challenges of any kind, Bro. Jhun reminds himself of David's tested faith statement in Psalm 23:4 (NKJV), and Jhun claims this to be his principle as well: "Yes, though I walk through the valley of the shadow of death, I will fear no evil; For You are with me; Your rod and Your staff, they comfort me."