PAG-ASA NG PAMILYA Part 3
 The Time Is Right
By AUBREY MERCADO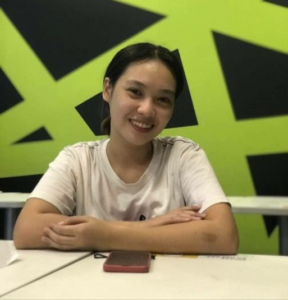 HI, I'm Aubrey, 21 years old, studying for a degree as Bachelor of Elementary
Education in Binangonan Catholic College.
My mother, Aurelia Mercado, is now in her senior year. She suffered stroke and so, she is now bed-ridden.
I have three brothers— David, Edson, and John Emerson.
I am writing this sharing to thank Pag-asa ng Pamilya Scholarship Foundation for giving me the chance to have a good education.
And it came at the right time.
As early as when I was just 7 years old, I hardly saw my father because he worked abroad. In time, my parents separated.
My sibs and I were so confused. We couldn't process the thought that we had become a broken family.
I was like, "Why? Of all the people, why did it have to be us?" Because, you see, in the first place, we hardly saw our parents fighting. The separation was so sudden, I so felt life was unfair.
Struggling to Survive
Without our father, our breadwinner, we suffered financial lack. Our mother had to work as street vendor to put food on the table, and see us through elementary school. It was so heartrending for me seeing my mother exposed to the sun, enduring sunburn just to be able to feed us.
I actually felt how hard life was when I reached high school. We were struggling just to survive. So, I didn't have any hope I could ever go on to college.
But undaunted, I thought of a way to earn money. The only way I could think of was to work in a fast-food restaurant. I tried and applied to be a service crew at McDonald's.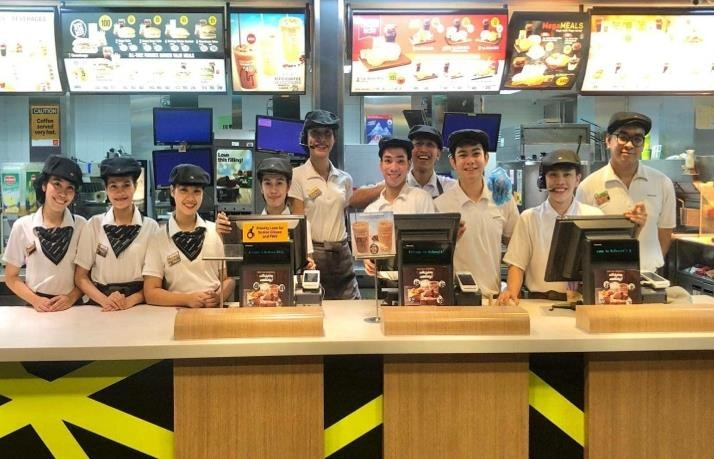 I was accepted! I began working on November 5, 2019.
This job helped me provide for my needs in school and for my family.
I became a breadwinner while studying. I can say I am proud of myself for growing responsible as a working student.
Above, that's me, third from left, with my co-workers. I already forgot their names but I will never forget the lessons I learned during those days .
I learned to be positive. I told myself, "This hardship is just for now.
One day, your hard work will get what it paid for."
Suffer now and become successful later. This has become my motto, my motivation in life. I told this to myself even amid my fears of not getting a college education.
And true enough, relief from my fears finally came by, yes, at the right time.
Hope in Pag-asa
You see, I have a cousin, John Iverson Lugay , who happened to be a Pag-asa ng Pamilya scholar. If you are a regular reader of The Feast Family, you must have read his own story in the April 10, 2022, is sue—just the issue before this one.
In a gist, John and his family also suffered financial problems and so he thought he could not finish school.
As he said in his story in The Feast Family: "By the grace of the Lord, my mother happened to have a friend who's an employee at the Pag-asa ng Pamilya Scholarship Foundation. She's Ma'am Karen Tirados. She told my mother I should try and apply for the scholarship for college. She told me the requirements and I promptly prepared all of them. And I prayed hard that I would qualify."
Yes, John qualified for the scholarship and now he is taking up Education in college.
John encouraged me to apply for the Pag-asa scholarship.
My mother helped me talk with John's friend in Pag-asa.
And, long story short, in 2020, I became a Pag-asa scholar, just in time for my college education. I am now in third year college in my Elementary Education course.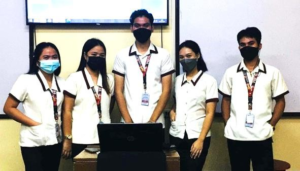 Honestly, it was stressful for me trying to balance my time for my job and time for my studies. With the Pag-asa scholarship, it became easy for me to decide to stop working so I could give top priority to my studies.
Suffer now and become successful later, indeed. Though I'm not yet completely there, I believe that every semester I complete is already a success.
Here I am with my classmates during our colloquium defense in school .
I am so grateful that I have become a part of Pag-asa. It gives me a sense of security that I don't have to worry where to get money for my studies.
Plus, a priceless blessing! Through m y Pag-asa connection, I came to know about The Light of Jesus Feast and so now, I'm a Feaster in Binangonan, Rizal.
At The Feast, I learned about this verse that I now hold dearly :
"When the time is right, I, the Lord, will make it happen." –Isaiah 60:22 Yes, I've learned that everything happens for a reason. All I need is to trust
God for everything that is and will happen to my life.
I just need to wait for His perfect timing.