HE CARES MISSION PART 1 The Promised Land
THE Promised Land is a sprawling farmland of He Cares Mission, our Mercy Ministry taking care of indigent children, especially street children.
The farmland's name reminds us of the biblical Promised Land — the land God gave to Abram.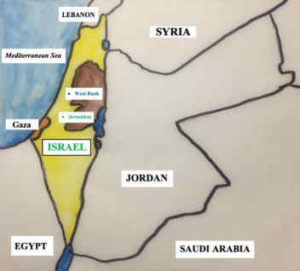 The name Abram is from a Hebrew word meaning exalted father. In Genesis, the first book of the Bible, we read that Abram, because of his steadfast faith in God, was exalted — treasured and honored by God. God changed the name of Abram to Abraham which means father of nations. Because that was God would make him. And the promise would be fulfilled through
Abraham's grandson, Jacob. At first, Jacob wrestled with God's will about his destiny—but soon, in faith, he surrendered to God. Jacob let God win, to prevail and be in control over his life.
Thus, Jacob was renamed Israel— which in Hebrew means let God prevail.
True to His Word, God would grant the land He promised Abraham to his descendants. This land would be Canaan, located in the territory of the Southern Levant — historically, the region along the eastern Mediterranean shores– which is now known to include modern-day Israel.
And yes, the descendants would be God's chosen people, the Israelites.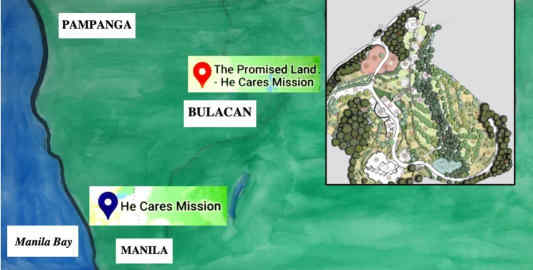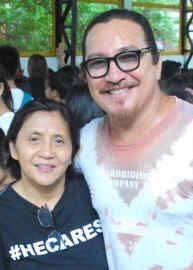 Starting with a Promise
Yes, just like the biblical Promised Land, He Cares'
Promised Land started well, with a promise—but with a twist.
He Cares Mission's Promised Land is a 5.3-hectare farm land in San Rafael, Bulacan– which He Cares was able to procure through friend's donations.
Abraham's Promised Land took over 400 years to be fulfilled. He Cares' Promised Land counts a three- decade period to materialize.
In 1995, Bro. Joe Dean Sola, devoted member of our Light of Jesus Family, saw two street children near the waiting shed outside his house. They looked hungry.
Bro. Joe Dean happened to have P20 in his pocket — so, he bought two pieces of bread and two bottles of soda for the children.
He then promised the children, "From this day forward, you will never go hungry again."
Since then, not only two but hundreds of street children have never gone hungry. Because, yes, Jesus cares enough to inspire Bro. Joe Dean to establish
He Cares Mission. Above, right, Bro. Joe Dean with his wife Ardis, also a devoted LOJ member, a corporate executive sharing her management skills in building
He Cares and the Promised Land.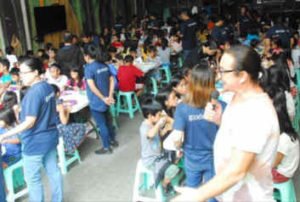 Sustainable Programs
By God's grace, Bro. Joe Dean has been fulfilling his promise to those two kids, as the Promised Land has transformed into a sustainable farm project providing the needs of the children, their families, and even residents of the local community.
Food for street children given through He Cares' weekly feeding program, as well as food provisions for the local community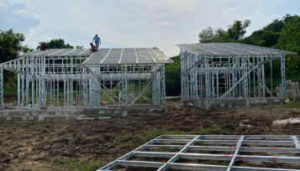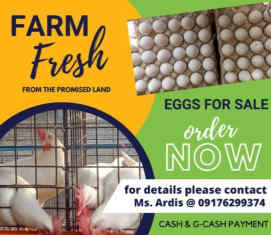 Shelter for the poorest of the
Above, houses under construction.
Livelihood programs to give poor families a source of regular He Cares' farm is now producing eggs for its feeding programs and extra eggs for sale. Direct beneficiaries are the marginalized in the community.
Planting Time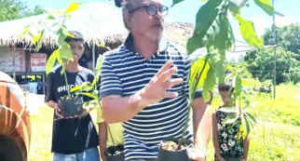 Bro. Joe Dean with He Cares children: "Thank you for the donor of these avocado seedlings. We're going to plant these —to add to the fruit bearing trees that we already have here in the Promised Land. If you have a fruit bearing tree in your surroundings or if you want to donate seedlings or organic fertilizers, please do so."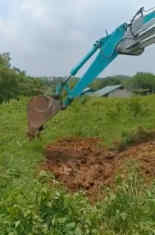 Sanctuary for those who want to experience God's Presence.
This year, He Cares is building a church in the Promised Land. Excavation for the church foundation has started.
Promise: Little Means a Lot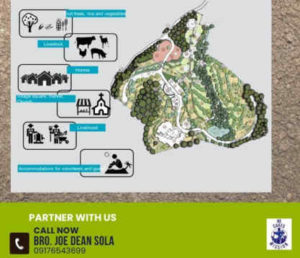 The Promised Land needs a little from you for it to mean a lot to those in need.
Help continue developing the Promised Land, one small plot of land at a time
Kindly deposit donations here:
BPI Peso SA| Account No. 1953-1184-71
BPI US Dollar SA | Account No. 1954-0240-55
GCash | Ardis Sola
– 0917 629 9374
Kindly email proof of donation to hecares.adm@gmail.com with the subject line "Promised Land Financial Support" to receive an official receipt.
–With reporting by Cybill P. Bayto