HE CARES MISSION
The Promised Land

A NURSERY for all kinds of plant seedlings. An animal shed for piglets and chicks providing daily food. A campsite for spiritual learning.
This is the Promised Land of He Cares Mission, a non-profit organization for street children, part of our Mercy Ministries as one of our partner beneficiaries.
In this issue, The Feast Family honors He Cares Mission, which, founded in 1996, marks its 27th Year this 2023.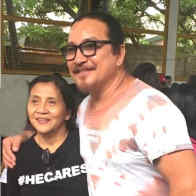 Missionaries
He Cares is the story of Bro. Joe Dean Sola, longtime member of our Light of Jesus Family.
Once a carefree youth, Joe Dean, was one day short of cash. To have money, he called his elder brother Dan, an LOJ member, who at the time happened to be attending an LOJ Prayer Meeting at 56 Chicago, Cubao, Quezon City.
Dan told Joe Dean to come and get the money.
Joe Dean arrived, had to sit at a corner to wait for Dan.
As he sat there, Joe Dean inevitably heard the talk of the preacher which centered on God's unconditional love and forgiveness.
Long story short, Joe Dean experienced a spiritual awakening and so, he served God, first with Bro. Bo Sanchez at our Anawim Home for Abandoned Elderly.
There, he met Ardis, also an LOJ member who shared his passion of serving the poor. They fell in love, got married, and continued living as missionaries.
From Anawim, Joe Dean eventually devoted his life to ministering to the youth in need– like he was before. So, he founded He Cares Mission for street children and, ably supported by Ardis, he has well sustained the Ministry.
Of late, He Cares is developing a sustainable farm community in San Rafael,
Bulacan, called the Promised Land. Yes, a land fulfilling God's Promise to Abram long time ago.
Abram's Calling
In the Old Testament of the Bible, in its first book, Genesis, we read that God favored Abram for his faithfulness and obedience. God changed his name to Abraham, which means father of many nations. And so, for Abraham and his future offspring, God promised a land to settle in.
In Genesis 12:1, God said: "Leave your country, your people and your father's household and go to the land I will show you."
Genesis 12:7 adds that the Lord appeared to Abraham and said, "To your offspring (or seed) I will give this land."
Historical accounts have named this land the Canaan, located in southern Levant, which is part of the Eastern Mediterranean region of West Asia.
Abraham's offspring, the Jews, or later called Israelites, became slaves of Egypt's pharaoh. But God sent Moses to set them free and bring them to Canaan, as Exodus 3:8 puts it:
"So, I have come down to deliver them from the power of the Egyptians, and to bring them up from that land to a good spacious land, to a land flowing with milk and honey, the place of the Canaanites…"
He Cares Promised Land
Like Abraham's descendants, He Cares' children somehow had been slaves— not of an oppressive pharaoh, but of cruel poverty. He Cares Mission's passion is to set them free through a wholistic approach to loving the poorest of the poor.
He Cares Promised Land thus provides food, shelter, livelihood, and spiritual sanctuary for the children.
He Cares Promised Land may not be literally a land of milk honey—not yet.
But today, the Promised Land already has a Nursery for all kinds of seedlings to be planted.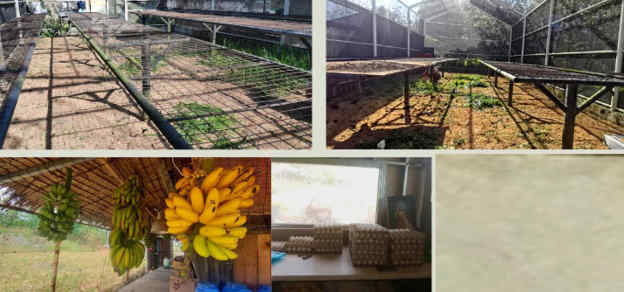 The children as well as personnel of He Cares now enjoy fruits like bananas harvested from the farm.

The Promised Land also has an Animal Shed for piglets vaccinated by agriculturists with necessary vitamins to ensure their proper weight for their age.
There are cages housing hens providing eggs for the children and for He Cares' feeding programs for street children every Saturday.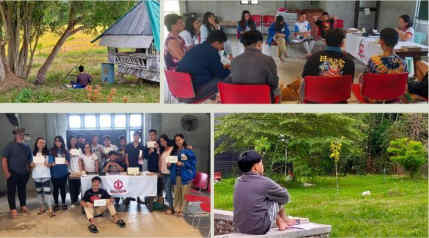 Campsite
He Cares Promised Land serves as perfect venue for training or other spiritual programs.
On February 16, 2023, 12 youth servants from He Cares Youth Worship Action Ministry (YWAM) completed at the Promised Land a nine-week Prayer and Life Workshop, a program where participants train to make praying and meditating
on God's Word become a daily habit, and living out what they learn during the session.
Tagged Paglalakbay Kasama si Jesus, the workshop was also referred as Desert Day as each participant spent long hours in prayer and meditating on the Word, alone with the Lord and communing with nature.
Like how Jesus invited His disciples to withdraw from the crowd to spend time with Him. The participants spent the night bonding with one another, sharing experiences, praying, and singing praises to God. Early morning at dawn, the youth participants also learned and experienced how and why Jesus prayed alone, in silence and solitude, usually up on a mountain, to be with the Father.
They also shared how they could appreciate every creation — the wind, trees, dogs, and more.
The loving Presence of God made them feel calm and peaceful, loved, being able to pour their heart out to God. Lastly, in response, they shared their written "Commitment ko kay Jesus" for their daily prayer habit, family, and service.
Yes, at He Cares Promised Land, they well declared, "Master, it is so good to be here." (Luke 9:33)
This way, He Cares Mission fulfills for the needy the promise in Peter 5:7 on which the Foundation has anchored its ministry: 1 Peter 5:7: "Cast all worries to Him because He cares for you."
Published by THE FEAST MERCY MINSTRY (August 6, 2023)