ANAWIM YEAR 28 PART 4
The Lord Prevails
By JOHN RAYMOND FABULARUM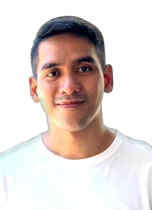 MY favorite Bible verse is Proverbs 19:21: Many are the plans in a person's heart, but it is the LORD's purpose that prevails.
I am sharing my joyful experience as a donor for our Anawim Home for Abandoned Elderly– to disciple the lolos and lolas.
But I must say I really didn't have to plan for a spiritual, or missionary, or discipleship life. God has prevailed upon my life – starting with my name.
Google the meaning of John and you'll find out that it's derived from the Hebrew Yohanan meaning graced by God.
Calling us His children, God has indeed graced us with His Presence, giving us distinction, dignity, honor, favor.
I can say I am indeed graced by God—He has distinctly, lovingly graced my life.
A number of testimonies for this section of The Feast Family are from persons receiving the grace of spiritual awakening usually when they were like already teenagers or older.
My spiritual awakening started way back with my parents Virgilio and Susan who are pious Catholics—actively serving in our parish church, the National Shrine of Our Lady of Fatima, in Valenzuela City where I was born.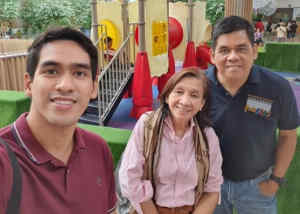 Catholic Upbringing
My parents were part of the Parish Pastoral Council, and some ministries such as the Lay Minister and World Apostolate of Fatima that promotes the devotion to Our Lady.
At my young age, my parents taught me about Jesus.
They sent me to Catholic schools.
For my elementary grades, at the Notre Dame of Greater Manila where I graduated in 2006.
Here I am with Mom Susan and Dad Virgilio.
For high school, also at Notre Dame, 2010. And for college, at De La Salle- College of Saint Benilde, where
I finished Bachelor of Science degree in Business Administration – Major in Computer Application in 2014.
I have been exposed to church activities and spiritual formation that have built and continue to deepen my relationship with God and help me to empower other young people.
I started to be involved in and serve in our parish at the young age of 10 as an altar server and I eventually became part of the Parish Commission on Youth.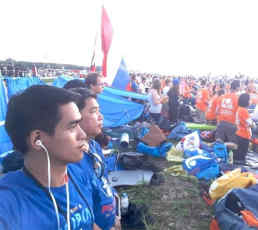 I'm blessed to be one of the chosen delegates of our country, through the Diocese of Malolos, to the World Youth Day held in Krakow, Poland, in 2016.
Here I am with Rev. Fr. Gener, Chairman of the Diocese Commission on Youth (Diocese of Malolos) and other delegates from all over the world attending the Holy Mass celebrated by Pope Francis at the Campus Misericordiae – Pole Miłosierdzia-ŚDM Brzegi in Poland.
I also joined other faith communities such as The Brotherhood of Christian Businessmen and Professionals (BCBP) and I was able to attend the Christian Life Program (CLP) sponsored by them… But God had other plans for me.
Then, the Light
At our parish church in Valenzuela City, I found out about the Light of Jesus Family and The Feast.
Since our parish church is named after Our Lady of Fatima, our fiesta is every May 13—the anniversary of the apparition of Mary, Our Lady, to three shepherd children—Lucia, 9, and her cousins Francisco, 8, and his sister Jacinta,6—in the Fatima village in Portugal in 1917.
In 2014, during our parish celebration of the Feast Day of Our Lady of Fatima, a group led us to Worship and Praise, so powerful—and new, yet impressive to me. The name of the group: The Feast Valenzuela.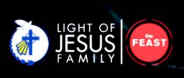 Yes, that was the first time I heard about The Feast and the faith community that established it, the Light of Jesus Family.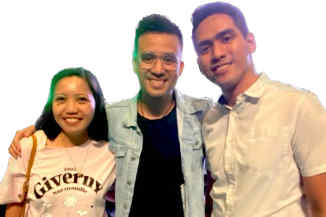 Again, by Divine Design,
I would find out that an aunt, Tita Jane Maranan, is active in The Feast Mall of Asia.
Here, with my Tita
and Bro. Audee Villaraza who I would eventually meet as God
led me to The Feast Bay Area where he is the Builder.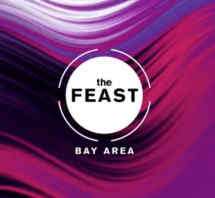 Here's my grace-filled journey:
In 2021, the time of the Coronavirus Disease (COVID) Pandemic, live gatherings were not allowed — to prevent the spread of the deadly disease. So, The Feast held online gatherings.
In December 2021, Tita Jane invited me to join a two-day online retreat organized by The Feast Bay Area (Feast at Home Bay Area as it was called that time) and also sometimes called Feast PICC because it holds its gatherings at the Philippine International Convention Center (PICC) at the Manila Bay Area.
A New Beginning
That December season in 2021, I was lost, confused, depressed, and felt unworthy because of my past life. So, I decided to attend the Feast Bay Area online retreat even though I didn't know anyone there.
All I needed was to recharge my mental and spiritual health. I needed God. No regrets. It was awesome! I'd been attending so many retreats before but
I found this one incredible. They were able to organize and achieve the objectives virtually. What is so impressive about it? I was able to feel the Presence of God in the place of the unknown with unexpected people, and where all you can do is to surrender yourself to God wholeheartedly– and believe in His promise to transform you into a new beginning.
"You make all things new." One of my favorite lines from one of the songs of The Feast Worship.
Indeed, I've been restored and I've learned to value and love my life once again.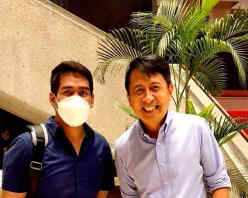 The Feast: Live!
By 2022, the Pandemic somehow began to subside. So, The Feast Bay Area announced a live, face-to-face Grand Easter Feast, to be held at the PICC Plenary Hall April 17, 2022.
I attended – alone—the very first time
I came to a Feast. And I got a chance to meet Bro.
Bo Sanchez in person. It was amazing. This was how my Feast journey started.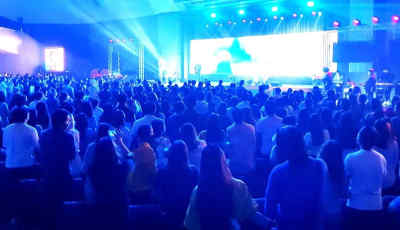 I've since been attending The Feast Bay Area led by Bro. Audee Villaraza.
Here, my first ever Feast session.
Then, a Home
Soon, I heard about the Anawim Home for Abandoned Elderly for the first time– of course, from Bro. Bo Sanchez.
In one of his talks at The Feast Bay Area, he shared the experience that led him to establish the Foundation.
In 2022, LOJ held The Feast Conference, a spiritual learning event, at the SMX Convention Center Manila, and again, I heard about the Anawim in one of the talks.
Curious, I did some research about Anawim. I saw the pictures—the lolos and the lolas having meals together… enjoying fellowships… one looking out the door as if waiting for a loved one to come and visit…another simply lying in bed…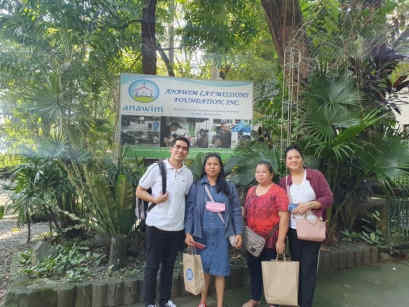 And these so touched my heart that I was then praying that someday, I may be able to visit Anawim too, to donate and do charity works for those abandoned elderly. And praise God! I've been able to!
One blessed day, I was just in Anawim to give my humble financial donation.
But prior to that, I was able to attend the Grand Feast at PICC Plenary Hall in the morning.
I came with some relatives to fellowship and sponsor a meal for the elderly. I meekly asked help from the Anawim staff through their Admin assistant, Ms. Jinky, to prepare and cook delicious food.
All were satisfied and enjoyed the blessings from God.
What's joyful for me was getting to sit and talk with some lolos and lolas and sharing some life stories with them.
One bonus: We also got to explore the resort-like villas, the lush Anawim gardens, inhale the fresh, clean air.
Before we left this wonderful place, I gave each one of the elderly, as well as the Anawim staff, a gift—a luminous holy rosary with a short prayer sheet attached to it.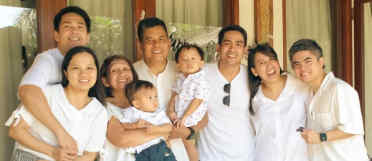 Unexpected Blessings
As goes the jargon– yet true: God would not be outgiven. What I humbly gave, I've received back with unexpected blessings: a well-spent out-of-town birthday celebration with my family (Thank God for giving us good weather!), and surprise happy greetings from friends; priceless good health; job promotion; financial stability.
I've received great blessings from The Feast: More friends through my Light Group (Caring Group) and a fulfilling service to God as member of The Feast Bay Area Production Ministry.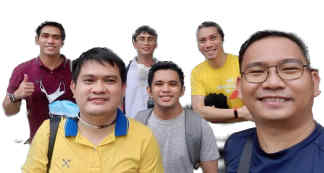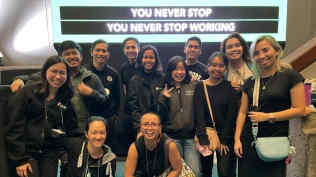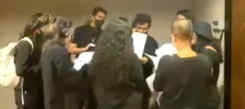 Serving joyfully, clockwise from top left: with my Production Team; that's me placing the podium onstage for the preacher; our team first time on Facebook live; huddling to coordinate our tasks.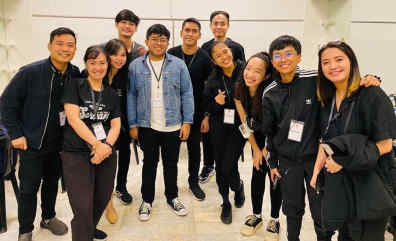 Discipleship Mission
Joining The Feast has been a truly life-changing decision for me. It continues to deepen my faith and strengthen my relationship with God. It has given me a clearer vision of my life's purpose and direction.
Attending The Feast session every Sunday, which includes Holy Mass, powerful Worship, and inspiring talks, makes me feel truly blessed.
What's more, The Feast inspires me to bless others the best I can.
I said at the start of this sharing that I did not plan a missionary life, serving others, making disciples for the Lord.
But as promised in Proverbs 19:21, it is the LORD's purpose that prevails. Remember, in Matthew 28:19, our Lord Jesus has mandated us to Go and make disciples of all men — which is the core mission our Light of Jesus Family has embraced.
What's in a Name
I think God has early on distinctly planned for me to make disciples—starting with my second name, Raymond.
Online definitions of Raymond say that it is from Germanic words counsel and protection. Isn't it that's we do when we are making disciples? We teach, counsel persons to follow Jesus. And we protect, wrap them in prayers that they may choose and remain to be His disciples.
These are just my musings as I write this sharing. But I pray, I trust that God also prevails about what my surname connotes. Again, checking out online definitions, I found out my surname Fabularum is an inflection of fabula, meaning fable. And fables give a lesson or moral to the reader.
If someone picked up a lesson in this, my sharing, then, indeed, not what's in my mind, or my heart really matters. But it is the Lord's purpose that prevails.
This story was first published in the Feast Family Online News Magazine.
Published by THE FEAST MERCY MINSTRY (October 22, 2023)