The Feast Bayanihan, Part 2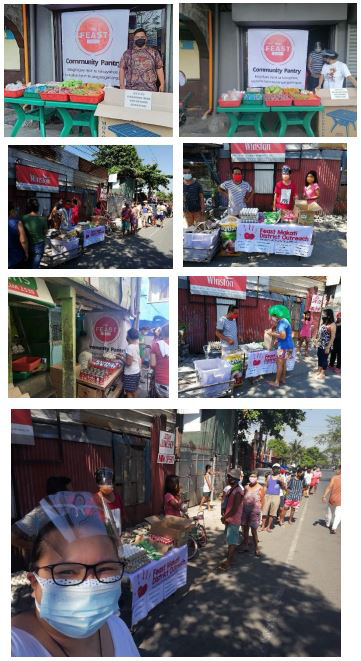 And definitely with no other motive but to be Jesus to those who need Him most in these trying times.
Here, our various Feast Mercy missions. Helping the   poor, providing food for them, has been part of our mission– inspired as we are by our Lord Jesus Himself when He turned 5 loaves and 2 fish into thousands that many were able to eat and be blessed by Him.
As evening approached, the disciples came to him and said, "This is a remote place, and it's already getting late. Send the crowds away, so they can go to the villages and buy themselves some food."  Jesus replied, "They do not need to go away. You give them something to eat." "We have here only five loaves of bread and two fish," they answered. "Bring them here to me," he said. And he directed the people to sit down on the grass. Taking the five loaves and the two fish and looking up to heaven, he gave thanks and broke the loaves. Then he gave them to the disciples, and the disciples gave them to the people. They all ate and were satisfied, and the disciples picked up twelve basketfus of broken pieces that were left over. The number of those who ate was about five thousand men, besides women and children. Matthew 14:13-21 (NIV)
The story of Jesus feeding the 5,000 has a message that holds true up to this day. Call it Community Pantry, or Feast Little Acts of Love– bottom line is Jesus is telling us to be compassionate to the needy, and to provide them with the sustenance of God. With Jesus showing compassion and contributing His time and food, He wants others to follow His lead. Also, this shows us that God will provide us what we need, and we can see today through our Feasts and the people who give abundantly- like Jesus does to this day.