PAG-ASA NG PAMILYA FOUNDATION PART3 Scholarship Granted Before I Was Born By RICA MAE S. NEMIAGA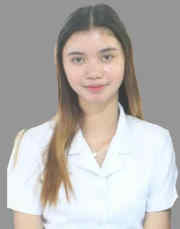 YES, I can very well say I received the Pag-asa ng Pamilya scholarship way even before I was born. How's that?
Read on…
I needed a scholarship grant because my parents hardly earned enough to provide for our family– my father Ricky as delivery driver, and my mother Gemma as vendor of ginamis, a traditional Pinoy rice crisp.
There are two of us children—my brother Russel, now 10 years old, and I, now 18. Growing up, we saw our parents struggling to sustain our family. We often had to choose between paying bills and putting food on the table.

Here we are, from left: my father Ricky; mother Gemma; brother Russel; yours truly.
I joined Pag-Asa in June 2020. The scholarship has lifted the financial burden off my family shoulders. The financial support has assured I'd have a college education which is so important for me to get a good job, and eventually earn money to support my family, for us to have a better life.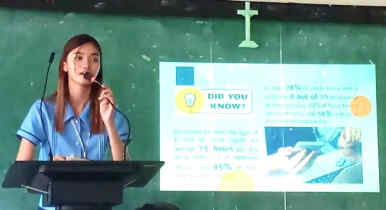 Journey Toward Hope
It is said hope springs eternal.
I am one who can affirm this is so true.
Basic education was possible for me, thanks to public schools—I went to Bangad Elementary School and Janosa National High School.
At right, here I am, reporting on a project in Grade School.
College education was, at first, just a dream. But I believe God has well thought out how that dream would come true.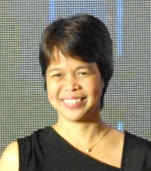 We live in Bangad, Binangonan, Rizal. And one of our neighbors happens to be the Gondraneos family— family of Cherielyn Gondraneos Cenidoza, accounting staff at Pag-asa ng Pamilya.
One day, I overheard my mother talking with Lita Gondraneos, mother of Cherielyn, about a scholarship program. Lita suggested I consult with Ma'am Rowena Cequeña (right) longtime finance director of the Light of Jesus Family and serving as member of the Pag-asa
Board of Trustees. Plus, of course, I got to talk with Cherielyn for her valuable support.
Sis. Weng and Sis. Cherie listened patiently as I explained my situation and they kindly guided me through the scholarship application process step-by-step. I am eternally grateful to Ma'am Weng and sisters Lita and Cherie for introducing me to Pag-Asa and for their unwavering support.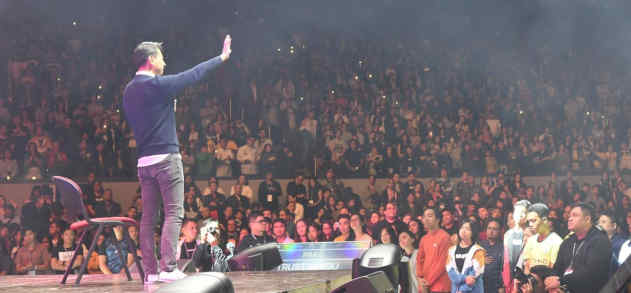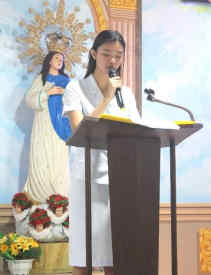 Aside from the financial assistance, Pag-Asa has helped me in dealing with life– through its spiritual formation program.
Regular talks about God's Word gradually deepened my faith. The speakers discussed not only spiritual nourishment but also shared their knowledge and experiences on practical living.
We had online meetings, enabling me to connect with other Pag-asa scholars from different parts of the country. And this has been a great opportunity to learn from their experiences too.
Aside from leading me to Pag-asa, my mother had earlier introduced me to The Feast.
Above, our founder, Bro. Bo Sanchez, preaching. I joined The Feast when I was in 7th Grade.
Today, we have a Feast Light in the Immaculate Conception Chapel, in our hometown in Bangad. And I am blessed to be a choir member, a lector and commentator, and an animator.
Pain and hardship are part of life, and no one is spared from them. But the Bible verse, Isaiah 41:10, reminds me that nothing is too big or too impossible for God to handle:
10Do not fear: I am with you; do not be anxious: I am your God. I will strengthen you, I will help you, I will uphold you with my victorious right hand.
God has well demonstrated He stands by His Word by making me a Pag-asa scholar.
I was born on June 22, 2004. This issue of The Feast Family comes out
on Sunday, June 25, 2023. I believe this is not mere coincidence. I believe long before I was born, God has planned that I would be a Pag-asa scholar, and I would share about it, to give hope to someone out there still just dreaming, just hoping
to have a good education, to have a better life– like I have now.
So, I do not fear any obstacle or challenge in life because I know that there is a God who will be with me in the process of healing or overcoming the hardships.
That's my steadfast hope, my pag-asa.
Published by THE FEAST MERCY MINSTRY (June 25, 2023)