JESUS CHRIST CARES FOR CANCER PART 2 Roller-Coaster of Burdens … and Blessings By DR. DYAN SABALVARO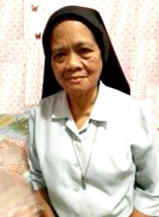 I AM a member of the Franciscan Community of Sisters of Mary of the Eucharist.   Before joining this congregation, I worked as a houseparent with Bro. Rey Ortega, brainchild of the various Mercy Ministries of the Light of Jesus Family faith community. While I'm not a licensed social worker, I did the work of one, preparing case studies of potential beneficiaries.
Sr. Joy Castillo, a nun from another religious order, arranged a meeting with me,
Bro. Rey, and another nun somewhere in Antipolo City. We talked about the plight of five street kids who were under the care of Sr. Joy and her dream of setting up an orphanage for abandoned, neglected, and impoverished children. Little did we know the planned ministry will eventually materialize through the effort of Bro. Rey.
In 2002, Bro. Rey asked me to help him in his Ministry for indigent children called Tahanan ng Pagmamahal.
The five street kids who needed shelter were its first beneficiaries.
Bro. Rey arranged for a temporary shelter for the children in his own home in Pasig. I helped him and his wife Sis.
Myrna take care of the children until such time he was able to rent a place for them in Oranbo, Pasig.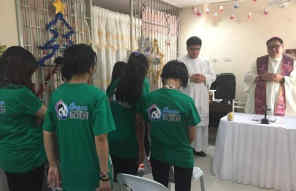 Ministering to Women in Crisis
Tahanan ng Pagmamahal was set up as a foundation and foundation regulations specify that personnel must be licensed social workers. I am not, so, after about two years, Bro. Rey assigned me to another Ministry –
Grace To Be Born, which provides shelter and pastoral care for unwed pregnant women in crisis.
Without a spouse to support them, unwed women are inclined to abort their pregnancy. So, I felt blessed ministering to these women, praying with them, giving them hope that God will find a way to solve their problems.
Aside from taking care of the women's material needs and spiritual nourishment, Grace To Be Born also attends to their legal cases. Bro. Rey saw to it that justice is served for them.
One case was about a woman who got pregnant because her father raped her. Bro. Rey helped the woman file a case against the father and relentlessly pursued the case until the man was put to jail. That's how serious Bro. Rey was about making sure Grace To Be Born does its best for its beneficiaries.
I felt so blessed helping Grace but I could not stay long there because I needed to give time for my congregation.
Trials and Triumphs
As we've often been told, choosing to serve God does not mean we would be spared of trials in this world.
I have my share of life's challenges. In 2017, I went for a health exam and I was diagnosed with stage three breast cancer.
I could not believe the test result. What I knew at that time was when you have cancer, that's your end – because cancer is incurable.
I would then go through a roller-coaster of trials and triumphs, burdens – and blessings. Because amid my agony, God did not fail to make me feel His Presence – that He was truly in control of my situation.
My doctor scheduled me for an operation at the Philippine General Hospital on September 8, 2017 — a blessed day because that's the birthday of the Blessed
Mother Mary. But my blood pressure went up to 250 over 100. I almost collapsed.
So, my doctor re-scheduled the surgery operation for the next day. Blessing No. 2, for then I had a chance to attend the Solemnity rites celebrating Mama Mary's birthday.
Journey to Healing
I felt better but still with a heavy heart. I had to accept that I had to be operated on as soon as possible as my doctor advised. So, I underwent the procedure under heavy anesthesia. As soon as the drug expired, I felt excruciating pain, mercifully alleviated only by some pain reliever my doctor prescribed.
But what would not go away was the utter sadness that gripped me, the sense of hopelessness that I would ever survive cancer.
After five days, my doctor told me that I could already go home. But … to make sure the cancer cells would not grow, I would have to go back for chemotherapy – eight sessions, and radiation – 15 treatments.
And, as if the pain was not enough, I reeled over what I knew was the prohibitive costs of those procedures —chemo, P80.00 per session, and radiation P30,000 per treatment!
I could hardly understand what I felt at that time. I asked myself, "Am I afraid to die?"
Actually, not so. What scared me was, with the high costs of treatments,
I would be a burden to my loved ones. And I definitely did not want that. If I die, I want to die with a happy heart.
But yes, another blessing: my doctor told me not to worry because I had PhilHealth insurance benefits which would cut down those expenses.
Still, this was cancer – there were other medicines and health care procedures to fight it.
So as not to shell out too much cash, I decided not to undergo chemo and radiation.
Again, a blessing: Earlier, as part of my missionary vocation, I joined outreach programs for villages in need in the rural areas.
There, I learned about herbal medicines and so, I knew what herbs I could use as an alternative to the costly pills I needed to take.

Blessing of Blessings
I cap this sharing with the blessing of blessings I've received from our amazing God: My vocation has well taught me the power of prayer which has so deepened my faith in God that I've been able to submit myself to Him.
I told the Lord, "If I am no longer of use here, You can take me, Lord … But if I could still do something to those who are in need, please help me to go on, Lord." God answered my prayer through Bro. Rey. He introduced me to yet one of his
Mercy Ministries – Jesus Christ Cares For Cancer (JCCFC) — which has been a big support for me in my journey through cancer.
God Cares
Today, I am with Duyan Ni Maria Children's Home for children in dire need.
I help take care of children who are abandoned, orphaned, abused, or surrendered by the Department of Social Welfare and Development (DSWD) to the institution.
Registered with the Securities and Exchange Commission (SEC), as a non- stock, non-profit organization established in 1988, Duyan Ni Maria Children's Home, is based in Dapdap, Mabalacat City, Pampanga.

Here I am (at head table) serving as executive director for Duyan ni Maria Childrens Home. With me are Duyan Ni Maria board of directors, clockwise, from my left: Ruth Anoos, auditor and bookkeeper; Dr. Nelly Delos Reyes, treasurer; Gemima Estrabillo, board secretary; Sr. Cecile Ruiz, board member;
Esther de Guzman; board member; Fr. Jose P. Casas, Jr., president.
The goal of the mission is to provide the children a temporary shelter with access to basic services like food, shelter, clothing, education, medical provisions. Most important, the foundation provides immediate pastoral interventions as well as spiritual formation.
The foundation thrives on, thanks to the concern of individuals, families, organizations, and communities who share what they could – goods, services, cash gifts.
They believe in the children's right to live, reclaim their sense of dignity and power. It is our desire and hope that someday, they will become self-reliant and responsible members of their respective families and our society.
From here, I don't know where God would take me next. Suffice it to say that I know, I've experienced that Jesus cares — not only for cancer, but for my entire well-being. For, indeed, He died for mankind—and He lives to this day for us.
He cares for me and for you too.
Published by THE FEAST MERCY MINSTRY (April 9, 2023)