HE CARES MISSION PART 5 Pure, Strong Evangelist
IN writing stories of personalities we feature in The Feast Family, we often start with finding out the meaning of the person's name. That's because one's name is said to define one's purpose if not the entire identity and behavior of the individual or what the person would ultimately become.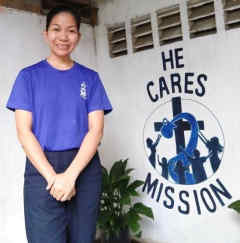 For this issue, we did not have to make a thorough research about the name of our featured volunteer servant of He Cares Mission. Her name is Catherine Evangelista Tamon.
Catherine is a common name derived from the Greek word katharos which means pure. We know very well what Evangelista means— evangelist, derived from the Greek word euangelos meaning bringer of good news. Yes, as in the writers of the New Testament— Matthew, Mark, Luke and John
Tamon is not common, so, we looked it up, googled its meaning, and we found out the name is of Japanese origin, and has various meanings: listen; fortress; gate; or a very strong person who puts everyone before himself—this one from https://www.urbandictionary.com › define › term=Tamon
So, put together, the names Catherine, Evangelista, Tamon literally read pure evangelist, strong person— as in a fortress or gate—who cares for others and, at the very least, listens to them.
Catherine may have not consciously followed or acted out what her name connotes. But we see that what she is today is close to the definition of her name.
Steps Toward Mission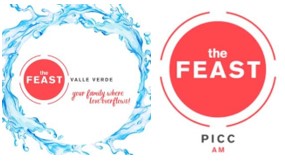 Being a missionary, however, was not Catherine's first plan. From the San Juan West Elementary School, and the St. Joseph Marello Institute both in San Juan, Batangas, she went to a business school, the Polytechnic University of the Philippines, where she earned a Bachelor of Science degree in Office Administration. And from there, she stepped into the business world, working for the Bank of the Philippine Islands (BPI) Foundation and doing network marketing business on the side.
But the word business is not in her name, right? Evangelist is. And she would start her way toward that realm in 2010. That year, a friend, Kevin Ocoma, invited her to join The Feast, our faith gathering in Valle Verde, Pasig.

Two years after, in 2012, she was already in The Feast at the Philippine International Convention Center (PICC). There, a good friend, Robelyn Tan, introduced her to the Awesome
Kids Ministry Family (AKM), taking care of the children while their parents are attending The Feast. Taking care also means evangelizing because AKM shares The Feast teaching to the kids– yes, in fun kiddie terms.
The couple tandem of Sis. Tom and Rita Yokingco, AKM head servants, warmly welcomed Catherine. Here, the AKM team, above, from left: Jerome Santes, Christopher Chua, Rita Yokingco, Rem Lopez, Aezer Cajegas, Tom Yokingco, their children Zak, Niki, and Cole Yokingco.
Below, Catherine with AKM children aged 4 to 6 years old, at Feast PICC.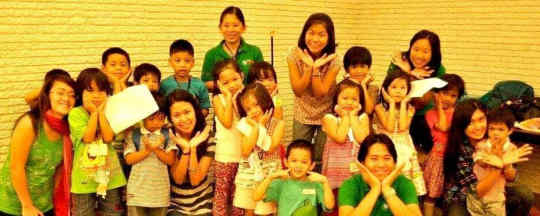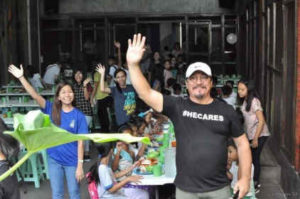 She Cares
At Feast PICC, she was also invited to join a Caring Group. Here, she met the active volunteer servants of the He Cares Mission. And even before you can say Evangelista, she already started – in the same year, 2012—as volunteer servant for He Cares Mission.
The He Cares servants invited Catherine to visit the He Cares Center in Quezon City. They introduced her to Bro. Joe Dean Sola (above right), He Cares founder.
Impressed by the extraordinary mission of He Cares, Catherine decided to serve as a live-in volunteer in the Ministry every Saturday.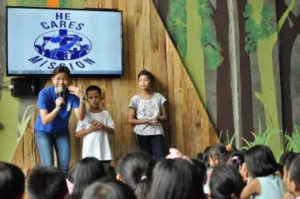 Her first task was at the shower area—bathing the children He Cares take in from the streets, dressing them up, guiding them to the dining area for the Feeding Program. At right, she welcomes the kids for the day's feeding session.
After a few months, Bro Joe Dean assigned Catherine to welcome and orient new volunteers on the He Cares operations.
Catherine also helps in the Back-to- School program which grants scholarships to the children.
Blessings
In time, Catherine decided to ask permission from Bro. Tom and Sis. Rita to spend more time serving in He Cares. And knowing He Cares needs more servants, they blessed her decision.
Then, three years after, already deep in her commitment serving in He Cares, Catherine filed a resignation at BPI Foundation and decided to work full-time on the mission.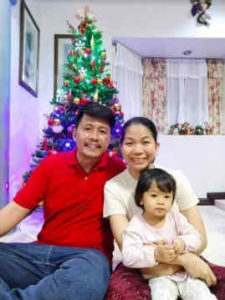 Bro. Joe Dean assigned her to handle the Back-to-School program, volunteer management, and also to serve in the prayer meetings.
Catherine has taken care of a hundred and one, and more children in need—for the Lord. God, who would not be outdone, has greatly blessed her.
First, with the love of her life. "My greatest blessing is Daryl," she says joyfully.
They got married in 2018, and they are celebrating their fourth wedding anniversary this September 20.
And then, a child of their own– Darlene Elise, now 3 years old.
"I am just so grateful to God that He has blessed me with love and faithfulness and Daryl and Darlene," she adds.
A month after Daryl and Catherine got married in 2018, they moved to Daryl's hometown in Bacolod.
Bro. Joe Dean gave his blessing on the couple's move. He then entrusted to them the ongoing He Cares outreach program in Bacolod.
"We have been handling the Mission here for four years already, and God never fails to provide for our needs and the needs of the mission," Catherine shares.
"At He Cares, we plant Jesus in the heart of each of the children– as well as in their families through He Cares' pastoral programs for them," she adds.
Happily, Catherine is living what she is named –and called—for.
Her favorite Bible verse says it all: "The Lord has done great things for us, and we are filled with joy." –Psalm 12
–With reporting by Cybill P. Bayto