The FEAST LITTLE ACTS OF LOVE
Prompt Response to Typhoons Egay and Falcon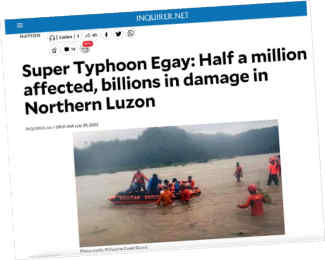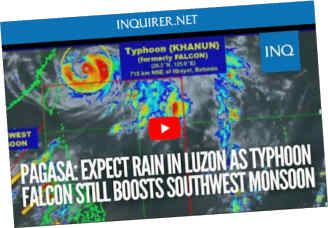 ON Wednesday, July 26, 2023, Typhoon Doksuri hit northern Philippines as Typhoon Egay, initially killing 5 persons and displacing nearly 27,000.
The following days, floods caused by Typhoon Egay already affected 2 million persons, pushing over 300,000 to evacuate.
On Friday, July 28, 2023, Typhoon Khanun, or Typhoon Falcon as we know here, entered the Philippine area of responsibility at 11:00 p.m.
As of this writing, Typhoons Egay and Falcon, plus the enhanced Southwest Monsoon or Habagat, have recorded 29 dead, affected 805,621 families, and slammed the Agriculture industry an estimated P1.94 billion damage.
Valiantly amid the calamities is our Light of Jesus Family Disaster Recovery Ministry (LOJFDRM) now we call The Feast Little Acts of Love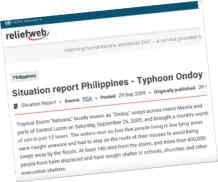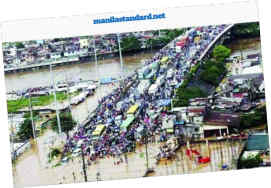 From Ondoy… to Disaster Recovery Ministry
A powerful typhoon swirled the establishment of the Ministry.
On September 23, 2009, Typhoon Ketsana hit Palau, an island country in the Micronesia, in Oceania, western Pacific. The next day, the storm intensified, upgraded to a tropical storm, and striking the Philippines as Typhoon Ondoy on September 26, 2009.
President Gloria Macapagal Arroyo declared a state of calamity over Luzon, as landslides caused by Ondoy killed 86 persons. Records as of October 24, 2013, showed a total 464 died in the storm.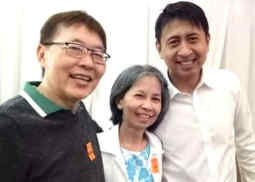 We well remember Typhoon Ondoy as it was at the onslaught of the calamity that our Light of Jesus Family Disaster Recovery Ministry (LOJFDRM) was established.
Our founder, Bro. Bo Sanchez, encouraged our Community leaders to form the group to help members in times of calamities.
At left, Bro. Bo with Bro. Marvin Tan, Ministry executive director, with supportive wife Sis. Liza Tan.


Early on, Bro. Bo assigned Bro. Roy Pasimio (extreme left) as the first head of the Ministry.
He formed its organization, objectives, and policies. In time, Bro. Roy handled the LOJ International branches of The Feast, our faith gathering.
So, Bro. Jorge Diomampo next handled the Ministry. Soon, Bro. Jorge retired, and so, Bro. Marvin took over.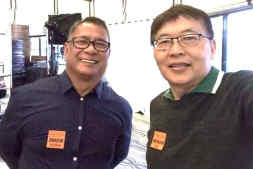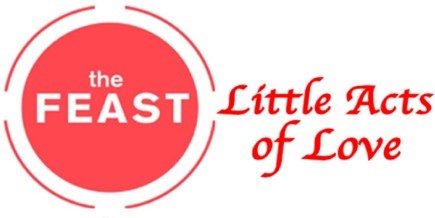 The Light of Jesus Feast is a loving community where all members can feel safe, experience support, love, and care especially in times of crises and calamities.
With an unending cycle of generosity– giving, sharing, saving lives—we now call our Ministry The Feast Little Acts of Love.
Today, a Board of Trustees leads our Ministry with Bro. Hermie Morelos (right) as chairman.




Other Board members are, from extreme left: Carl E. Fontanilla, Cesar Campos Cagalawan, Judd B. Balayan, Ervine J. Pangwi, with Marvin as executive director, and Jhun Que (below left) as operations director.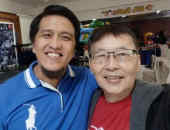 Yes, with little acts of love, the Ministry has promptly provided relief for villagers affected by calamities– typhoons, volcanic eruptions, earthquakes, fires, armed conflicts. From the time of Bro. Roy and Bro. Jorge, and up to present time, the Ministry has given millions of financial assistance and relief goods to countless members of our Light of Jesus Family, The Feasts, and even non-Feasters affected by the calamities.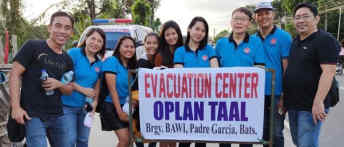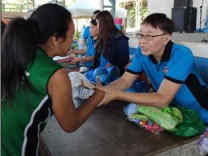 Flashback: Feast Little Acts of Love for residents affected by the eruption of the Taal Volcano, January 2020.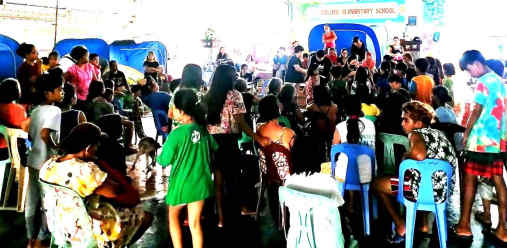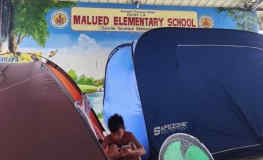 Loving Dagupan
Badly hit by Typhoon Egay is the province of Dagupan.
An article by Gabriel L. Cardinoza in The Manila Times reports: "Strong winds and heavy rain spawned by Typhoon Egay blew off roofs, toppled trees and flooded many parts of Pangasinan, the Provincial Disaster Risk Reduction and Management Office (PDRRMO) here said on Wednesday (July 26, 2023) … No casualties were reported before noon Wednesday, but the PDRRMO said that 46 families, consisting of 159 individuals, were affected by the typhoon in Alaminos City and the towns of Mangatarem, Binmaley, Manaoag, Lingayen, Bani, Anda, and Calasiao."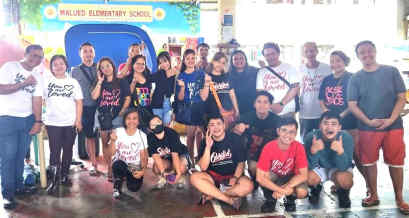 And happy to serve are servants of
The Feast Little Acts of Love Ministry.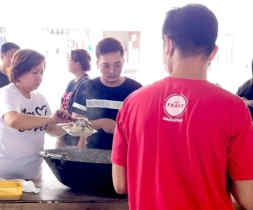 Faith, Food, Fun!

Bro. Marvin shared this report on the faithful, prompt response of The Feast Dagupan Little Acts of Love for our brothers and sisters in
Brgy. Malued in Dagupan City: "We had a simple program.
Our Feast Builder, Bro. Barz Lomibao (right) gave an inspirational message to give hope to the evacuees. Bro. Marlo and Sis. Jobelle led worship. The Feast Dagupan Youth entertained them with dance numbers. Sis. Nica and Sis. KM facilitated the games. We sponsored the lunch of the evacuees. We also took time to connect with the evacuees by talking to them and praying for them.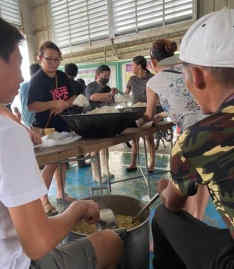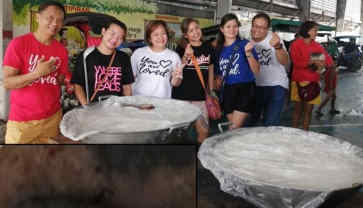 "Indeed, it was a fun and blessed day.
"Praise God!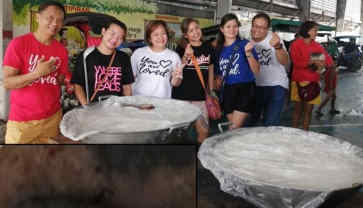 "We would like to extend our deepest gratitude to all who helped and gave their donations.
We have helped 383 individuals. "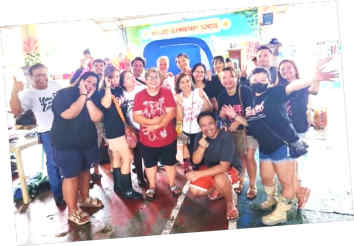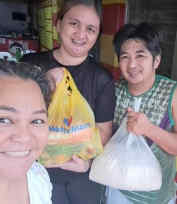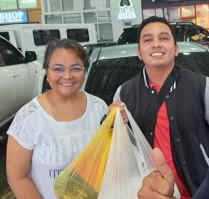 Loving Malolos
On July 31, 2023, an article by Zorayda Tecson through the Philippine News Agency reported: "A total of 341,242 families or 1,195,866 individuals in Region 3 (Central Luzon, which includes Bulacan—Malolos, Calumpit) were affected by the continuous rains brought by Typhoon Egay and the enhanced Southwest Monsoon… Based on the latest data from the Regional Disaster Risk
Reduction and Management Council-3 (RDRRMC-3) on Monday (July 31, 2023), of the total number, 8,862 families or 32,404 individuals are still staying in various evacuation centers in the region." At right, Sis Haidee Camua (white blouse) of Feast Malolos leads relief operations.
Loving Calumpit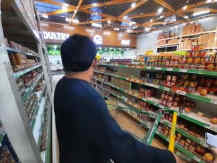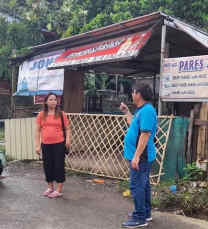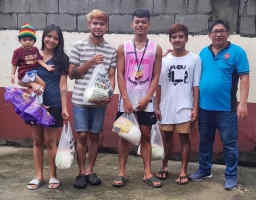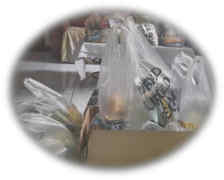 Feast Calumpit Little Acts: Shopping for relief goods; Bro. Bong Rivas (blue shirt) checking the situation; standing by happy residents.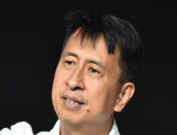 Bro. Bo: We reach out to all those affected by the recent calamities. From my family to yours, our entire Light of Jesus Feast Community, we want you know that we are fervently praying for you. We embrace you with God's comforting healing and love.
Published by THE FEAST MERCY MINSTRY (August 13, 2023)