The FEAST LITTLE ACTS OF LOVE
Prompt Action on Goring
TYPHOON Egay. Typhoon Falcon. And now, as we write this article, Typhoon Goring.
As of August 27, 2023, Typhoon Goring had strengthened the southwest monsoon or habagat, so it had leveled up to Super Typhoon, with 185 km/h and gustiness of up to 230 km/h, according to the Philippine Atmospheric, Geophysical and Astronomical Services Administration (PAGASA).
We know that Egay and Falcon, two of the strongest typhoons to hit the country, caused floods, driving thousands to flee their homes and destroying over a billion pesos worth of crops and infrastructure.

Goring may cause floods and landslides in affected provinces mostly in northern and central Luzon.
The successive storms have kept our Light of Jesus Disaster Recovery Ministry we now call The Feast Little Acts of Love, up on its feet. We featured the response of the Ministry to help those affected by Typhoons Egay and Falcon.
Dennis M. Sembrano, Feast Builder, The Feast Pampanga, gives an update of the Ministry's recent actions.
"We did relief operations for one elementary school in the City of San Fernando, Pampanga," he relates .
He adds: "Our problem is we need more financial support. There are lots of generous people, but still we couldn't give enough. To be able to continue our relief projects, the Ministry has to have separate fund for this kind of situation Being pro-active is the key to disaster response. We need donations in kind or in cash."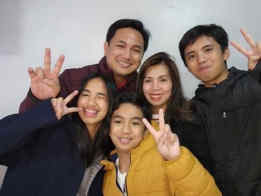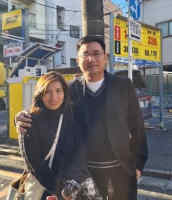 Calling
For Bro. Dennis, his top calling is to be husband to Jay Lyn and father to their three children. Here, with Dennis and Jay Lyn, from left: Nicole Denise, 20; Joshua Dennis, 17; and Aron Dennis, 12, all students.
Next to family, serving God through our faith community, Light of Jesus Family, is clearly a calling for Bro. Dennis.
Before joining the Light of Jesus Family, Bro. Dennis already belonged to a Charismatic Community.
"But I guess you can name me what you call a "nominal Christian," he pointed out.
Then through the invitation of Bro. Clint Llemos, Feast Light Coordinator, Pampanga, Bro. Dennis attended a Feast Live at Feast Bay Area. So, he officially joined the Light of Jesus Family in August 2019.
By God's grace, Bro. Dennis has been well-prepared for this Mission.
His parents, Honorio (deceased) and Maria Trinidad, still active at age 63, raised him well as a good Catholic, along with his siblings, Lauro Magno, 36; Isabel, 38; and Maria Crisantabel, 41.
For his education, Bro. Dennis started at the San Fernando Elementary School, graduating in 1995. Then, he finished high school to the University of the Assumption, 2000, and college at the Holy Angel University, 2005. He is now working on his Master's degree in Pastoral Ministry at the Don Bosco School of Theology
To put food on the table, he works as sales and marketing head at Megawide Construction Corporation (Precast and Construction Solutions Group).
Though serious with his Mission, Bro. Dennis knows how to relax.
He smiles, "I love to cook Japanese, I play drums, I do collect toys (Japanese)."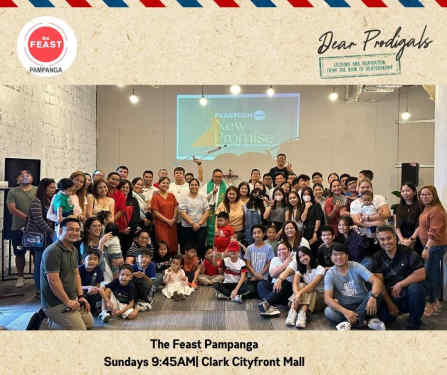 Acts of Love
Bro. Dennis ministers to 50 to 80 members plus beneficiaries of The Feast Pampanga Little Acts of Love.
"When I joined LOJ, we were introduced to a lot of "acts of love" ministries. Oftentimes, we are also tapped by other Feasts to help in their own apostolates," he relates.

Blessings
Bro. Dennis counts his blessings: "Since I joined The Feast, I've gained new families and friends."
Best of all, he adds: "God has been generous to us in ways I can't even imagine. The biggest blessing of all, however, is realizing that it is not hard to give if you open your life to the Lord. God Himself will give you a generous heart. Just be open to receive it."
Behind this inspiration is his favorite verse,1 Timothy 1:14: And the grace of our Lord was exceedingly abundant, with faith and love which are in Christ Jesus
This story was first published in the Feast Family Online News Magazine.
Published by THE FEAST MERCY MINSTRY (September 23, 2023)