PAY IT FORWARD
BY KAZELLE ANNE A. SALLEGUE
"For I know the plans I have for you, declares the Lord, plans for welfare and not for evil, to give you a future and a hope." – Jeremiah 29:11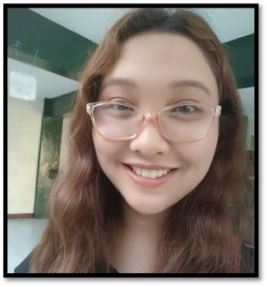 I am an engineer by profession but I am currently teaching physics at a public senior high school. Writing poems and journaling are some of my creative and emotional outlets. Depending on the mood, I also find comfort in listening to music. When I have some free time, I also like to do coloring.
Way back 2015, my family discovered The Feast by accidentally watching it on the channel where Kerygma TV was shown. We got curious thus after some weeks of watching, we then decided to attend The Feast personally.
The first months of attending The Feast was during the time that I was still a very immature teenage girl, broken-hearted, and somehow with an attitude problem. So attending The Feast at the moment was indeed a proper timing for me. It was a place that made me realize that I was not alone in the pain I had felt, that the Lord is faithfully forgiving, and that surrendering everything to the Lord is the best thing to do during these times. It humbled me and helped me to heal and to move on while entrusting my life to the Lord. Years passed by, every time we went to The Feast, it was a healing and comforting moment for me especially whenever I had worries about myself, my relationships, and my studies. Indeed, The Feast is a place for messy and imperfect persons like me who continuously seek the guidance of our God.
It started when my mother was looking for a scholarship for my college education around July 2016. While watching and attending The Feast, we came across the different ministries of Kerygma Family and spotted Pag-Asa ng Pamilya Scholarship Foundation. Eventually, my mother texted the contact number indicated on this foundation in an attempt to apply for the scholarship. The contact number replied and told us that the application was already over and we may try again on the next batch. Little did we know when my mother mentioned that I was a valedictorian in high school, the person texting us would accept my application. So my mother and I went to a place somewhere in Mandaluyong to meet the person texting us. And that person is Bro. Rey Ortega.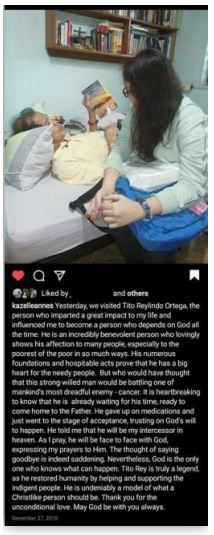 Our meeting was one of the most remarkable moments in my life. It was pretty rough at the start since there had been some sort of misunderstanding. Bro. Rey even asked me "Masungit ba ako?" and I replied, "Medyo po.". After I answered that, from my perspective, he was delighted. It was because instead of sugarcoating my answer, I responded 'honestly'. It was at this moment that our special bond was formed, and he even told me to call him, "Tito Rey". We had meaningful conversations about helping people who are in need and we also talked about my dreams in life.
I was accepted as a scholar of the foundation and made a promise to help students who also need assistance in education when I am already capable. After we separated, we continued to exchange messages through text and his advices indeed guided my perspectives in life.
Then it was not even a year passed, around December 2016, when we found out about the cancer that Tito Rey had been enduring for a long time.
My mother and I visited his home as he was already bed-ridden because of his illness. It was a heartwarming meeting, full of blessings, selflessness, and love. At that time, he was already ready to let the will of the Lord be done. It was also at this moment when Tito Rey gave me his self-written book and wrote on the back of the cover page the details of Jesus Christ Cares for the Cancer Inc.
He humbly asked me to donate a part of my income to JCCFC, whenever I already finished my studies and had a job. To pay him forward, I kept his word until this time and continuously give a part of my monthly earnings to JCCFC to contribute to helping cancer patients in need. Tito Rey was certainly a very inspirational person as he would always be a part of my mind and life and I am always grateful to the Lord for meeting him, even for that short time.
JCCFC always reminds me to have a heart that gives willingly and generously and that we can always help people in any possible way. As we become blessed, it is pleasing to the Lord that we also become compassionate and generous persons by being able to share our blessings to other people.
We are currently facing an unexpected pandemic in our world. Life has been physically, emotionally, and spiritually challenging these days as I struggle with transitioning – from teenage years into becoming a young adult with gradually increasing responsibilities and dilemmas. But the Lord always finds a way to protect and comfort us. In this season of my life, I think what I learned best is to always trust in the will of the Lord, no matter what the situation is. Because eventually, He will provide us peace of mind and healing and He will always be our companion in life.
The Lord loves all of us. No matter who we are, no matter what we are going through, He is always by our side and He gives us comfort. Please keep the faith and be hopeful to the Lord. Take care and may God always bless you.#