PAG-ASA NG PAMILYA FOUNDATION PART 2 Pag-Asa Blessings
By KRISSAN MEDILO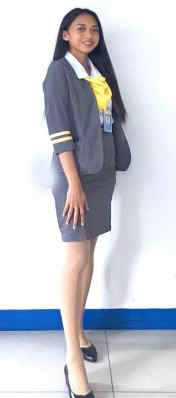 HI! Just call me Kriss.
As this photo shows, I am in my school uniform— the uniform of students of Systems Technology Inc. (STI) in Santa Rosa, Laguna, where I am taking up Tourism Management.
I am here as a Pag-asa ng Pamilya scholar, big thanks to our founder, Bro. Bo Sanchez.
You see, my father Christopher works as personal driver of Bro. Bo. So, eventually, Bro. Bo kindly introduced me to Pag-asa.
Here is my father (in green shirt) with Bro. Bo. In the middle is my father's co-driver Ardie.
The Pag-asa scholarship is God's gift I am deeply, forever, grateful for.
We are a family of humble means.
Before I became a Pag-Asa scholar, our life was difficult. Early on, my father had a job which he left for some reason. So, then, his income was cash he earned when he won in basketball games. Winning meant we would have food ,on the table.
Pag-Asa Blessings
To augment my father's income, my mother Anabella to this day works as a tailor, sewing curtains and stuff.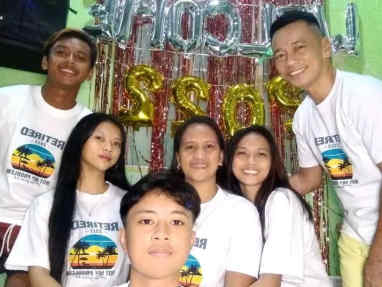 My parents struggle to sustain our family, where
I am eldest of four children.
Here we are, from the left: brother King John Dominic; sister Kate Ann Pauline;
our youngest, King James Patrick; mother Anabella; yours truly; and father Christopher.
Everything changed when a friend introduced my father to Bro. Bo who eventually hired him as his driver—
and that led me to Pag-asa.
I count many blessings since I became a Pag-Asa scholar.
I'll name four major benefits.
First, of course, is the Pag-asa grant has enabled me to pay my tuition fee every semester, plus buy my school materials. So, I am already graduating August this year.
Here I am with my STI classmates after our class.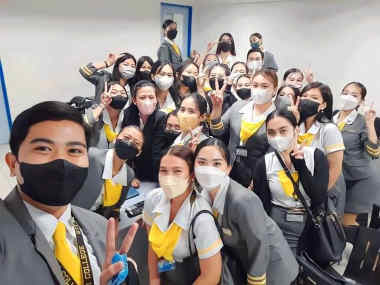 Second, Bro. Bo not only helped me become a Pag-asa scholar. He and his family have embraced my family and me as practically part of their family.
They arranged for us to have a house of our own in San Pedro City, Laguna.
And they brought us along when they go on trips, visiting tourist destinations.
So, we got to visit the Enchanted Kingdom. And we got to join their company outing in Boracay, Cebu, and Bohol. I got to ride a plane for the first time.
Third, I've been inspired to fend for myself. In addition to my Pag-asa scholarship, I am able to add income for my family by working. I once worked as a nanny of my godmother's children. I also worked as a sales associate.
Now, I am working as part-time Customer Service representative at Alorica Makati, a work-from-home setup which started at the onslaught of the Coronavirus Disease (COVID) Pandemic.
I think that being a working student is not really hard if you enjoy exploring and if you love your work. Yes, you will feel tired, but working somehow pushes me to persevere in life. Besides, there's joy within me knowing that there's a purpose in what I am doing now. I can fend for myself and help my family as well.
Fourth, and the best, Pag-asa is a Mercy Ministry of the Light of Jesus Family, which has helped me in my faith journey. I've been able to know more about
the Bible. My favorite verse now is Romans 5:8: "But God demonstrates his own love for us in this: While we were still sinners, Christ died for us."
I learned that even when we are in our darkest moment, God is there to save us.
He is our joy and happiness.
I always pray. I trust that everything God does in my life is for my own good. I really thank God and I take this opportunity to say thank you to Pag-Asa.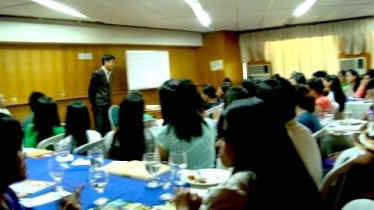 Pag-asa ng Pamilya, founded in 1979, helps to uplift indigents through education. The foundation has granted scholarships to deserving students so they can finish school and be able to help their family.
At left, Bro. Bo meets with Pag-asa scholars.
Pag-asa indeed has helped me with my school finances which have led to many other blessings that have improved our family life.
Glory to God!
Published by THE FEAST MERCY MINSTRY (June 11, 2023)