JESUS CHRIST CARES FOR CANCER PART 5 One Over-Coffee-Talk …
By MARINA S. UY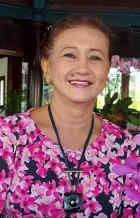 IN mid-2015, I had coffee with Bro. Rey Ortega, brainchild of a number of our Mercy Ministries.
That casual over-coffee-talk turned into an official commitment with me signing up as a founding director of the cash aid foundation, of Jesus Christ Cares for Cancer (JCCFC).
I've been blessed to be a volunteer servant in Mercy Ministries – the reason I've been meeting with Bro. Rey, usually discussing our mission over a cup of coffee.
And I've been in these ministries because many years ago I myself needed mercy.
I am third of six children my parents struggled to raise. My father worked as a security guard in a sugar plantation. To help make both ends meet, my mother put up a sari-sari store. As if our daily burdens were not enough, we suffered two major blows.
First, my father was murdered at his workplace — for reasons I am not privy to discuss. I was then only 10 years old.
Then, a few years later, my mother was diagnosed with cancer of the throat. By this time, I was already 14 years old.
At the time, I was in my final year in high school. After high school, I initially studied at the College of the Holy Spirit in Tarlac for a Bachelor of Science degree, major in Business Administration. But my preferred course, Accounting, was not offered in our school or anywhere in my hometown. So, I decided to continue my college education in Manila. At first, my mother didn't like the idea, but she eventually blessed my decision—on the condition that I would augment the allowance she provided by being a working student.
Cycles
As often said, life is a cycle of ups and downs. Amid my downs, God has blessed me with ups — blessings I am so grateful for.
One, I finished college. I enrolled at the Philippine School of Business Administration (PSBA Manila) to study Accounting on the third year. I graduated in 1978 with a Bachelor of Science degree in Business Administration, major in Accounting. On the same year, I passed the board exam to become a Certified Public Accountant (CPA).
I endeavored to excel in my studies to make my mother proud. The least I could do to make her happy amid her ailment.
I tried the best I could to help ease her ordeal as she battled cancer.
For instance, she loved grapes. So, at times, I skipped lunch and saved whatever I earned from my part-time job so I could buy grapes for her and visit her during semestral breaks.
She bravely fought hard but alas, she succumbed to this cruel disease in 1978 — five years after she was diagnosed. I mourned deeply but I am thankful that even in my small ways I'd been able to ease her pain.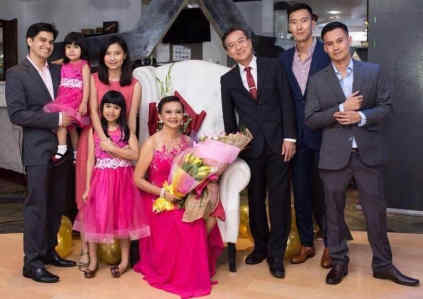 Two, I found a fulfilling job at the Sycip Gorres Velayo (SGV) and Company as a junior auditor. Currently, I'm a real estate investor engaged in buying and selling of properties. I also help in our family business as a corporate secretary, treasurer, and finance head at Ford Tractor Phils., Inc., a supplier of agricultural equipment. Three, I met and married Sam Uy.
I must say this is the best. Because Sam is a godly man, devoted in serving the Lord and His people. We are blessed with three wonderful children and two granddaughters.
Here we are celebrating my 60th birthday five years ago, from left: my son-in-law Luigui Guerrero, 40 years old; my daughter Michelle
Anne, 40, with my granddaughters Lira, 14, and Vega, 7; At my left side are my husband Sam, and our sons Michael Sean, 38; and Mark Samuel, 36.
Ministries
My husband and I joined the Worldwide Marriage Encounter Philippines in 1990. We have been actively involved in this ministry where we met Bro. Rey Ortega and his wife Sis. Myrna.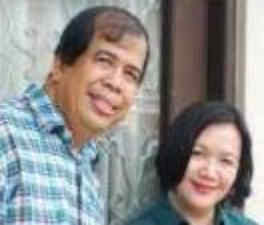 This was the start of a beautiful and close friendship between our family and theirs.
Especially because we share the same passion for ministering to those in need.
Since Sam and I both experienced that a good education led us to a fairly comfortable life, we are particularly passionate about providing education for children of indigent families as a way of uplifting them from poverty.
In 2008, Sam. together with his elder brother Johnny, set up the Gregorio P. Uy & Lee Peng Scholarship Foundation in Isabela in honor of their parents. I help in any way I can. Today, the foundation has 80 college scholars.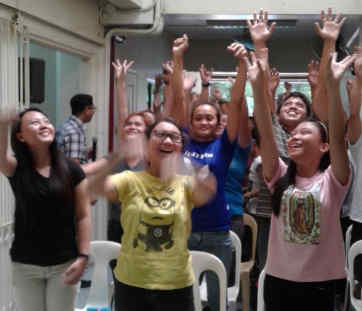 Eventually, we learned that Bro. Rey initiated Mercy Ministries well supported by the Light of Jesus Family – one of them, the Pag-asa ng Pamilya Foundation, which grants scholarships to indigent students.
At right, a batch of scholars enjoying an action song during a Pag-asa discipleship program.
And knowing about our advocacy, Bro. Rey did not waste a second to invite us to initially sponsor two Pag-Asa ng Pamilya Foundation scholars. We were simply happy to be blessed with this ministry.
We were so inspired by their dedication to their scholarship program that we gladly supported them financially.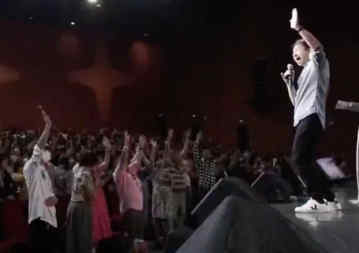 The Feast
Knowing about the Light of Jesus, I naturally also came to know about its faith gathering, The Feast, which I first attended at the Camp Aguinaldo in 1998.
Since the Coronavirus Disease (COVID) Pandemic, Sam and I have been attending the online Feast Bay Area morning session.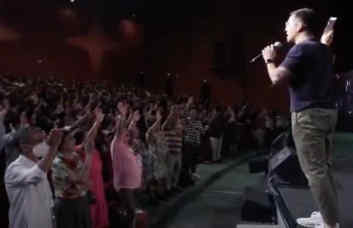 Of late, The Feast is already being held live, led by Bro. Bo Sanchez (above) and with
Bro. Audee Villaraza (right) as key preacher.
Thus, aside from the blessings of ministries, we've been receiving grace of spiritual formation.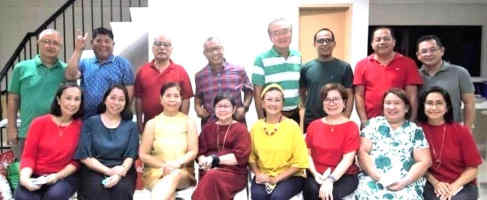 A plus blessing is the unconditional love of our
LOJ Caring Group headed by Bro. Hermie and Sis. Reng Morelos.
Standing, from left: Russel Ferrer, Lito Saura, Domie Fernandez, Hermie,
Sam, Mon Toledo, Rudy Mallari I, Jed de Leon. Seated, from left: Marie Ferrer, Sol Saura, Perla Fernandez, Reng, Marin, Jojie Toledo, Ofel Mallari,
Mayet de Leon.
Wish Come True
With deepening faith, the more we desired to serve God — a wish He soon fulfilled.
In 2019, Bro. Hermie Morelos, LOJ-Feast Mercy Ministries head, offered another blessing to us: Sam as president, and I as board director of Pag-Asa ng Pamilya. Without batting an eyelash, we humbly accepted the assignment.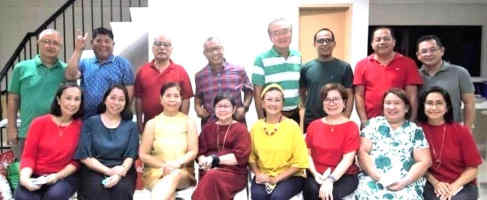 Here we are with our reward: Our happy K-12 scholars from the St. Peter The Apostle Parish in Paco, Manila.
From there, God led us to a few more steps into the other Light of Jesus Mercy Ministries.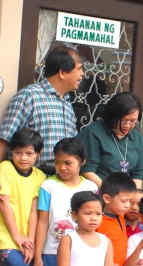 For many years, Sam and I supported the Tahanan ng Pagmamahal orphanage for abandoned children.
Sam headed the charity institution as its president, while I served as treasurer.
At left, Bro. Rey and Sis. Myrna attending to Tahanan children.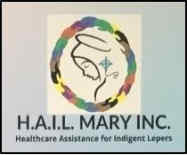 In the years that followed, Bro. Rey requested us to help lepers and cancer patients under the care of the Healthcare Assistance for the Indigents and Leper of Mary or H.A.I.L. Mary in Abra. We continue to send much needed medicines to H.A.I.L. Mary beneficiaries to this day.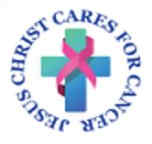 Jesus Cares
Then just as I thought my plate was already full, God had one more blessing for me.
In mid-2015, Bro. Rey introduced to us yet another Light of Jesus Mercy ministry, the Jesus Christ Cares for Cancer, Inc. (JCCFC). A casual over-coffee-talk turned into an official commitment with me signing up as a founding director of the cash aid foundation.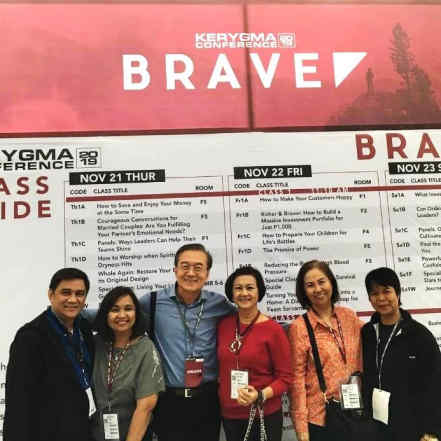 Here we are with our JCCFC team attending the Kerygma Conference 2019, from left: Gil Ramos, Admission and Aid Committee head; Dang Ramos, auditor; Sam, Pag-Asa Ng Pamilya Foundation president; Marin, JCCFC and Pag-Asa Ng Pamilya director; Pearlie Flores; Rowena Cequeña, Finance Team head.
More for God
Bro. Rey didn't have to tell me details about this Ministry for cancer patients.
Remember, I am eye, mind, heart witness of what cancer does. What it did to my Mom. She was constantly in pain, and to make matters worse, at the time, she was already a solo parent, struggling to make both ends meet for our family.
It was pain I wouldn't wish on anyone and yes, it's big blessing that God is now using me to help ease if not totally prevent that pain inflicted on others.
Now I have a chance to help indigent cancer patients through JCCFC.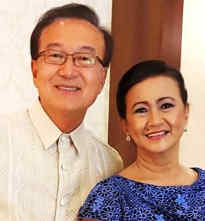 I'm blessed to have a supportive husband who allows me to extend financial assistance and donate Christmas goodies to JCCFC beneficiaries.
One of the most heartwarming remarks I heard was from a woman suffering from terminal lung cancer to whom we gave financial assistance and Christmas goodies.
She said the pack of cupcakes and other groceries were fiesta to her family: "Maraming salamat po. Paborito po namin ng mga anak ko ang mga binigay ninyo. Makabili man kami, pa isa isa lang, pinagsasaluhan pa. Ngayon fiesta kami!—Thank you very much. What you gave are my children's favorites. If ever we could buy cakes, it was
just one piece at a time. And it was like already a feast for us. " Such a comment is indeed inspiring.
Anchored on the Word
"Delight yourself in the Lord and He will grant the desires of your heart."
– Psalm 37:4
"I can do all things through Christ who strengthens me."
– Philippians 4:13
These Bible verses, fervent prayers, and my family are my sources of strength and inspiration. They encourage me to do more of God's work … and to show the world that by His grace, one could triumph over trials.
That may already be a common message. But still, someone may yet need to hear it– even just during a casual over-the-coffee talk.
Published by THE FEAST MERCY MINSTRY (May 7, 2023)