On the Verge of Death Plenary Talk
By FR. PATICK FALGUERA, SJ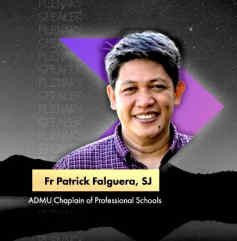 "LABAN LANG, FATHER."
These were the words said to me by a kindhearted nurse when I finally gained consciousness inside the hyperbaric oxygen therapy chamber (increasing air pressure two to three times than normal air pressure, providing oxygen that helps fight bacteria).
To be honest, I didn't really know where I was and what had happened to me.
To spare you the details, I would like to refer you to a very riveting account by Dr. Donny Alfonso, currently the Dean of Ateneo School of Medicine and Public Health.His narrative begins in this manner.
"Dear friends, can you imagine in your mind, a 53-year-old male patient who 3 days ago was GCS3—near dead—in the ICU, intubated and hooked to the ventilator with several contraptions of IVF including a feeding nasogastric tube bringing the Holy Rosary allowed with his nurses and resident doctors. This was Fr. Pat, 8:10 PM last night during my last rounds with my HPV fellow."
Rereading these words by Dr. Donny Alfonso which he wrote three days (after I figured in a diving accident), I'm still in awe and wonder, reviewing the events which have unfolded in my life since then during the past couple of months.
Because logic tells me that I should not be here before you giving this talk.
My mere presence before you defies what is rational and scientific, especially in the medical community.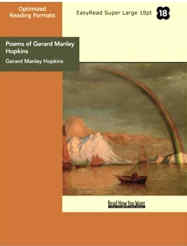 New Perspective
But with awe and wonder comes a new perspective on life. And newness as echoed by the Jesuit poet Gerald Manley Hopkins: "There lives the dearest freshness deep down things."
With awe and wonder comes a humbling viewpoint of renewed hope and meaning which our Lord has gifted me with through the intercession of our Blessed Mother.
For the past couple of months now, I have been presiding over Thanksgiving Masses with family, friends, parishioners, and co-workers in the various churches and institutions I have been missioned to previously— the parishes of San Jose Manggagawa and Our Lady of Immaculate Concepcion in Marikina, the Ateneo professional schools of Medicine, public health government and law. I have been sharing with them my reflections on life and death, meaning and nothingness.
My dear friends in the Lord, allow me to use this lens as well to humbly share with you the miraculous narrative of God's love, of God's mercy, which He has continuously unfolded in my life since my brush with death about 20 weeks ago.
Sa totoo lang po— in truth, I have not yet fully recovered physically, psycho emotionally. Kaya patuloy niyo parin po akong ipagdasal para tuloy tuloy na din po ang aking full recovery.— So, please continue praying for my recovery.
First Theme: Life and Death
You see, almost 20 weeks ago, I was on the verge of death— or even probably experienced it, to some extent. I really don't know.  And to be frank about it, it seems not to matter anymore. Pero habang tumatagal po, habang binabasa ko yung kwento ni Dr. Alfonso, talagang nakakamangha at talagang kayo mismo kikilabutan kung basahin niyo ito. But as I continue to read Dr. Alfonso's  story,
I am, yes, in awe, feeling goosebumps— and you would too.
But what is important is what our early Church father, St. Irenaeus, proclaimed, "I am now fully alive…" Breathing, glorifying, worshipping God with you at this FEASTCON..
If not for the heaviness of my upper left-hand arm, there seems to be no reminder of what happened to me.
Sabi nga ng mga nakakakilala saakin, as those who know me—I see friends among you, say: "Fr. Pat, parang walang nangyari.— Seems like nothing untoward happened to you."
Diagnosis: No Chance of Survival
I was diagnosed GCS3, the lowest possible number of life on the Glasgow Coma Scale (score in hospital admission, suggesting no chance of survival).
At first, I didn't really know what this medical term meant. But for those of you who are doctors, nurses, those of you who are medically well versed, you'd probably look at me with awe and wonder as you realize that mine was a GCS3 case.
Because when I started googling and researching what GCS3 meant or implied, I became anxious. I became scared. Slim single percentage of survival, worst outcome is death, best anticipated outcome is being in a vegetative state. Yung tipong gulay na inaalagaan nalang.—like vegetable that needs to be nurtured.
And mind you, not to belittle what happened to me, I have to admit that to encounter or to experience death was both a terrifying and exciting experience for me.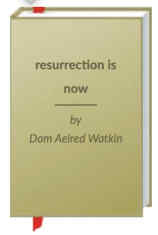 As (Benedictine monk) Dom Aelred Watkin shares in his beautiful reflection, "The resurrection is now."
In the Liturgy of the Earth's Universalis app, death has many forms—the death of experience, the death of love, the death of the world, the death of others, and finally—our own death. I probably experienced all these and much more— I don't know.
It is thus a miracle. I really believe that— that I survived and was brought back to life.
Brother Jesuits and our Lay Mission partner friends have asked me in jest: "Nakita mo ba si Jesus? Did you see Jesus?" "Did you experience light?" "Did you have an out-of-body experience?" "Did your life flash before you?"
During that time ,you were supposed to be in the lowest state of possible, almost death, coma. I hate to disappoint soothsayers and séances, but I experienced none of these. Wala po talaga.
But what I can share with you is this: Perhaps, what is really miraculous— rather than my survival and speaking to you at this moment— is my miracle of total recovery. Like one, some of you are looking at this FEASTCON —to recover mentally, physically, psycho emotionally, financially. Yes. I'm functionally, I hope,  well enough to be able to drive a motorcycle someday. Mahilig po ako sa motorsiklo— I love driving motorcycles.
I may be able to encounter you again someday and convey my personal deep gratitude. But then again, I would be lying if I say that until now, the thought of my near-death experience, does not scare or trouble me. Because as Pope Francis shared in his books and encyclicals, "Reality is greater than ideas."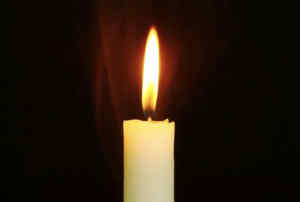 Reality: Death Is Terrifying
I tell you, looking back at what happened to me, the reality of death is quite a terrifying experience. Nakakatakot po talaga. You have to say your prayers. You have your regrets and reflect on all the what-could-have-beens in your life.
But it is also true that that moment of death is quite liberating, a freeing experience as well— for it has given me back meaning.
Intuitively, what I experienced is the insight that at the moment of death, everything finally makes sense. Every event, every person finally takes on meaning. You see, I do not really have a memory of what happened to me from the moment of my accident until the time I suddenly became aware of my surroundings days later, until I regained consciousness after almost 55 hours since my diving accident.
I remember my hyperbaric doctor, Dr. Arnel Bartolome— mahilig po kami pareho magmotorsiklo— we both love driving motorcycles— telling me that decompression treatment should be done ideally 6-8 hours after a diving accident. Beyond that is a slow, even nil chance of survival. His own record was 12 hours.
Kaya dasal po ng dasal lahat po ng medical team nila.— That's why the medical team prayed and prayed for me— Because mine was 55 hours— with my brain being deprived of oxygen at some point during that long wait. Kaya hindi ko po alam ang nangyari sa akin na nakikilala ko yung mga kaibigan ko, nakikilala ko kayo.— So, even as I did not know what happened, I still recognized my friends, I still recognize you.  It's a miracle.
I would not be giving this talk to you this evening because at that Lazarus moment, I realized that every person, every event: both the joyful and sad; the tragic and the ecstatic moments, leading to my accident played a significant role in helping shape and save my life.
I am living proof that God's miracles continue to bless each and every one of us. I have to admit though that there are still events in my life, in our world, unfolding—that I find hard to understand and find meaning. The presence of untold evil, the presence of unspeakable suffering— for example, the existence of poverty, of hardship, of corruption, of greed in people, systems.
But I also realize that that moment of death in my life came with an invitation to trust—which brings me to the second theme—meaning and nothingness.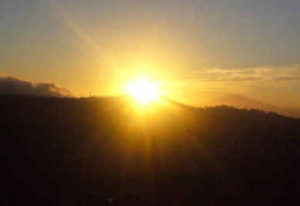 Meaning and Nothingness
…I was being flown by ambulance chopper. A perilous journey as the helicopter had to fly only for a thousand feet to prevent atmospheric pressure from further damaging my brain. I was convulsing all the time.
So, indeed there is so much more to be grateful for: I really like that grateful pause (FEASTCON Gratitude Break), for being alive, for all of us here.
But what scares me is I find myself forgetting. I find myself not appreciating life. But I console myself that perhaps, it is about human nature that we easily forget.
Now more than ever, I've also realized that human nature is not God's nature— because the saints and all our loved ones, those who have gone ahead of us, they have made possible a different narrative. Sa totoo lang po, naniniwala ako— in truth, I believe that all our narratives here are interconnected.
I've humbly realized that God never forgets. God remembers each and every one of us. God remembered, remembers, and will continue to remember us.
God will meet us where we are rather than where we should be… In all these,
I have to admit that life remains a mystery.
In view of life and death, of meaning and nothingness, I would like to believe that a person's search for meaning is his or her own search for God. In short, the journey towards the absolute.
And my dear friends, if there is one thing certain, if there is one thing absolute —which both atheists, agnostics, believers, and non-believers are on common ground and which is undebatable in this life— it is the certainty that all of us will die someday…
I realize that what will bridge life and death is love. What will bridge meaning and nothingness is mercy. For truly, as I have personally experienced,  the deepest name of God is Love. And truly, I can attest that mercy is indeed God's most profound nature.