The FEAST LITTLE ACTS OF LOVE PART 4
Not Typhoon Ineng…
YES, if Jesus is for us, who can be against us?
In the same vein, if God is for us, what can be against us?
Not calamities. That's the solid claim in faith of our Light of Jesus Disaster Recovery Ministry now we call The Feast Little Acts of Love.
After Typhoons Egay, Falcon, Goring, the Ministry braced up for Typhoon Goni or what we know here in the Philippines as Typhoon Ineng.
Goni, at its highest wind speed of 213 km/h, was a tropical cyclone –strong winds, thunderstorms, heavy rains, and squalls—sudden, sharp wind speed lasting minutes. Coming August 13, Goni passed through the Marianas Islands, Guam, the Philippine Sea, Rukyu Islands, moved on to Japan August 23, and crossed Russia and China August 25-30. Along its path, Goni killed 74 people and left P$1.05 billion in damage.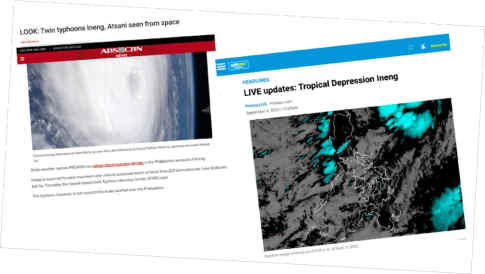 According to online news reports, as it passed through the Philippine Sea, Typhoon Ineng turned into a powerful tropical cyclone—strong winds, thunderstorms, heavy rains, squalls— sudden, sharp wind speed lasting minutes.
Across northern Luzon, Ineng dropped intense precipitation –- rain exceeding what is normal—strengthening the habagat or southwest wind, which resulted in deadly landslides, flooded fields, and the destruction of thousands of houses.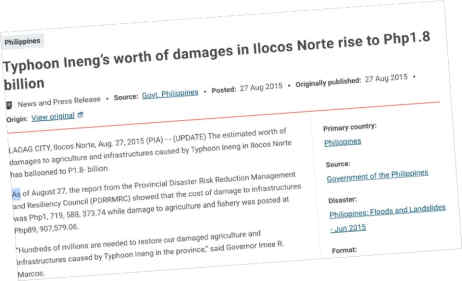 Who Are for Us
The typhoons come and go, but bottom line, we have come to realize they can't really be against us. Because God has blessed us with people who are for us. Like our donors. Here, we honor one donor who humbly requested that we withhold her name. So, let's just call her here as Sis. Mary.
Sis. Mary lives in Calasiao, one of the towns frequently flooded.
She has become a donor of LOJ following an intense spiritual awakening.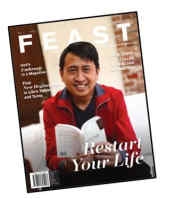 She said she was a regular church-goer but not involved in any spiritual community
Then she got to know about our Light of Jesus Family through the
Kerygma magazine, now called The Feast, and books of Bro. Bo Sanchez.
At the onslaught of Typhoon Ondoy in 2009, Bro. Bo encouraged our Community leaders to form a Ministry to help members in times of calamities.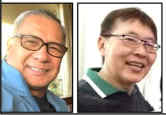 Thus was the establishment of the LOJ Disaster Recovery Ministry now we call The Feast Little Acts of Love. Today's leaders, from left:Bro. Hermie Morelos, chairman; and Bro. Marvin Tan, executive director.

In LOJ in 2019, Sis. Mary came to get acquainted with Bro. Barz Lomibao (right), head of The Feast Little Acts- Dagupan, who did not waste a second to invite her to join The Feast Dagupan.
She now regularly attends Feast Dagupan's gathering at Goring's Pancit Malabon restaurant in Dagupan every Sunday at 2:00 p.m.
And she promptly began to serve in a couple of LOJ Ministries.
Learning about the needs of The Feast Little Acts of Love Ministry, she has contributed
Little Acts of Love: cash, clothes, and toiletries.
But as we've always known, God would not be out-given. Yes, Sis. Mary has received grace upon grace.
"Spiritual family, friendship, spiritual, financial blessings," she happily enumerates.
Indeed, Jesus goes before us anywhere we go, and so, no one or not a thing can be against us. That's how the Lord has blessed Sis. Mary and all of us to enable us to extend to His people Little Acts of Love.
This story was first published in the Feast Family Online News Magazine.
Published by THE FEAST MERCY MINSTRY (September 17, 2023)