JESUS CHRIST CARES for CANCER FOUNDATION PART 2 Not My Will …' By DR. ADELINE C. GONZALES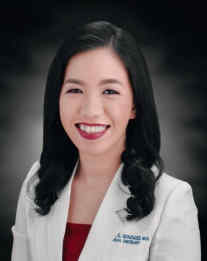 I FIRST attended The Feast at the Philippine International Convention Center (PICC) with my mom and dad when I was still in college. I still remember how amazed I was and touched instantly by God's Word as preached by Bro. Bo Sanchez and since then, I've constantly looked for Feasts depending on where I am staying. Now, I am attending Feast Bellevue, Alabang.

This is my life story.

I've grown as an "achiever" kid. And so, I get my way, most of the time.
Early on, my petty problem was just, "Bakit hindi ako crush ng crush ko?—Why am I not the crush of my crush?"
Kidding aside, it was a manageable life, and I thought God must have been good to us because my parents and I are good people too.

Life, however, happens and teaches you a lesson. And just when you thought you have been climbing up from your rock bottom, you're slipping again farther
down.

I planned to be a doctor. So, I took up Biology — my first step in getting into the medical field — at the University of the Philippines, and I earned my Bachelor of Science degree in 2007.

I went on to the Pamantasan ng Lungsod ng Maynila where I pursued a degree as Doctor of Medicine, and graduated in 2011.

I then took up the physician licensure exam, passed it, and I geared up to train to be a neurologist — specializing in treating brain diseases.

But never in my entire life had I imagined I'd suffer too much stress in this field that I simply quit what I love.

Life Happens
Yes, Life happens. Later in 2011, my mom was diagnosed with the big "C": she had breast cancer. And we began to go deep rock bottom.

As a doctor, I began overthinking all the side effects— what could happen to my mom. She underwent surgery and thankfully, she's just fine after the procedure.

To be able to take good care of my mom and cancer patients in general I shifted to a different residency training — now in Internal Medicine, a field
focused on treating diseases that afflict adults.

It was as if God redirected me to that path because then, my consultant in Internal Medicine happened to be my mom's oncologist (medical practitioner qualified to diagnose and treat tumors).

Like most cancer patients, my mom had to undergo chemotherapy, the dreaded, expensive drug treatment that uses powerful chemicals to kill fast-growing cancer cells in one's body.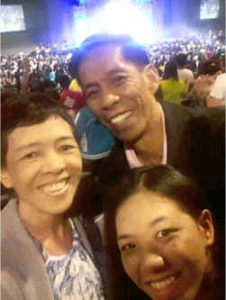 By God's grace, the doctor administered the chemo for my mom – free of charge – and even helped us secure funds for the treatment.

In 2014, past one year of the cancer diagnosis, my mom completed all required cycles of chemotherapy and trastuzumab — a drug used alone or with other drugs to treat certain types of breast cancer (https://www.cancer.gov)

My mom recovered and just completing oral hormonal treatment.

Here we are — my Mom Deng, Dad Charlie, and me — at Feast PICC in 2014, celebrating life!

Deeper Than Rock Bottom
Yes, Life happens. In 2016, the big C visited us again. This time, it hit my dad. He was diagnosed with lung cancer.

It was more catastrophic than the first big C. My dad had to be confined in the hospital many times more than my mom had to. My parents shut down their small business so they could sell assets and fund treatment.

I almost had nothing in my bank account. I also had plans of going into further training and thinking again about neurology, but because of what happened, I had to delay the training — because I had to work to earn money so I could also help pay bills.

And we prayed hard for a miracle that my dad would be healed.

My dad underwent a lot of procedures, but eventually, he still didn't make it. If there's something deeper than rock bottom, this was it.
Path to JCCFC
During those times, even when we were at our deepest pit in life, we felt God's Presence. We never felt alone: people coming in to help, Papa's relatives and
friends manifesting their love and care.

Even if we didn't get the miracle we prayed for, we received a different miracle — to still be able to sustain everything financially, emotionally, and spiritually. We never lost faith, and since then, to this day, God has been working miracles after miracle for us.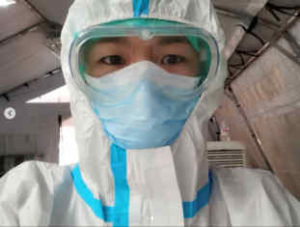 From Internal Medicine, I trained in medical oncology fellowship at the National Kidney and Transplant Institute and I finished the course in 2020 —
which happened to be the start of the Coronavirus Disease (COVID) Pandemic. Here I am in 2020 on the frontlines at the COVID Emergency Room Triage of National Kidney and Transplant Institute.

Amid the crisis, I managed to take up the Board Exam in 2021, passed it, and was inducted Diplomate by the Philippine Society of Medical Oncology. I am now a medical oncologist – a cancer specialist — and not a neurologist as I set out to be.

Little did I know, what I went through was just one winding path to Jesus Christ Cares for Cancer (JCCFC). If I had pushed to do it my way, I think I wouldn't be where I am now.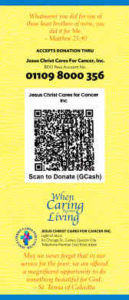 A "coincidence" or should I say a miracle, is that a good friend, Dr. Dyan Sabalvaro, introduced me to JCCFC in 2020 through Sis. Maritess Cordero, JCCFC board secretary.

I had been wanting to help in The Feast before, but I never got to really initiate conversations or join any Feast group at that time. But by
His loving grace, God has turned my burdens into blessings, so that now I have this clear and present mission to minister to cancer patients.

I help in evaluating the medical abstract, treatment protocol, and other medical documents cancer patients who are applying for financial assistance submit to the Mercy Ministry. I'm blessed to be able to donate cash from time to time. And at one point, I provided a year's supply of Tamoxifen (oral hormonal treatment for breast cancer) to JCCFC beneficiaries.

I now know that I was redirected to this path because this was God's plan for me: to help more cancer patients and be God's miracle worker. "Not my will, but Thy will be done.