JEREMIAH FOUNDATION PART 1 My Mom Told Me To Bring My Resume By DANIELLE PATRICIA CABARLES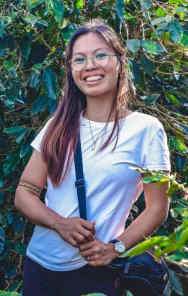 BEFORE I came to know about the Jeremiah Foundation,
I was wondering what would be God's calling for me and how to respond to Him.
I just graduated from the University of Perpetual Help System Dalta, with a Bachelor of Science degree, major in Psychology. So, I had this vision that I would be a part of an organization where I could apply what I studied for.
By God's grace, this vision would be fulfilled.
Here's how…
My mother Carina, coming from a background of abuse, feels for girls in the same situation.
In July 2018, Mom and a friend decided to have a joint celebration of their birthday by visiting Bahay Aruga, a free halfway house for pediatric cancer patients run by the Department of Social Welfare and Development (DSWD) in Mandaluyong, Metro Manila.
There, she got acquainted with Rose (not her real name). She prayed over Rose.
And to make sure they would continue communicating, my mom told Rose that she has a Facebook page and that's where she could reach my mom when Rose comes out of Bahay Aruga.
A few months later, Rose sent my mom a message saying she has been transferred to a different home. She told her the address and we went to visit her there—at Jeremiah Foundation, the Mercy Ministry of our Light of Jesus Family taking care of sexually abused girls.
God's Plan
At right, that's my loving mom with me. Mom, as someone who always helps people around her, told me to bring my resume with me just to "see what happens".
Narcisa Galvez, a housemother at Jeremiah, welcomed us and she\ confirmed that Rose indeed was transferred there. But we did not see her because she and other Jeremiah girls were in an event.
Then, egged by my mom, I told
Ms. Galvez that I had my resume with me and I asked if they were hiring. But I told her I did not know what position to apply for. She said that she'll give my resume instead to the director and social worker in charge so they can consider my application — if ever there was an opening.
True enough, the social worker,
Ms. Shaira Andal, called me for an interview, asked me to come on December 3, 2018.
That day, Ms. Andal, together with Ms. Gloria R. Viola, then Jeremiah's executive director, interviewed me and right there and then, decided to hire me as Center counselor, focusing on trauma management and mental health concerns.
So, as I began to serve in-house in
Jeremiah, I got to see Rose again. That's one great blessing.
And many more— benefits such as free board and lodging plus food and even toiletries.
Most important, I have learned psycho-spiritual development and co-dependency in Christ as I journey with the girls.
I really did not plan to serve in Jeremiah. But God has kindly fulfilled
His promise in my chosen life verse— which has always been Jeremiah 29:11: "For I know the plans I have for you, says the Lord, plans to prosper you and not to harm you, plans to give you a hope and a future."