The FEAST LITTLE ACTS OF LOVE PART 4
Not Typhoon Ineng…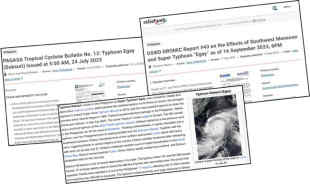 IN the first four parts of our series on The Feast Little Acts of Love, we presented the following:
1) the recent series of calamities that hit the country; 2) the most devastated places; 3) how the Ministry responded through acts of love of the servant leaders; 4) acts of love of a donor.
In this issue of The Feast Family, we share the experience of a beneficiary who struggled through the disasters, particularly Typhoon Egay.


The first of the series of typhoons, Typhoon Egay hit northern Philippines on July 26, 2023.Egay initially killed 5 persons and displaced nearly 27,000.
The following days, floods caused by Egay already affected 2 million persons, pushing over 300,000 to evacuate. Coming with strong winds and heavy rains, Egay toppled trees, blew off roofs, and flooded many parts of Pangasinan, the most affected province.
Badly hit was the city of Dagupan, specifically the town of Calasiao which, with seven rivers and 14 creeks, is the center of calamities in Pangasinan.
Bro. Barz Lomibao, head of The Feast Little Acts of Love-Dagupan, told The Feast Family among the places the Ministry first helped was Calasiao, the place that most suffered, particularly Barangay Malued, led by Filipina S. de los Santos, Barangay captain.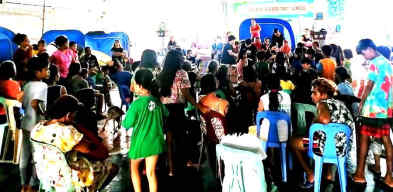 Loving Malued
As of 2020, census records of the Philippine Statistics Authority show the population of Malued as 9,265, or 5.32% of the total population of Dagupan.
The population is relatively young: 28.90 %, those aged 14 and below are young dependents, teenagers; 64.54%, aged 15 up to 64, are the economically active; 6.55 %, senior citizens, aged 65 and over. During Typhoon Egay's onslaught, Malued reeled amid strong winds and floods soaking the barangay.
Bro. Barz said The Feast Little Acts of Love promptly helped Malued evacuees with feeding programs and consoled them with entertainment at the evacuation camp at the Malued Elementary School.
Faith in Action
Before leading Barangay Malued, Filipina lived quite a simple life:
grades at the Malued Elementary School; high school at Dagupan City National High; college at the University of Luzon, graduating in 2001; plus, high tech course at the Systems Technology Institute (STI)
And now she puts her education to good use as Punong Barangay (Captain) of Barangay Malued. But more than skills, Filipina leads her Barangay with deep faith.
She affirms: "I am Catholic, a believer."
So, it didn't take her a second to be a partner of The Feast Little Acts of Love: "I was invited by Bro. Barz and Sis. Josephine Lomibao (part of the Light of Jesus Family Servant Liturgical Ministry) on March 20, 2023."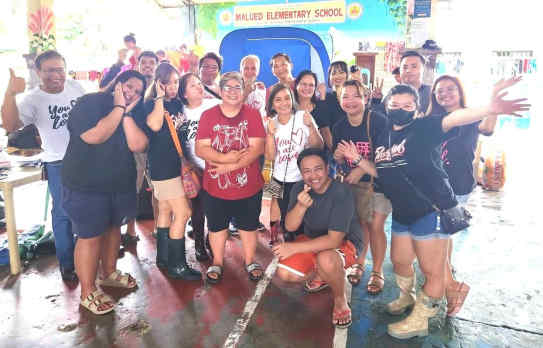 Here is Filipina (in red blouse) with joyful co-servants.
Yes, by God's grace, what she gives she has received back.
"I've received a lot of blessings like meeting friends who include me in their prayer meeting."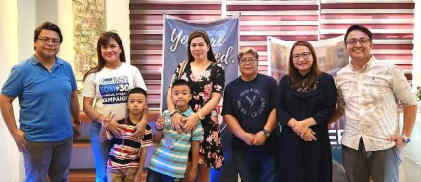 Filipina (3rd from right, in dark blue shirt) attends Feast Dagupan led by Bro. Barz.
She adds: "I've met brothers and sisters who are generous in all aspects.
And she means more than the relief received by her Barangay.
She points out: "I'm blessed because I feel loved in this Community."
Well, it must have been meant to be so. As clear as her very name, Filipina de los Santos– Filipina of the Saints, the people giving her and Barangay Malued little acts of love.
This story was first published in the Feast Family Online News Magazine.
Published by THE FEAST MERCY MINSTRY (September 24, 2023)