ANAWIM YEAR 28 PART 3
Long Road to Blessings
By MA. GRACE R. MOYAN 
I AM BLESSED to be celebrating Anawim Year 28 as among the caregivers of this happy place.
I took a long and winding road toward Anawim. But I can well say every step of the way, God has been with me.
I was born July 5, 1981 in Albay. I went to San Fernando Elementary School, Sto. Domingo, Albay, graduating in 1990-1991. Then to the San Fernando National High School, 1996-1997.
I went to the Computer Communication Development Institute (CCDI) to study Computer Secretarial– for just one semester.
Because I decided to enter the convent.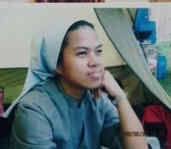 Road to Vocation Discernment
Yes, I became a member of the Missionary Sisters of the Society of Our Lady of the Most Holy Trinity (SOLT) in Sorsogon– as vocation servant of the Society.
I'd been simply happy in the convent. I loved it there as
I learned so much in the Missionary. So, it did not occur to me that I could have a life outside the convent.
I thought I'd just stay in my assigned mission—the Vocation Discernment Ministry. So, I'd been going to schools and parishes for this mission, inspiring, especially the youth, on what direction God intends for their life.
Then, the unexpected happened.
I struggled through the trials of my life as a missionary—that, ironically, I also needed Vocation Discernment. I myself needed to discern if this was really the vocation God wanted for me.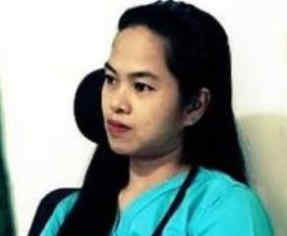 Road to a Different, Not-so-Happy Life
Through long, fervent prayer and deep meditation, I came to this point – a decision not to renew my final vows. I then sought mthe blessing of my elders for me to leave the Congregation, which by God's grace, I kindly received.
Life outside the convent is not without struggles, either. But I feel strong as I know even as I left the convent, God is with me, and He has another mission for me.
Even so, I had to make some adjustments. Like the environment. It's so quiet in the convent. So, I had to get used again with the noise outside.
Like living with my family as I had not been with them for a long while.
Like my new schedules which are not as orderly as the strict programs in the convent.
At first, I was groping for direction in this new life. I knew I had to find a job to be able to fend for myself and my family. It was difficult to find a job as
I actually did not have any experience at all in being an employee.
What could you expect—I entered the convent when I was 17 years old and when I got out, I was already 29—which in the corporate world is close to being overage for employment.
Still, I tried and tried looking for work, holding on to my faith that the Lord would not abandon me. And true enough, by His grace, I found a post as bar coder in a company.
I stayed in this firm for a while, enjoying the company of my officemates even up to joining their Saturday-night gigs. Until I came to my senses– that I should not waste this blessing God has given me.
I concentrated on my job and I flourished in this company, especially because I did receive a good enough salary.
Still, even with such a stable, lucrative job, somehow, I felt something was lacking in my life.
I was like, "Why don't I still feel happy?"
Road to Creating Love
I then thought, I would feel better if I had something else to focus on. Like working abroad.
At the time, one easy way to snag a job abroad was as a caregiver. So, I enrolled in a Caregiving course under the Alternative Learning System (ALS), a program of the Department of Education to provide skills training for those unable to attend classroom instructions.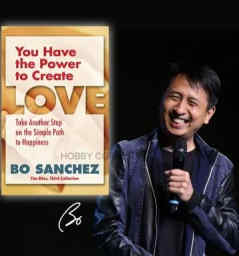 Again, by Divine Design, through ALS, I happened to read a book by Bro. Bo Sanchez, titled You Have the Power to Create Love.
And what's a good way to create love? Serve others– especially those in need. From there, I came to the Anawim Home for Abandoned Elderly through Bro. Ben and Sis. Babes Zambrano, spiritual advisers in Anawim. And it took only a few more steps for me to be employed as caregiver in Anawim.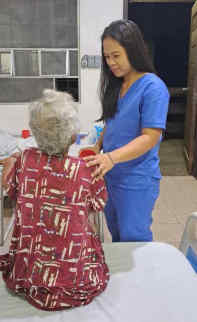 As Anawim caregiver, I am blessed with these responsibilities:
Performing morning and evening care for the elderly.
Assisting in administering medicines– oral, topical– and
Accompanying patients to the hospital for check- up, treatment or
Ensuring that the elderly have proper diet and eat on time, and always exercise.
Maintaining the proper hygiene and well-being of the elderly.
Monitoring custody of elderly supplies as well as those residential equipment, furniture and fixture assigned to me.
Helping the elderly house caretaker in maintaining the cleanliness and orderliness of the elderly houses
Participating in actual teaching demonstration and supervision of the student trainees.
Road to a Great Blessing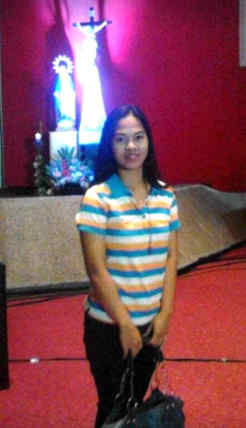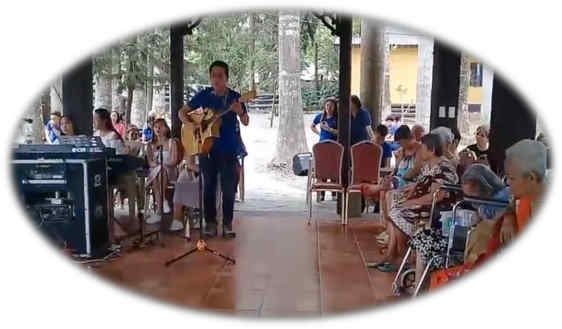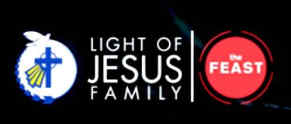 In Anawim, a great a blessing is I found out about the Light of Jesus Family, and eventually about The Feast. We actually have the Feast Light Anawim— called Light because it's a mini-version of the Light of Jesus Feast.



And we are well blessed with the support of LOJ leaders, from left: Bro. Hermie Morelos, chairman of the LOJ Mercy Ministries and the Anawim Board of Trustees, as our Feast builder; and preachers Bro. Eng Si and Bro. Obet Cabrillas.
Top, that's me enjoying a photo-op at The Feast.
I am forever grateful to the Lord for Anawim and the Light of Jesus Feast where I've received tons of blessings.
First, practical living such as taking good care of my finances, investing in business and insurance. I invested in the Pag-IBIG Fund and of late, my application for a housing loan was approved.
Road to Family
A priceless blessing is my family. I met Richard Moyan in Sorsogon when I was in my first year at the SOLT Convent. Richard was serving as sacristan mayor (lay church officer) at the Holy Cross Parish, Putiao, Pilar, Sorsogon, the parish church of our Convent. We just got acquainted at the parish church, became friends, but had no idea at all that it would lead to something serious.
When I got out of the Convent, we met again in Manila. A priest Richard served was assigned in Manila, at the Holy Cross Parish Church in Caloocan, and the priest brought him along. This church was also connected with the SOLT Convent.
It happened that at the time, I was living with my sister in Novaliches, right next to Caloocan. One day, I visited SOLT, attended Mass at Holy Cross Parish, and, would you believe, Richard was right there serving in the Mass.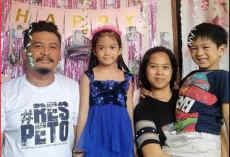 That second meeting eventually led to our wedding. We actually got married in the Anawim Chapel with my Spiritual Director way back my religious life during my Convent days, Rev. Fr. Stephen Loria, SOLT, as presiding over our wedding rites.
It was truly a joyous occasion as my co-Missionary nuns were there attending my wedding!
Here's now my family, from left: hubby Richard Moyan; daughter Francesca Marie; yours truly; and son Jotham Grae.
Road to Healing
Over and above everything else, I am grateful for the peace of mind this vocation has gifted me. Whatever my decision, the choices I've made, God has been with me all the way, fulfilling the promise in my favorite Bible verse,
1 Corinthians 13: 4-8: 4 Love is patient and kind. Love is not jealous or boastful or proud 5 or rude. It does not demand its own way. It is not irritable, and it keeps no record of being wronged. 6 It does not rejoice about injustice but rejoices whenever the truth wins out. 7 Love never gives up, never loses faith, is always hopeful, and endures through every circumstance.8 Prophecy and speaking in unknown languages[a] and special knowledge will become useless. But love will last forever!
I've had my ailments—physical, emotional, spiritual. But what Bro. Bo said is true: Anawim is a place of healing.
–As told to Arsenia D. Binohhi, Anawim Center Administrator
This story was first published in the Feast Family Online News Magazine.
Published by THE FEAST MERCY MINSTRY (October 15, 2023)