Lola Sol: Longing for the Sunlight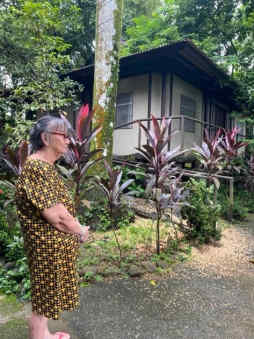 ON SUNNY DAYS, she stands outside her cottage, looking far away, looking for her only son. For he might just come, visit her, and they would be reconciled…
Her name, Sol, means sunlight. And yes, there was a time she lived a bright, sunshiny life. But life would dim and she would be longing for the sunlight…
She was born on November 7, 1946, in Sta. Mesa, Manila, the third in a brood of five.
Her parents saw to it that she'd have a good education. She studied at Burgos Elementary School until Grade 5. Then she transferred to Roosevelt College where she continued her studies– Grade 6, high school, and college.
She graduated with a Bachelor of Science degree in Elementary Education.
She enjoyed good jobs. First, she worked as a nursery teacher at Roosevelt College for two years. Then she transferred to the Municipal Hall of Marikina, working as a licensed inspector. After three years, she transferred to the Assessor Office in Pasig City Hall.
Early on, at the Marikina Municipal Hall, she met Manolo who also worked there. At the time she was working in Pasig, she and Manolo got married.
Manolo didn't want her to work, as his income was enough for them to be well- off and have a comfortable life. So, she resigned from her job and settled to be a wife– and soon, as a mother, as they were blessed with a son, their only child.
But life would not be that simple– as they faced a series of trials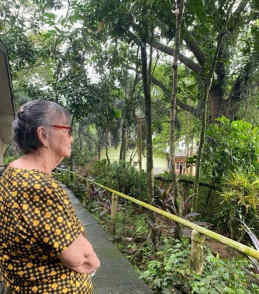 Four Blows and One Blessing in Disguise
First, gradually, daily expenses ate up their wealth.
Second,  they   lost  their  house. It happened this way…
Manolo got involved in an unfortunate incident. The couple owned a piece of lot which they rent out as parking space. One time, a client rented a space to park two trucks. The client then went to the United States but still continued paying the rent for the parking space. After a while, the two trucks were nowhere to be found. And Manolo was accused of stealing the trucks. To avoid a legal suit, Manolo and Sol borrowed money from a bank and paid for the trucks. They used their house as collateral for their loan and, unable to pay for the loan, they eventually lost their house.
Third, their son left them.
Even as they struggled to pay the bank loan, they did not inform their son about their problem– so as not to bother him. He found out about it, anyway, and he felt bad that they did not trust that he could do something to help them.
She recalls, "Our son aired to us his feelings. And as he did, my husband scolded him, telling him something like, our situation was none of his business. And just like that, our son left us, never ever to return."
As if the conflict with their son was not enough, Sol suffered a fourth blow. One day, she could not find her husband.
She relates, "I went out looking for him– to no avail. Later, I learned that my husband's relatives, my in-laws, took him and tried to hide him from me– because they blamed me for losing our wealth."
No house, no family. She stayed with friends – one after another. This burden would turn out to be a blessing in disguise…
One day, Sol found out her in-laws brought her husband to Anawim. She learned about this because one day, Anawim got in touch with her and told her he already died.
This was on April 27, 2019. So, she went to Anawim to be in the wake of her husband and his burial. Her in-laws were there. They got to talk and by God's grace, they began to understand her situation– and they were reconciled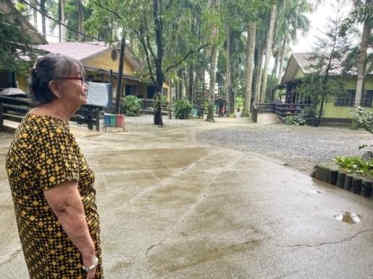 And Then, the Sunlight…
Knowing she was already alone, her in-laws arranged that Sol be admitted to Anawim. She began living there on October 17, 2019.
In time, she found out her son already has a family of his own and he lives with them somewhere in Bicol. Anawim tried to help her to locate her son.
"But he seemed cold to me.
So, to this day, I still don't know where he is," she said, tears welling in her eyes.
So now, she is all alone. She could not even be with her next of kin, her siblings. A sister lives in Canada with her own family. Two brothers had died. She lost contact with a brother for almost 40 years. Of late, Anawim had helped her find him.
"That gives me hope to live," she smiles. Yes, hope. She learned about hope in Anawim
She points out, "I am blessed to be in the best home and best institution for us elderly."
She was referring to a recent award Anawim received as the best non-governmental organization (NGO) in Region IV-A that takes care of the elderly.
She adds, "Indeed, I am simply grateful for the many blessings I've received in Anawim. Anawim provides my basic needs. The personnel, caregivers, social workers, doctors, nurses take good care of me."
What's more, pastoral care, daily Mass, The Feast in Anawim have deepened her faith in God. Especially when life dims, she just follows our Lord Jesus' mandate in her favorite Bible verse: Do not let your hearts be troubled. You believe in God; believe also in me… (John 14:1)
Then she goes out, looks far away… And for her, here comes sunlight…
This story was first published in the Feast Family Online News Magazine.
Published by THE FEAST MERCY MINSTRY (October 29, 2023)