HE CARES MISSION PART 4 Limitless Wealth of Joy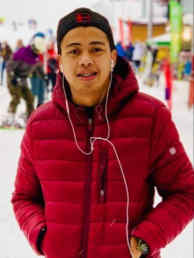 RONALD ALCARAZ grew up in a family struggling to make ends meet.
His father Ronnie works as a junk shop driver and his mother Cecilia Alcaraz works as a suman (rice cake) vendor to fend for their four children– Ronald, the eldest, Ronnel, Richard, and Reymand.
Today, Ronald is gainfully employed, and yes, joyful with his own family now.
Amid his busyness, Ronald managed to meet and marry the love of his life. While he was in college, he joined the Youth for Christ and there he met Monique who he would marry on October 1, 2011.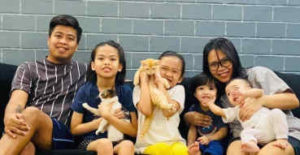 Joyful family, from left:
Ronald, children Aruen, Arielle, Aveline, Allison, and wife Monique, plus furry friends!

God Cares
Yes, God cares for Ronald, as He made a way for him to get connected with He Cares Mission.
Ronald learned about He Cares in April 2013.
An aunt, Amy Alcaraz, invited Ronald and his family to a Bible study organized by He Cares. And they attended the Bible study regularly.
At the time, Ronald was already in second-year high school at Ernesto Rondon High School. Finding out about his family's dire situation, He Cares granted Ronald a scholarship.
Thus, he finished high school and from there he went on to take up Nursing at Our Lady of Fatima University and he graduated with a degree as Bachelor of Science in Nursing in 2019. He is yet to pass the Nursing Board Examination. That's because his parents could not afford the review fee as they were still sending his three brothers to school.
But God would not abandon him.
Rising Through the Ranks
Ronald decided to look for a job.
He started at ParagonICC in Makati City as entry level Fraud and Finance specialist– then, after six months, got promoted to senior fraud specialist.The task of a fraud specialist is to analyze and detect patterns and behaviors of fraudulent players— called Fraud Rings– that could harm the company financially.
After two years, in 2015, Ronald was assigned to Tecnologia En Entretenimiento Caliplay S De Rl De Cv, in Tijuana, Mexico, which is also connected with ParagonICC. He was designated as supervisor and eventually promoted as deputy manager in 2017.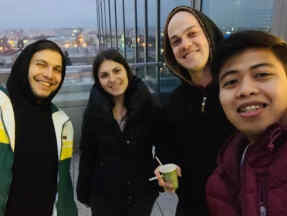 In 2018, he traveled to Sofia, Bulgaria, to train and build the team that he is handling now. Here, in Sofia, Bulgaria, with other specialists in the Fraud and Finance Department of his company, from
left: Iyucien, Maria Dacova, Andrey Stoychev, and Ronald.
Following the Coronavirus Disease Pandemic distancing protocols, Ronald came back to the Philippines and he now manages his team via remote communication.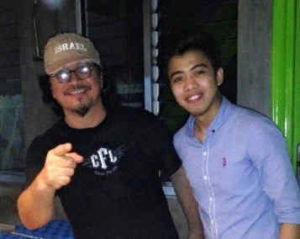 He Still Cares
To this day, though occupied with work and his family, Ronald continues to stay connected to He Cares and he communicates regularly with our founder, Bro. Joe Dean Sola (right).
Below, during He Cares scholars' reunion with Bro. Joe Dean, seated, from left: Judith Enriquez, Brenda Deyto, Nino Boncales, Melyjoe Balino, Melanie Listana, Ronald Alcaraz, Rhea Egera, and Joshua Makinano.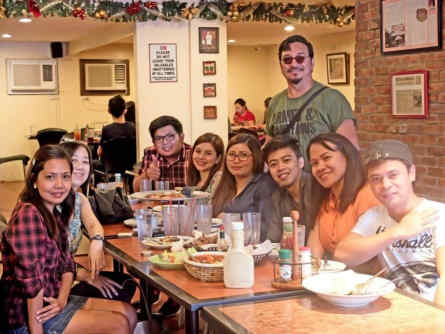 Since he's been back in Manila during this COVID Pandemic, Ronald serves as a volunteer servant at He Cares. He helps to repack goods for donations, and also helps in the ministry's feeding programs. He plays the guitar during Worship in the Bible sessions with the youth.
"I feel so good being able to help those in need," Ronald said.
Yes, he may have come from a family of limited means. But today, for Ronald, his wealth of joy as a He Cares servant is limitless.
— With reporting by Cybill P. Bayto