JESUS CHRIST CARES FOR CANCER PART 4 Just One Little Candle By CLAIRE THERESE O. REYES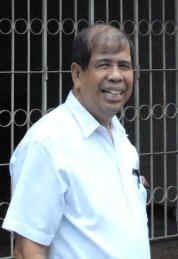 MY father, Rey Ortega, was many a man of action to many people: founder of mercy ministries, co-founder of a manpower cooperative, bestselling author, and active church servant, among other roles.
But not everybody knew how much he loved music. Even fewer people knew how much music did not love him back. Not that it ever stopped him from singing his favorite tunes to us, his captive audience.
One of his favorite songs was One Little Candle by Perry Como. He sang this one with particular gusto.
He would always sigh and muse how true the message of the song was. That if everyone really sparked a light — no matter how small — the world would truly be a brighter place.
I feel like the message of the song resonated with him so powerfully, that he lived every day of his life like a flame that inspires others to find their own light.
It is better to light just one little candle than to stumble in the dark.
Spark from Hardships
Daddy came from humble beginnings, growing up amid rice fields in
Nueva Ecija in the 1950s. Nobody would have thought that the barefoot, skinny little boy in faded clothing would finish his studies, let alone help hundreds of kids financially through school!
Instead of letting hardships pull him down, he used them as fuel for his spark!
He promised himself that when he's in the position to help other people in need, he would. And that, he did! From then on, there was no other way for him but up!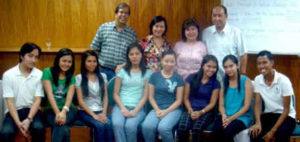 Together with his beautiful wife, Myrna, he lived a life of service for his family, the Church, the poor, and the sick.
At right, here they are with Pag-asa ng Pamilya scholars.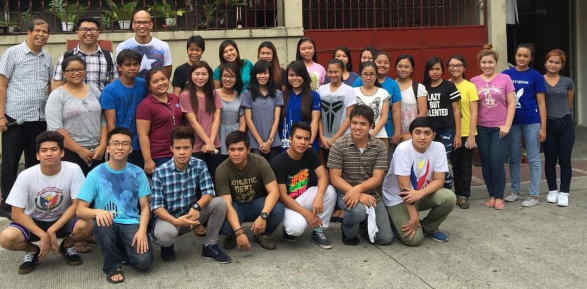 Rey became the flame that fueled the spark for other people, inspiring many to step up and help others, too.
Above, Rey with volunteer trainors, more scholars, and their happy parents.
Light of Hope for Indigents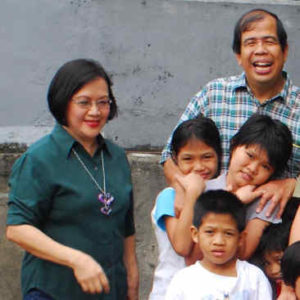 Rey did what he could to help out deserving Filipinos in need with organizations he co-founded:
ALAY Scholarship Foundation nee Pag-Asa ng Pamilya for the poor youth
Tahanan ng Pagmamahal Children's Home, an orphanage in Pasig City (left).
Grace To Be Born, a halfway house for pregnant women in crisis and shelter for abandoned babies
Jeremiah 33: 6-7 Foundation, a shelter for underage victims of sexual abuse
A.I.L. Mary, Inc., a ministry for lepers and indigents in Abra
Jesus Christ Cares for Cancer (JCCFC) for poor cancer patients
These would all probably sound familiar to you as servants of
The Feast, but did you know that he also co-founded First Corinthians Multipurpose Cooperative with my mother? Ironically, this manpower cooperative exists because my father was laid off from his work as head of human resources at a multinational firm. At the time, he was the sole breadwinner for a family with three kids!

Kindling Spark in Others
Looking back at it now, as a wife and parent myself, I have to admire my parents' courage and trust in the Lord. Because instead of feeling sorry for themselves, or begging their friends for work, they did the unexpected,
"Rey & Myrna" thing to do: they started their own business. 1 Corinthians 13 Management Services, Inc. was born.
In the '90s, working conditions were much more favorable to employers than they are now. In a typical manpower agency, people paid good money to be considered for jobs! This is where 1 Corinthians 13 stood out: they promised to pay all recruits at least the minimum wage, remit all government contributions, and give Human Resources assistance whenever needed. They earned money by charging the client companies, not the employees!
As if that wasn't good enough, they converted to a cooperative in the early 2000s: First Corinthians Multipurpose Cooperative (FCMC). The switch meant that aside from securing jobs with fair pay and government remittances, all deployed workers became members of the cooperative. And as members of the cooperative, they are entitled to a percentage of the income of the coop, making them part owners as well!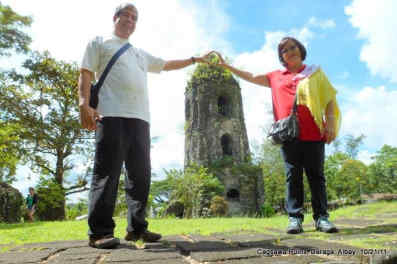 To this day, all of these organizations are up and running. *applause* Even after the death of my parents, their legacy lives on– because they kindled their spark in others, including me.
I now serve as the treasurer for Jesus Christ Cares for Cancer, Inc., and stand as Chairperson for First Corinthians Multipurpose Cooperative.
God Is Ever So Faithful …
God continued to manifest His faithfulness in many ways.
My eldest sibling, Rev. Fr. Michael Israel T. Ortega, know this all too well.
In March 2020, he experienced deep sadness and disappointment when he was forced to shut down his parish church – the San Guillermo Parish – in Buting, Pasig City, where he was assigned before, following the enhanced community quarantine (ECQ), imposed to prevent the spread of the Coronavirus Disease.
No Mass and other Sacraments were celebrated. Food was low.
He was besieged with worry how he would provide salary for his parish staff and personnel.
But God is really good. He never abandoned them even during the Pandemic. Fr. Michael received food through regular ayuda, assistance. His parish staff and personnel were provided financially. Best of all, he was still able to preside Mass and preach the Good News online.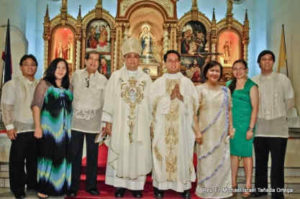 During Fr. Michael's ordination at the Immaculate Conception Cathedral in December 2012, from left: Jonas Reyes, Claire Reyes, Rey Ortega, Bishop Mylo Hubert Vergara,
Fr. Michael, Myrna Ortega, Roselle and Francis Ortega.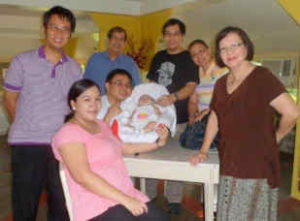 Family Meeting
We used to gather every month as a family and share our thoughts on specific themes.
Here we are during a Meeting on February 2013, the last one Mommy was present. Standing, from left: Fr. Michael, Rey, Francis and wife
Roselle, and Myrna. Seated: Yours truly, Jonas, and Clarisse Janna, our eldest.
What a bright world this would be …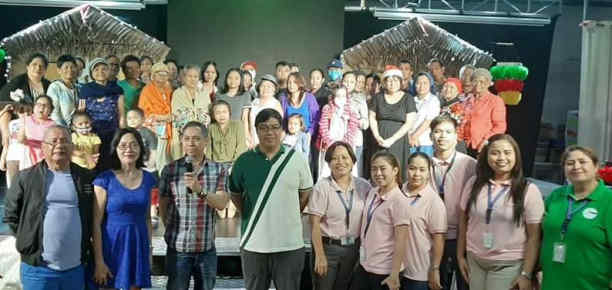 This photo was taken in December 2019, when FCMC joined JCCFC's Christmas Party to spread holiday cheer with beneficiaries. In the front row of the photo are JCCFC Vice Chairman Bro. Hermie Morelos,
Board Secretary Sis Maritess Cordero, and Chairman Bro. Alo Gelano, who all continue to serve JCCFC until today. My brother, Francis Ortega (FCMC vice chairman), stands tallest in the center, beside FCMC's head office staff. On the stage in the back stand the JCCFC beneficiaries and their loved ones.
This photo makes my heart full even though I am not in it, because it is a testament to how my parents' love for the poor continues to ignite goodness in other people.
I feel like I can never hold a candle to them (pun intended) and their achievements, but they definitely inspire me to share my light in my own way, to the best of my abilities.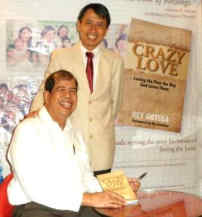 As Bro. Bo Sanchez wrote in the foreword of my Dad's book, Crazy Love:
"My prayer? I wish there were a hundred Rey Ortegas!"
I agree! Let's keep the fire burning, and pay our blessings forward. Let's make Bro. Bo's prayer a reality, times thousands, or even millions!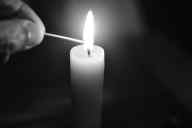 Truly, if everyone lit just one little candle, what a bright world this would be!
Published by THE FEAST MERCY MINSTRY (April 23, 2023)