HE CARES MISSION PART 2 Just in Time By JUDITH ENRIQUEZ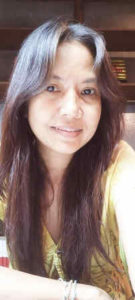 ISAIAH 6:22 is my favorite Bible verse because I have experienced God's promise being fulfilled in my life.
But something happened at a time that didn't seem right for my family. My father, Jesus Enriquez, who worked as a sheriff, died in 1980– when I was only 9 years old.    Left as a single mother, my mom Bernardina, who also worked as a sheriff, struggled to raise my siblings Mac and Edel, and me.
With God's grace, to her credit, our mother was able to send us to school.
I took up Fine Arts, majoring in Advertising at the University of Sto. Tomas, hoping that after graduation, I would have a lucrative career as an artist in an Advertising company. But it was not the right time either, nor the right job God intended for me.
Right Timing
What was in the right timing was what
God placed in my heart as early as when I was young — the desire to serve the poor. For my elementary education, I went to a Catholic school– St. Mary's College. For high school, I went to a public school— V. Mapa High. And yes, for college, at the Catholic UST.
So, exposed to private and public schools, I've well learned the basics of our Catholic faith– to love God and our brethren, particularly the least among them.
Right Calling
And God's call for me to put my faith into practice came at the right time, too. In 1994, joined the Light of Jesus Family, particularly its youth arm, the Youth
Mission for Parishes and Communities (YMPACT).
The inspiring teachings in LOJ further deepened my faith– just in time to prepare me to cope with the pain of losing my mother. For this was four years before my mom's death in 1998.
From 1999 to 2001, I served as pastoral carer for the LOJ Pastoral Care Ministry for the emotionally and spiritually wounded. Listening to them, guiding them to their healing, I myself also gradually healed from the pain of losing my parents.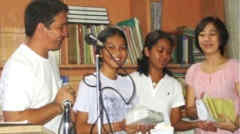 In 2001, I started as volunteer at He Cares Mission founded by Bro. Joe Dean Sola for indigent street children. In 2003– five years after my mother's death—and I was at the ripe age of 32, Bro. Joe Dean invited me to work full-time at He Cares. And right there and then, I knew in my heart this was the calling from the Lord I'd been longing for.
During awarding of scholarships, from left: Bro Joe Dean; former scholar Melyjoe Balino; Judith; and Brenda Deyto, member, Board of Directors.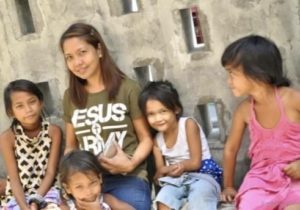 I started as an administrative assistant.
This job not only fulfills my desire to serve the poor, but it is also the very opportunity for me to put into practice my Fine Arts course.
Now, as admin staff in He Cares, I specifically serve as an artist in charge of developing our fan page and creating brochures, posters, and other info materials for our Mission.
What's best for me is serving as pastoral carer for our He Cares children, helping them to heal, by God's grace, applying the knowledge and skills I learned in the LOJ Pastoral Care Ministry.
Not only that. As admin staff, I am the all-around girl designated to be emcee during our programs and even cook for our daily and special events.
I am deeply grateful to serve in He Cares. As I serve, I learn so much more about how to relate with the poor– when to help, when not to assist, and when to refer them to agencies that are experts in handling their cases– all at the right time. How do I know when is the right time?
I am grateful for the grace to simply trust God's promise in Isaiah 6:22: "When the time is right I, the Lord, will make it happen."