Jewels Conference 2021: Common Ground

Hello, Ladies! Have you been feeling disconnected from God lately?
Especially now in this pandemic.
Now that events are not possible and we're used to feeding our spirituality through engaging events before the pandemic, but we can't just let our relationship with God just fade away just because there's no events where we can encounter him again through the people with the same faith.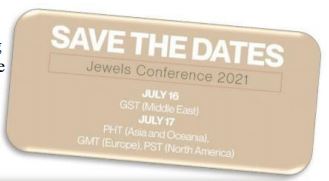 We are thrilled to announce that Jewels Conference 2021 is coming! This is an online event for our sisters in Christ hosted by one of our ministries, Shepherd's Voice Radio and Television. Another chance to gather and be united in church, friendship, and cause. Another chance for us to care for our well-being as we learn and inspire one another.
This year, the theme is Commo Ground. As we grow together celebratin our faith and womanhood, our conferenc is also growing and will now happen i four different time zones. Save the dates ladies!
Some of the speakers are:

Register today at https://jewelsconference.com/. We're excited to see you in July!