JESUS CHRIST CARES FOR CANCER PART 1 By DR. DYAN SABALVARO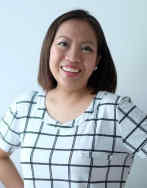 I AM a medical doctor, and by His Grace, God blessed me to use my profession to reach out to cancer patients.
I came to know about the Jesus Christ Cares for Cancer (JCCFC) through The Feast. My good friend,
Dr. Adeline Gonzales, my dormmate during our college days, invited me to attend The Feast at the Philippine International Convention Center (PICC).
I attended, but busy with my studies, I could not attend regularly.
In 2019, I found The Feast near the area where my family and I live. So, we started attending.
In July 2019, we were able to join the outreach program of The Feast Ortigas District, through the invitation of Bing Francisco-Ericta, core group member of JEWELS (Jesus in Every Woman Empowered to Love and Serve). JEWELS initiated the outreach mission for the Jeremiah 33:6-7 Foundation, a ministry of the Light of Jesus Family providing shelter in Pasig City, with pastoral care for sexually abused minor girls.
During our conversation, Bro. Bobby Del Rosario (right), serving in Jesus Christ Cares for Cancer (JCCFC), happened to be with us.
He briefly mentioned about their advocacies. Then, he told me they were looking for someone with capability to validate medical-related documents submitted by applicants, and he asked me for some of my time to help with the screening process.
I immediately said "Yes" — without actually knowing what my contribution would be.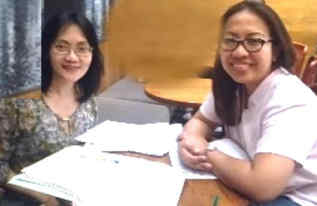 Called to Serve
Honestly, I really wanted to serve, but I was not sure back then where to start –given my busy schedule.
By His grace, God made clear my calling as the JCCFC was the one that reached out to me.
I thought to myself: "Maybe I can start here, serving the Lord through this Ministry."
Above, here I am with Sis.
Maritess Cordero, JCCFC board secretary, reviewing the medical abstracts and related documents of the beneficiaries of the Foundation.
I am grateful to JCCFC for this opportunity because even in little ways, I can help. And now, I know this is where the Lord is leading me through my profession.
Early on, I almost did not continue with serving patients in hospitals. This was during the Coronavirus Disease (COVID) Pandemic in 2020. Among the most vulnerable in catching the deadly virus are the frontliners—yes, doctors, nurses, and other healthcare workers. Admittedly, I had many doubts, fears, apprehensions, frustrations– and guilt. There were times I felt like giving up because I wanted to protect my family from infection.
But the Lord has never failed to send me people to remind me of why I am here.
My good friend, Dr. Adel, once said: "If you are going to quit now, how would you look at yourself once the Pandemic is over? Then you would ask yourself, "Where was I during the Pandemic? What was I doing as a doctor back then?"
Her words struck me, and I realized she was right.
I thought then: "Would I feel embarrassed before my future self if I quit being a doctor because I was fearful?
So, I did not stop serving as a volunteer doctor for JCCFC, even at the height of the Pandemic. Still observing Quarantine protocols, I continued serving with JCCFC, assessing medical documents through online communication.
I may not be meeting the applicants face-to-face, but working with JCCFC behind the scenes, I already feel fulfilled in my mission.
So, to this day, I hold on to God's promise that He is protecting me.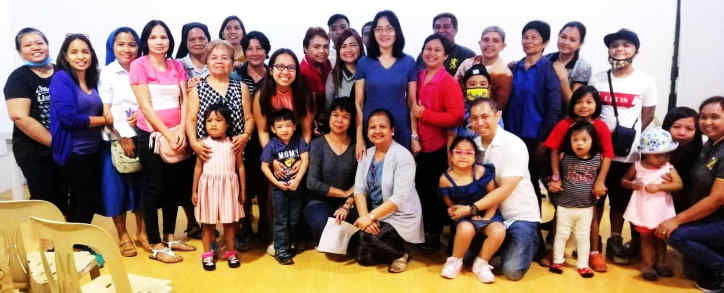 Prior to the Pandemic, on August 19, 2019, I got to attend a JCCFC General Assembly with the patients and I witnessed their fun together. I remember I was with my son Tyler, then four years old, and his Ate Dina caregiver.
I spoke with the participants, heard their stories, and they all inspired me.
Despite their battle with cancer, together with their families, they have remained positive, steadfast in their faith in God.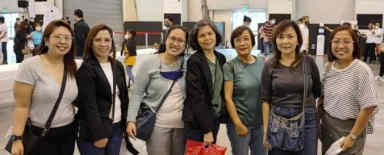 In August 2021, God gave me additional support —
The Light Group of The Feast at PICC. Called Light because it's a mini version of our Light of Jesus Family.
Here's our Light Group, from left: Trina San Pascual,
Jenny Dela Cruz, Liezel Santiago, Debbie Ventura (LG head), Brenda Consul, Chay Robles, and yours truly.
Thank God for the gift of technology! Following Pandemic protocols, we meet online, and so, I have these friends who constantly remind me of God's love and that I've been called to serve Him.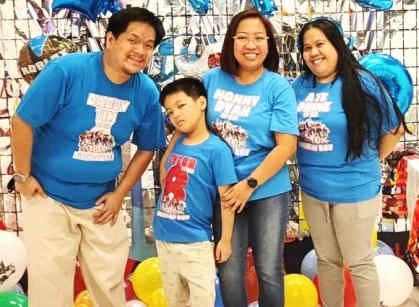 New Normal
And now that we're going into the New Normal, I look back deeply grateful for how God never failed to surprise me with His blessings.
This is my fervent prayer: That God will always be the center of my family — the four of us, above: my husband Tim, our son Tyler, and I, together with our caring Ate Dina.
I see them participating in The Feast, especially during the Mass, and this really makes me feel good. I hope someday all of us will be able to serve too. Especially Tyler. I want him to grow up in a faith community like The Feast, knowing there is a God who loves and protects him.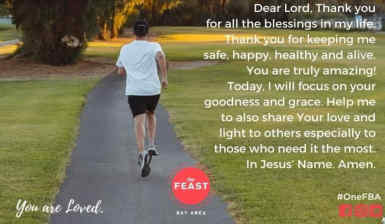 Published by THE FEAST MERCY MINSTRY (April 2, 2023)