HE CARES MISSION PART 3 How To Be Respected and Generous
WE started our series on He Cares Mission in The Feast Family
August 14, 2022. Part 1 of our series featured The Promised Land, a private lot donated to He Cares which it is now developing into a farmland to provide food, livelihood training, and shelter for its beneficiaries.
The next issue, August 21, 2022, featured Part 2–about Sis. Judith Enriquez, He Cares administration assistant, sharing challenges—and blessings— of the Mission's operations.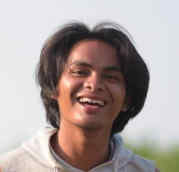 In this issue, we feature a He Cares beneficiary— once a street child.
The Mission provided a shelter for him in the He Cares Mission Center in Quezon City, and from there, he's now in The Promised Land.
Here is Kiram Kudos. Kiram is an Arabic-Muslim word which means respected and generous ones. He was born in 2001 to parents who are Muslims— the reason he has a Muslim name. He has a brother, Sabdula. They were poor. To survive, Kiram and Sabdula begged on the streets.
We recently interviewed Kiram, and he told The Feast
Family: "We always played on the streets and begged for alms from passengers of cars and jeepneys."
Until in 2012, Bro. Joe Dean Sola, He Cares founder, who's always on the lookout for street children to take care of, spotted Kiram and Sabdula on the streets, and promptly invited them to He Cares' Feeding Program.
Then, yes, He Cares welcomed them to live in the Mission's shelter in Quezon City, and from there, to The Promised Land.
Job's Story
In our interview, Kiram said he has no favorite Bible verse: "But my favorite Bible story is the life of Job."
The Bible, in the book of Job, tells the story when Satan tested the Lord. He told the Lord that His people obey Him only because they have a good life. To prove that Satan was wrong, the Lord presented Job who lived in the land of Uz.
"Then the Lord asked Satan, 'Have you considered my servant Job? There is no one on earth like him; he is blameless and upright, a man who fears God and shuns evil. (Job 1: NIV).
Then, Satan challenged the Lord: "But now stretch out your hand and strike everything he has, and he will surely curse you to your face (Job 1:11).
The Lord agreed, and so, Job lost everything—his family, his flocks and herds, his source of livelihood, and he even suffered horrible skin sores.
And Job responded this way: At this, Job got up and tore his robe. And shaved his head. Then he fell to the ground in worship and said: Naked I came from my mother's womb, naked I will depart. The Lord gave and the Lord has taken away; may the name of the Lord be praised (Job 1: 20-21 NIV)
And he added, "Though He slay me, yet I will trust Him (Job 13:15.)
Job eventually got back everything he lost: Job being restored to an even better condition than his former wealthy state, receiving his wealth back several fold, his wife escaped death, God healed Job and blessed him with another 10 children, and he lived another 140 years (Job 42: 10-17).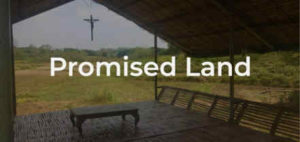 Kiram's Story
Just like Job suffered,
Kiram may have had a difficult childhood.
But today, like Job he praises and. thanks God for his blessings.
First, safety in The Promised Land: "When the Coronavirus Disease (COVID) Pandemic started in 2020, we transferred here     http://new.hecaresmission.com/our-causes/6/ in The Promised Land. This land is a safe haven for us because it is far from the city where there's high incidence of COVID infection."
Paying It Forward
Second big blessing for Kiram: education opportunity. Kiram was 10 years old and Sabdula 8 when He Cares found them and promptly enrolled them in an elementary school to start Grade 1. Now 20 years old, Kiram is in Grade 11 at a national high school. Sabdula is 16 years old, also still a He Cares scholar. At right, Kiram in The Promised Land on his way to school.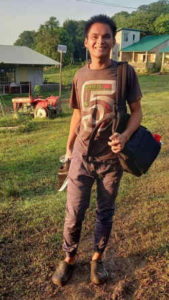 "We get to continue our studies and we are learning livelihood skills here. Now, I know already how to drive and I can now operate a backhoe machine (big machine used for farming, such as tilling the soil)."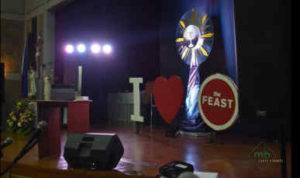 Third, Kiram and his co-beneficiaries now attend The Feast at the Bureau of Soils in Quezon City. Above, image of The Feast BSWM
stage from the Facebook page of its sound system provider, Musicbucks Pro Lights and Sounds#musicbuckslightsandsounds #musicbucks
And Kiram joyfully serves during The Feast Holy Mass as an altar boy, and in the Music Ministry as bass guitar player.
Yes, He Cares well prepares its beneficiaries to be self-sufficient and self-confident, as well as to have the heart of a missionary to pay forward their blessings.
Just like what God did for Job.
The ultimate lesson in Job's story is that even the righteous man suffers.
We suffer, but if we trust God, we will eventually overcome Life's challenges and be an inspiration to others.
And, as Kiram's name puts it, we will be the respected and generous ones.
–With reporting by Cybill P. Bayto