PAG-ASA NG PAMILYA Part 2
Hope– Just in Time
By JERINNE MENDOZA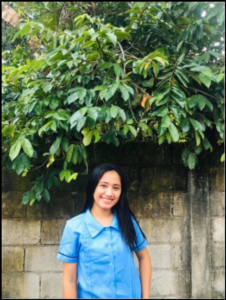 YES, that's me posing before a tree—green, luscious, like hope.
Hope saw me through challenges in my young life. To fend for our family, my father worked as a jeepney driver and my mother managed a ari-sari
At the onslaught of the Coronavirus Disease (COVID) Pandemic, my father lost his job, and we struggled to cope with this trial.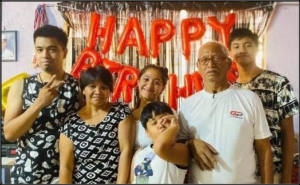 Pre-Pandemic, we managed to get by—even had fun celebrating special days, like the birthday of my brother Jerome—as you can see in this photo.
Here, I am with my family, from left: birthday boy brother Jerome; mother Josephine; brother King Juan; father Romeo; and brother Jhomar.
Struggles
We struggled to have a comfortable, decent family life. To help my parents, I dreamed to have a business. So, I began to take up Accountancy at the Pamantasan ng Lungsod ng Marikina, a government-funded university at Greenhills Subdivision in Marikina.
The school is far from where we live—at Sitio Kaysakat, in Barangay San Jose, Antipolo City. Travel time from our place would take me one and a half hours. So, I had to live with my cousins in Barangay Mambugan, also in San Jose, Antipolo City—but from there, it would take me only less than an hour to get to school.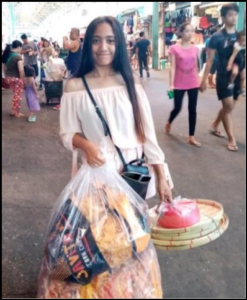 Still, I used to wake up early because my class started at 7 o'clock in the morning. I needed to take a tricycle to get to school but there were only a few of them parked in our area. Worse, I had to negotiate traffic jam on the way. That's why there were times that I came to school late, tired, hungry.
In my second semester in college, I felt that my parents were really having difficulty in paying my tuition. So, to be of help, I went into business. I saved my school allowance, bought fish crackers in the market, repacked them one by one, complete with vinegar sauce per pack. Every time I went to school, I brought my products and sold them to my schoolmates. And as you can see in this photo, I have levelled up to more products. This way, I am making money little by little.
Then, Pag-asa!
It happened that my teacher, Mrs. Jeanne Marigondon, knew about Pag-asa ng Pamilya. And one day, she informed me that I'd been included in the roster of future Pag-asa scholars for college. I was so happy! Finally, this is a big blessing not only for me but my entire family as well.
At the outset, I struggled through college. When I was about to enter my second year in college, my school suddenly decided to transfer students not taking up the simpler Accountancy Business Management course to the four-year degree course for Bachelor of Science in Business Administration (BSBA), major in Financial Management.
Alas, the tuition fee for the BSBA course was P14,000 per semester, which could not be fully covered by my scholarship— which is P8,000 per semester.
So, I decided to transfer to a public school—at the University of Rizal System, Tanay Campus, which was offering complete tuition for free!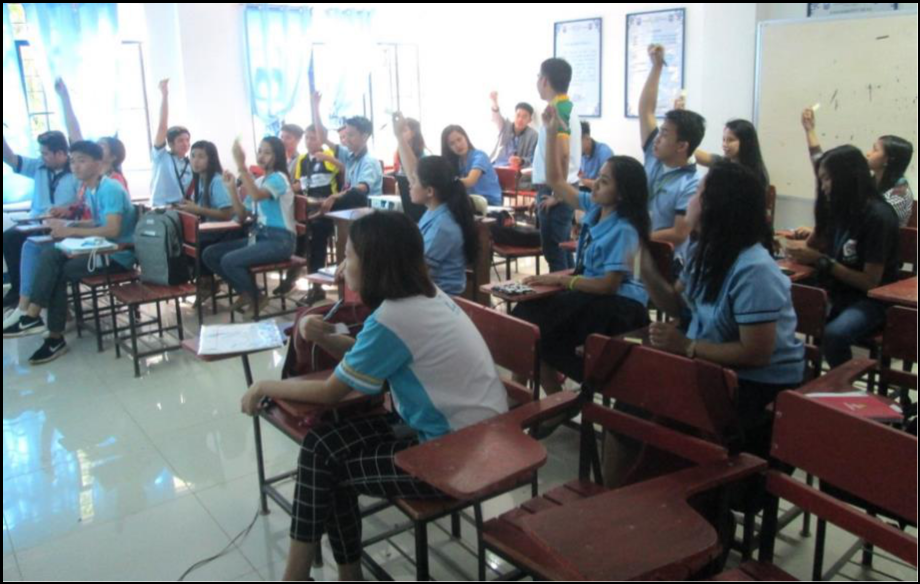 Challenges
I was late for the application but I was still able to take the entrance exam.
I was so anxious when I took the exam. There were no other schools open for the exam. If I would not pass the test in this one and only school offering the exam, I would just had to stop studying.
By God's merciful grace, I passed the entrance exam.
So, in 2019, I began second year college at the University of Rizal System (URS), Tanay Campus.
Above, my  Basic Microeconomics class members during a Battle of the Brain.
Today, I am now in fourth year college. It's not easy.
As someone who changed course, I am an irregular student—meaning, I have irregular subject schedules. Not all subjects in my course are available in my fourth- year level or even my class section.
So, I have to take up some subjects in other year levels or sections—like I still have to go back for subjects at the second year level. Also, I have to take up feasibility studies and go through on-the-job-training at the same time.
It's difficult, but I persevere and fight.
Throughout the challenges, it's the Pag-asa scholarship that has well raised my hope to finish school. Although I enjoy free tuition at URS, I still have other school expenses. With the Pag-asa grant, I am able to pay for those extra school expenses, dorm rent, books, and fares.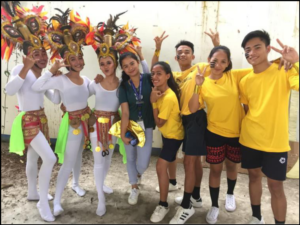 Challenges
Yes, there have been struggles. But Pag-asa means hope. So, I focus on being hopeful.
Like, I've realized transferring to another school is actually a blessing for me. In URS, I've become a fairly good student. I made it in the Dean's List at least once. I have already participated in competitions.
Here, I am with URS dance choreography members, from left: Joebert Azuelo, Erica Baui, Michaella Saligao, Beatriz Legson, me, Jv Zonio, Jenesis Ametin, Mark Anthony Rosales.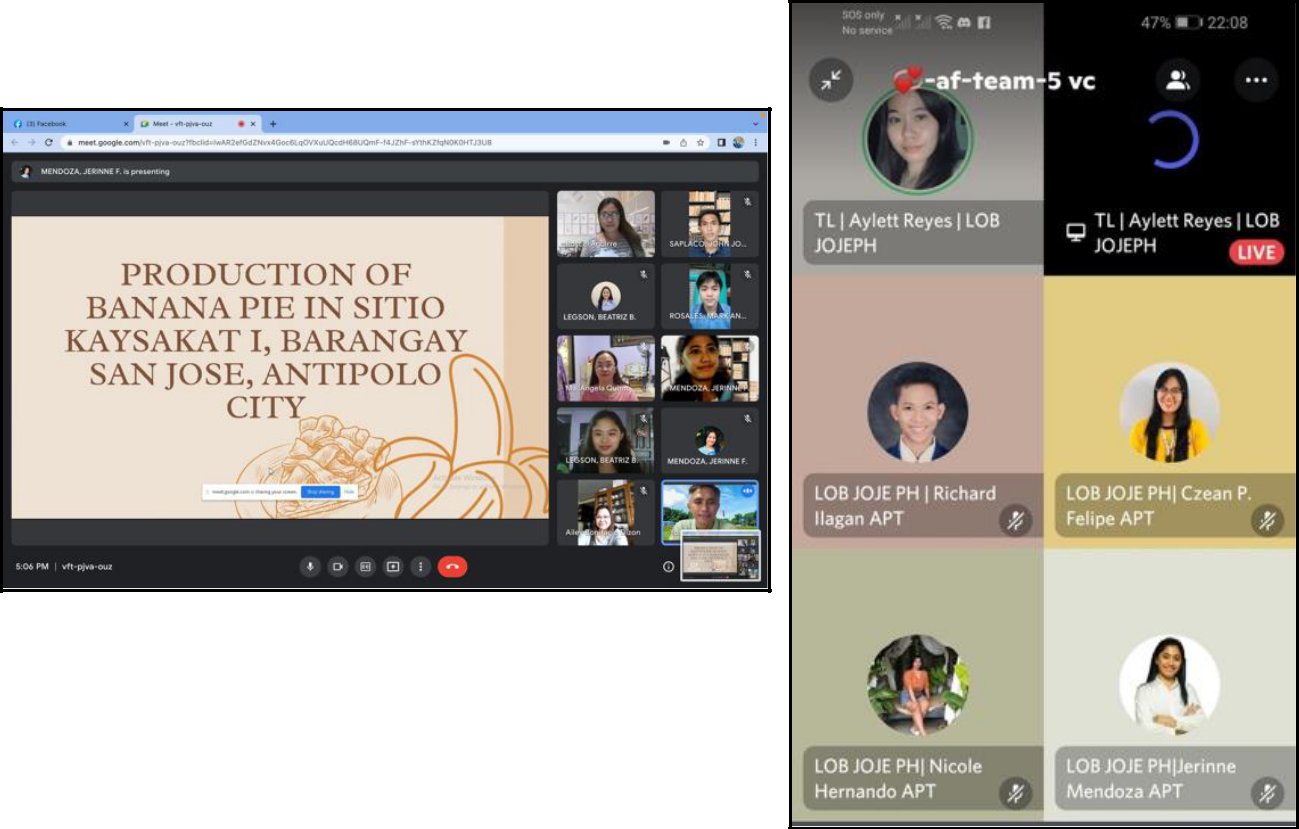 Above, a Voice Call meeting during my on-the-job training in Anafara Company with my co-interns.
At right, Zoom meeting during final defense in my feasibility study with the panel members and my groupmates.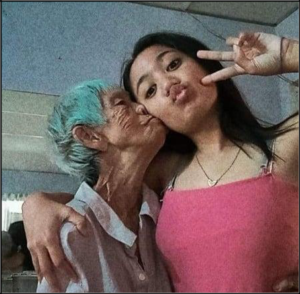 Life's Ups and Downs
Indeed, life is a cycle of ups and downs.
In August 2021, my grandmother Natividad who had taken care of me since my toddler years, passed away.
I mourned with utter grief because my Lola was one who believed in me.
She wanted to see me a successful person, so she encouraged me to excel in my studies.
So, with her passing, I lost a pillar of strength in my life.
Only my school demands have helped me sort of cope with my loss.
I am so busy, I have just realized now that it's been several months since my Lola's passing. Now, I'm trying my best to fulfill her dreams for me. Above, right, a fun time hamming it up with my Lola.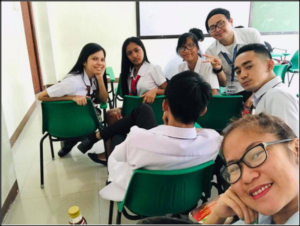 Paying It Forward
I know that someday, all my hardships will be compensated– just like how Pag-asa ng Pamilya Foundation has helped me to build myself and fulfill my needs as a student who dreams to be a business woman who is financially stable.
Here I am in my school in Marikina with group task members, from left: Erika Dumandan, me,
Mailene Arellano, Jon Perez, Jolo Caedo, and Kristine Lopez.
Someday, I will return all the blessings I am receiving now. I want to also be of help to other students for them to be financially secure in their studies.
Pag-Asa, thank you, forever. You will be a big part of my future success. God bless!