Hope Amid COVID
PAG-ASA NG PAMILYA SCHOLARSHIP FOUNDATION

THE Coronavirus Disease (COVID) may have wreaked havoc worldwide. The disease may have killed thousands. The Pandemic and the lockdowns or quarantines to arrest the spread of the disease may have paralyzed businesses resulting in economic crisis and loss of jobs.
But the menace has yet to frustrate the human spirit. The human spirit to be merciful, to care for each other.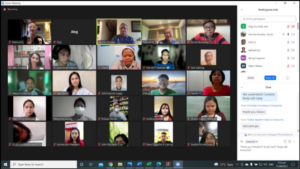 Proof is the recent Zoom meeting of the Pag-asa ng Pamilya Scholarship Foundation, one of the beneficiaries of our Light of Jesus Mercy Ministry.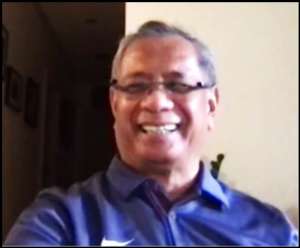 Led by Bro. Hermie Morelos, chairman of the LOJ Mercy Ministry, the Zoom meeting welcomed the new batch of Pag-asa scholars.
Yes, whether it's in school-at-home, or live, face-to-face class, our scholars are able to continue their studies as they continue to receive financial assistance from Pag-asa ng Pamilya. Yes, they continue to be the hope of their family.
Bro. Hermie introduced to the scholars Bro. Samuel Uy, president of Pag-asa ng Pamilya Scholarship Foundation.
Bro. Samuel happily pointed out that Pag-asa has104 active scholars— 18 in the elementary level, 40 in high school, and 46 in college.
He also announced good news: During their meeting held last August, members of the Pag-asa Board of Trustees approved an addition of P4,000 to the allowance of the scholars.
Bro. Samuel and other Pag-asa officers congratulated the scholars, inspiring them by sharing their own life-changing experiences, especially struggles to have a good education.
Excerpts: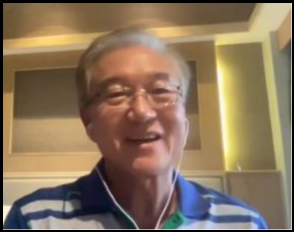 BRO. SAMUEL, President: During these past months, we are all coping– just hoping that we are coping well in the midst of this Pandemic. It's been one year. I just hope and pray that the Pandemic will end so we can all go back to our normal activities.
I am so excited to be with scholars. I've been dealing with scholars for the last 12 years. We have our family's GTU Airphil Scholarship Foundation where we have 60 scholars. I am also the one assigned to help the Education Committee shepherding our 100 Chinese-Filipino Business Club scholars.
I am so happy to be with scholars.   I was also an athletic scholar way back in college. To avail myself of full scholarship for my college tuition, I joined my school's volleyball varsity team. It was a big help to my parents then, as all four of us siblings were then going through college. I have a soft spot in my heart for scholars.  So, when Bro. Hermie asked me to join Pag-asa ng Pamilya Scholarship Foundation, I was overjoyed and I readily said, "Yes!"
We have so many success stories from our graduates—who pay their blessings forward by supporting other students in need. More than the financial help, you will notice that majority of the scholars are well-balanced individuals. They practice the values they imbibed during their formation years in school.
We are really so joyful for all of them. You, too, our new scholars. We hope to see you successful someday. We hope you will really focus on your studies. You could join a club which can help you in your studies. Or join groups that are really focused on their studies. Yung seryoso.
And I would like to ask you to delay your self-gratification. Ladies, stay away from suitors. They will take your focus away from your studies. We are hopeful that you will know your priorities. Do not settle for a grade of 85. Aim higher. Give it your best and see success smiling at you along your journey. We will always be with you. Good luck, everyone. Thank you!
SIS. ROWENA CEQUEÑA, Finance Director:
I am a product of scholarship. I was scholar ng bayan— during the time of President Marcos. The government granted scholarships to indigent students in public schools. I was studying in a private school, but even then, I was able to receive the scholarship grant. Every semester, my school returned to me the money I paid for my tuition. So, I used the money to buy my uniform and meals.
We were not well-off. We are nine children in the family and so it was difficult for us to study all at the same time. To be able to afford higher education, I stayed for eight years in the house of an aunt, helping with the household chores.
To keep up with my studies, I learned to multi-task. Like, when I didn't have time to review for an exam because I had to wash clothes, I taped my reviewer on the wall in front of the sink. So, while my hands were busy with the clothes, my eyes and mind were on my reviewer.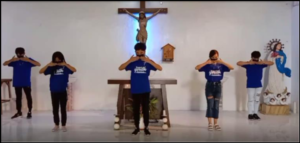 God is good. I took up Accounting in college, I passed the Board Exam to become a certified public accountant (CPA), found a good job, and now I am helping scholars. At right, a presentation of the Youth Ministry of a chapel in Bangad. Four of them are our scholars and they are active in The Feast Light, an LOJ faith gathering.
My advocacy now is to tell everyone that poverty is not a hindrance to success in one's studies. My guiding principle has been Proverbs 3: 5-6– that you put God first in your life and God will reward your efforts with success. I really prayed hard, telling God, "Lord, this is a make-it-or-break-it deal because I need to help my siblings, as well as other persons in need, to succeed too,
That's the essence of Life: to care not only for yourself but first, for God, and for others too. For this is the reason God created us: Love God will all your heart, with all your soul, and love your neighbors as yourself. God bless you all, and strive to succeed in your studies.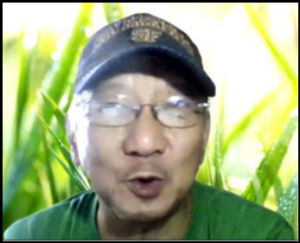 BRO. ENG SI, Member, Board of Trustees: Congratulations! But I prefer to say, "Thank You, Lord," because you accepted His invitation, His challenge. For I believe it all starts here—how you would agree that God would use you to share His goodness with others, especially with your family.
Like in the case of Sis. Rowena, we are also nine children in my own family. I struggled to study because I really wanted to study.
I went to a public school for my elementary education. Then my mother told me we couldn't afford for me to study in a private high school. So, when I was about to graduate from elementary, I hied off to my ninong—my godparent—walking from our house in Sampaloc to his place near Arangke Market in Sta. Cruz, Manila (about three kilometers). My ninong, bless him, readily helped me, gave me money so
I could pay the fee for the entrance exam at the Laboratory High School of the Philippine College of Commerce. We had a typing subject, and just on my second year, I had already mastered typewriting.
Early in high school, I struggled to be a working student—serving as collector of bets in a karera–a horse-racing game. So, on my third year, up to my fourth year, I was earning so much money I was even able to give some cash to my mother. But then, Martial Law was declared, the karera was banned, so my earnings dwindled. Hey, I am not encouraging you to go into illegal gambling. It gives you money but it also leads you to a gambling vice – like I did. And so, I was not able to graduate from high school.
By God's grace, my high school teacher helped me— introduced me to her father, the principal at the Jose Abad Santos High School who found me a job as bus boy at the school's canteen. I didn't last more than two months on the job because I broke so many plates! That served as a lesson to me—to be careful in everything I do.
Since I already knew typewriting, I found me a job in Binondo—again walking from our house to the office and back. In this office, I learned Bookkeeping, So, I then worked as recorder for a Chinese bookkeeper.
Yes, we just have to allow God to shape us into what He purposed us to be… Stay in His Presence. Because you have been chosen, God will equip you with everything you need and when God will equip you, He will continue to empower you. The light of Jesus will continue to shine upon you… When you graduate, give Him back the glory, the honor, and the praise by doing what God wants you to do. God bless you. I will be praying for you.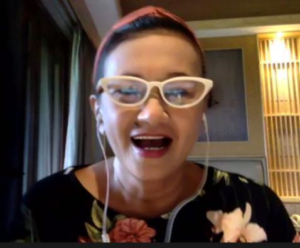 SIS. MARINA UY: Believe it or not, Sammy Uy, my husband, is my first and last love. I am not ugly. I had a number of suitors, but I had a clear dream. So, I avoided having a boyfriend when I was still studying. Because my siblings and I became orphans real early. I was only six years old when our father died. And I was still in college when our mother passed away.
I was third in our family of six children. I took it upon myself to take care of my three younger sibs. I decided to be a working student. I told my teacher I didn't have money for allowance so, she hired me to check test papers for her. I was then staying in a boarding house. I didn't have money for my meals, so I waited for my board mates to finish eating and helped myself with their leftovers. I was ready to take any job – even teach dancing. Because my decision was very clear—to finish college and help my siblings. So, at age 15, I was already self-supporting and sending three siblings to school.
I've always believed that if you have a good education, you can rise above your poverty. Just press on. My motto in Life is: Happy are those who dream dreams and are ready to pay the price to make their dreams come true. I also have been blessed with deep faith in God. I remember I attended Mass at the Our Lady of Perpetual Help in Baclaran every Wednesday, at St. Jude Parish Church in San Miguel, Manila, on Thursday, and at Quiapo Church on Friday. It's like, since I no longer had parents, it's only to God that I could run to for help. And God is good. He blessed me with a good husband, and I was able to help my three siblings finish school. Although Sam was also a struggling student, he was very generous. I really like him because he has a soft heart for the poor.
So now, scholars, I challenge all of you to pursue your dreams. Because I believe that we are seeing you all being professionals and being blessings to your family. I believe that as long as you dream dreams and you dream with God, all your dreams will come true.