PAG-ASA NG PAMILYA Part 6
God Has Heard
PAG-ASA NG PAMILYA Scholarship Foundation is clear and present manifestation of God's Love for our youth. It is an answer to prayers of parents for help in providing education for their children.
Yes, God has heard the parents' prayers, sending the right man to be the president of Pag-asa, named Samuel.
The name Samuel is from the Old Testament of the Bible, and derives from a Hebrew phrase meaning yes, God has heard.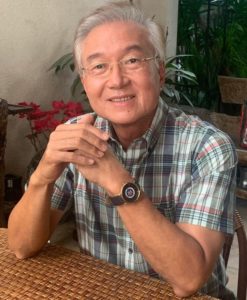 Meet Samuel Uy, president of Pag-asa ng Pamilya Scholarship Foundation.
The Lord has well prepared Bro. Sammy for this Ministry.
He's been blessed with academic background in administration, as he earned a degree as Bachelor of Science in Business Administration from the Philippine School of Business Administration and a Master's degree in Guidance Counselling from La Salle University. Plus an award as Outstanding Alumnus in the field of Agriculture.

Family Affair
Bro. Sammy has put to good use his education as he is now president of Ford Tractor Phils. Inc. and S&M Property Investments Inc.
Ford Tractor is actually a family affair.
Above, middle photo, from left: Bro. Sammy; son Mark, vice president for External Affairs; mom Marina, treasurer; and Michael, vice president for internal affairs. The only girl in the family, Michelle, is in Creatives, based in Winnipeg Canada.
Bro. Sammy's Mercy Ministry is also a family commitment.
Devoted Catholics, Bro. Sammy and Sis. Marin started with serving married couples.
For 17 years, Bro. Sammy and Sis. Marin were active members of the Marriage Encounter (ME) which holds seminars focusing on proven tools designed to strengthen relationship of married couples. They also gave talks for parents of elementary students in some schools.
After serving as ME couple, they served in their parish church particularly implementing a Marriage Preparation program for engaged couples.
Eventually, a priest friend asked Bro. Sammy to serve as Parish Pastoral Council president and he served in that capacity for eight years.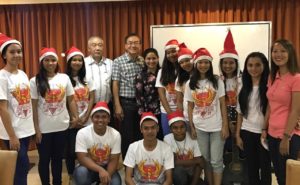 Serving the youth also started as a family affair.
Bro. Sammy's family has its own foundation— the Gregorio P. Uy Lee Peng (GPULP) Scholarship Foundation, where he and his brother Johnny take charge.
"We organized the Foundation as a remembrance of our parents," he adds.
Here, Bro. Sammy with brother Johnny Uy, Geralda Hoggang, guidance counsellor, and GPULP scholars. Below, giving red envelopes as reward to scholars for perfect attendance.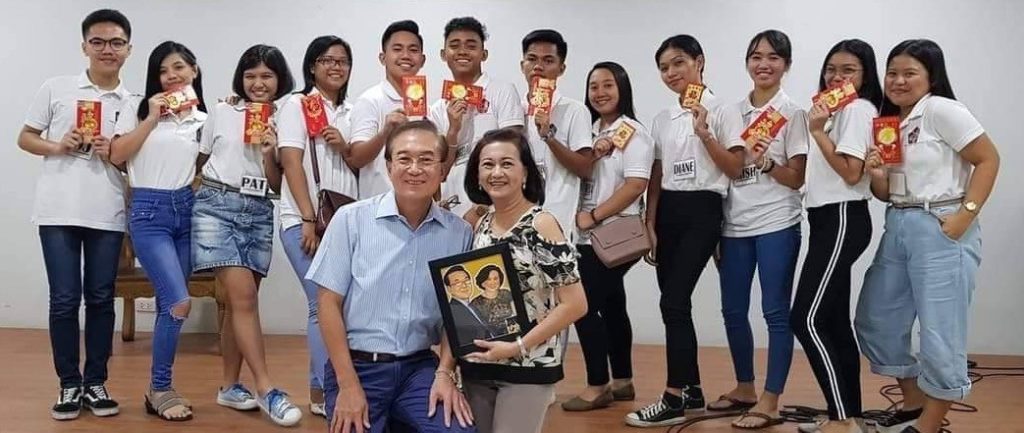 The Foundation now supports 50 college scholars, and it is planning to add another 50 this August, to make 100 the number of the GPULP scholars.
Bro. Sammy also served as executive vice president of the Chinese Filipino Business Club, and assigned to head its Education Committee taking care of 100 college students.
The two scholarship programs thus well prepared Bro. Sammy for his Mercy Ministry for our youth.
Finding the Light
A favorite Bible verse of Bro. Sammy is Psalm 27:1: The Lord is my light and my salvation; whom shall I fear? The Lord is the stronghold of my life; of whom shall I be afraid?
And true enough, the Lord has heard Bro. Sammy uttering this truth, thus providing him light— literally, through the Light of Jesus Family (LOJ).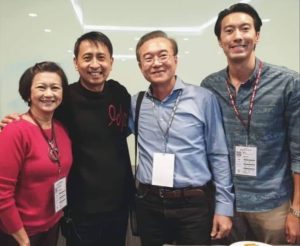 From friends in the Marriage Encounter couples community, Bro. Sammy heard about
Bro. Bo Sanchez (right) leading the LOJ prayer meeting at the Camp Aguinaldo in Cubao, Quezon City.
Encouraged to attend a session,
Bro. Sammy brought Sis. Marin and three children to the prayer meeting. "Just a few times, to listen to Bro. Bo's valuable talks on relevant topics," he says.
Yes, he did not only hear, he listened. So, the few times have turned into countless times with LOJ— and more.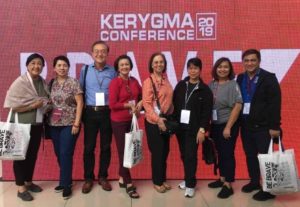 The Light of Jesus led Bro. Sammy and Sis.
Marin to the Kerygma Conference, our inspirational learning event, and its inspiring servants— from left: Vita Monforte,
Becky Sanchez, Sammy and Marin, Pearlie Flores, Rowena Cequeña, Dang and Gil Ramos.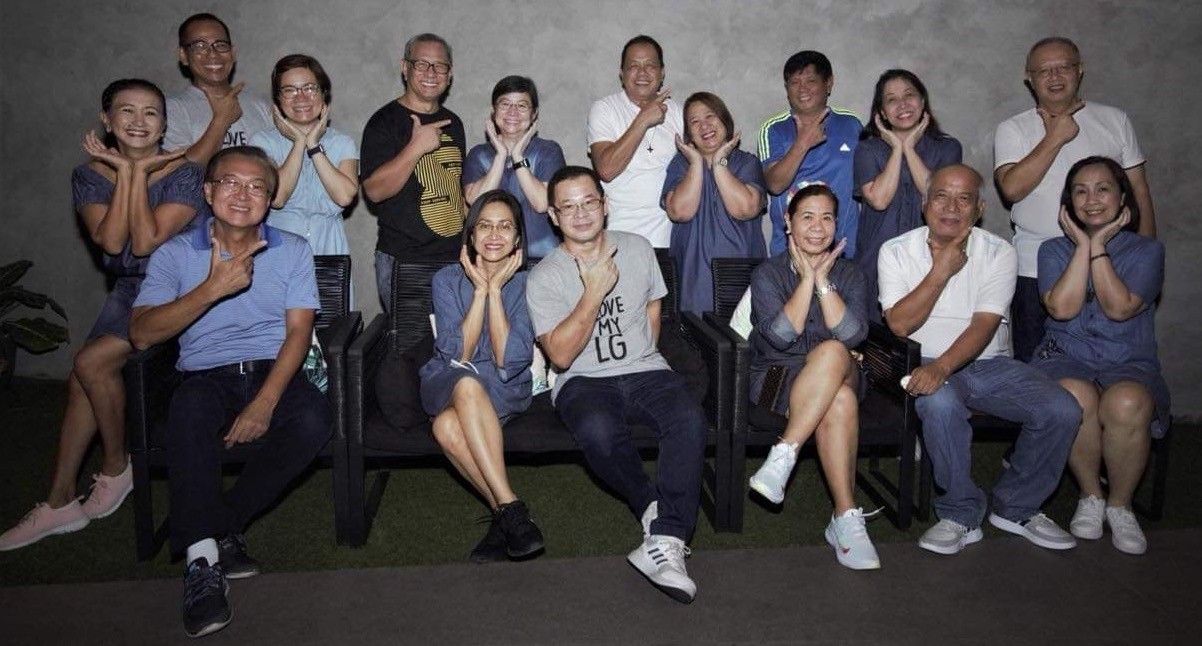 The Feast
By God's amazing grace, the LOJ prayer meeting at Camp Aguinaldo eventually expanded to The Feast. And Bro. Sammy and Sis. Marin now attend The Feast TV 13 every Sunday at 8 a.m.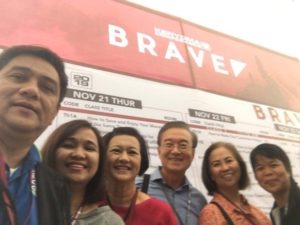 Aside from The Feast, Bro. Sammy continues his growth in faith through his regular meeting with Caring Group ni Berting (above), his Laugh Group (left), listening to Bro. Bo's Full Tank podcast and inputs from other Feast Builders.
At The Feast, Bro. Sammy has well learned God's Words and their practical applications in daily Christian Living.
His favorite is Romans 8:28: "And we know that all things works for the good of those who love Him, who have been called according to his purpose.
And indeed, everything has worked for good for Bro, Sammy, giving him more blessings to serve the Lord.
The Mercy Ministry
The Light of Jesus then led to our Mercy Ministry.
"I eventually came to know about Bro. Bo's Mercy Ministry — all about the various ministries," Bro. Sammy relates.

For a year, he served at the Grace To Be Born, our Ministry for pregnant women in crisis, counselling the beneficiaries monthly.


He also helps with the H.A.I.L. MARY, acronym for Healthcare Assistance for Indigents and Lepers of Mary, through Dra. Ella Ortega, by supplying the beneficiaries with Generic medicines.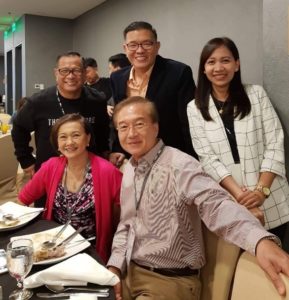 So, he and Sis. Marin then came to meet Bro. Hermie Morelos, chairman of our LOJ Mercy Ministries.
At right, the couple with
Bro. Hermie, Bro. Randy Borromeo,
Pag-asa director, and Sis. Ruby Albino, head, Marketing and Fund Raising, all serving with Shepherd's Voice Radio and Television (SVRTV) Foundation.
Pag-asa Journey
And so, it was just a few more steps for Bro. Sammy to be acquainted with Bro. Rey Ortega (left), brainchild of our Mercy Ministries.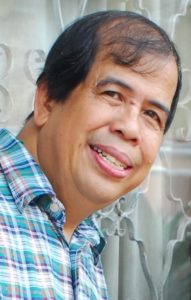 He recalls, "One time, Bro. Rey even invited Marin and me to talk about our experience as college scholars in one of the Pag-asa anniversary events.
And since then, I have had a positive impression of this Scholarship Foundation."
Bro. Sammy joined LOJ in 2011 and in the same year, Bro. Rey invited him to serve in the Mercy Ministry.
Then, mid 2021, Bro. Hermie asked Bro. Sammy
if he would like to be president of the Pag-asa ng Pamilya Scholarship Foundation.
"I was so excited and gladly accepted the offer," he gushes. "Why, I love to be part of the journey of the poor but deserving students."
It was perfect timing— indeed, God's Divine Plan— for Bro. Sammy to lead Pag-asa.
In the next couple of years after his appointment as Pag-asa president, the government enacted a law— Republic act 10533— enhancing the curriculum through the for Kindergarten-Grade 12 (K-12) program. The Department of Education started Grade 11 in the school year 2016-2017, and Grade 12 in the school year 2017-2018.
K-12 is a good program, but parents couldn't help crying out over the additional expenses for more years of schooling for their children.
And God heard their woes— through the listening ears of Bro. Sammy. "I heard many parents saying that their students may have to stop schooling," Bro. Sammy laments.
Touched by the parents' concerns, Bro. Sammy provided scholarships for 24 students so they could afford Grades 11 and 12. Then, he connected with the Chinese Filipino Business group to provide college scholarships for the students.
"We did this for two batches of students and we are thinking again of starting with a third batch of Grades 11 and 12 students," Bro. Sammy adds.
Pag-asa Projects
Yes, God has heard the parents and their students, and yes, He has given Pag-asa ng Pamilya a good man who listens to the people's woes.
As soon as he started as president, along with members of the Pag-asa Board of Directors, Bro. Sammy has been implementing a number of projects.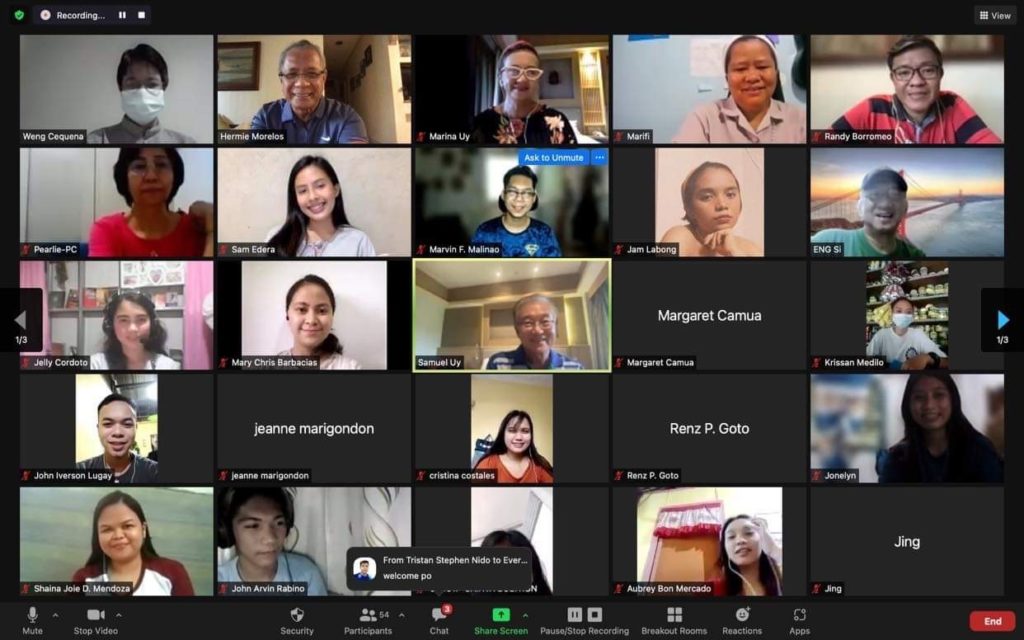 Here, the Pag-asa Board members during a Zoom meeting with the scholars.
Board Meetings. Pag-asa now has a devoted, hardworking Board members: Bro. Hermie Morelos, chairman; Bro. Samuel L. Uy, president;
Sis. Rowena B. Cequeña, treasurer; Bro. Randy Borromeo, Bro. Eng Martin Si, Sis. Pearlie Flores, and Sis, Marina S. Uy, directors.
Bro. Sammy has set Board meetings every third Saturday of the month.
"All members of our Board of Directors are committed to serve.
We have assigned a director or some directors to take charge of certain projects who discuss progress reports on the projects during the Board meetings," Bro. Sammy says.
Allowance Increase for the Scholars. As soon as he assumed office, Bro. Sammy reviewed the financial grant for the beneficiaries. He then recommended, and the Board agreed, to give each scholar P4,000-allowance increase. Bro. Sammy announced the increase during a Zoom meeting in August 2021.
To date, allowances are P8,000 for Elementary grade scholars; P12,000 for high school scholars; and P20,000 for college scholars.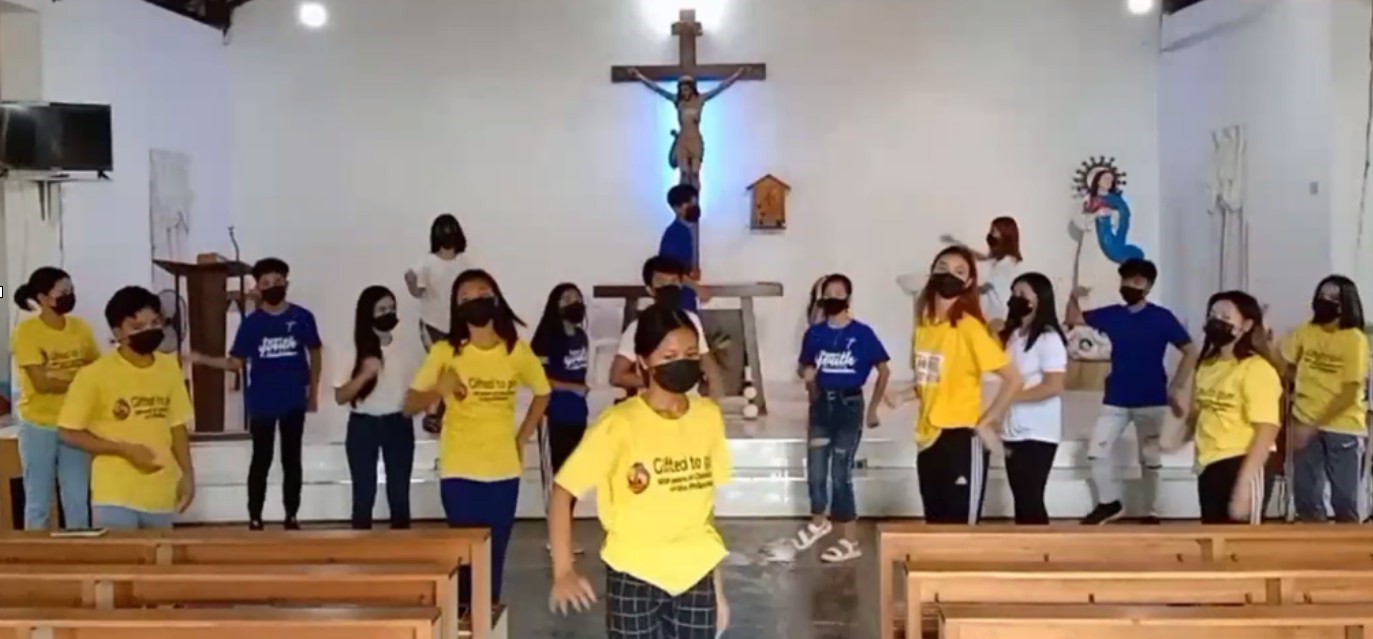 During the Zoom Meeting, members of the Youth Ministry here present an entertainment number. Four of them are active in The Feast Light, a mini version of our Light of Jesus faith gathering.
Assistance During the COVID Pandemic. To ease the burden of parents suffering financial problems following the onslaught of the Coronavirus Disease Pandemic, Pag-asa has granted scholarships to more youth in need. There are now 104 more Pag-asa scholars.
Says, Bro. Sammy, "God will provide. We trust that many good-hearted people out there will help support our scholars."
Fund Raising. Pag-asa is intensifying fund raising programs for the Foundation.
Bro. Sammy says, "We are happy that some Feast districts are donating funds to Pag-asa and some other Mercy Ministries.
"We need, however, to do more as our annual financial need to be able to continue to assist our scholars is more than a million pesos."
He says that he will recommend to the Board organizing a concert to raise extra funds for the Ministry.
"When we have extra funds, we can accept more deserving poor students as our scholars," he adds.
Formation Meetings for the Scholars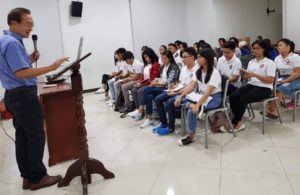 Pag-asa holds quarterly meetings with the high school and college scholars, which include character formation.
He may be a cheerful giver in our Mercy Ministry, but for Bro. Sammy, serving gives him back immense joy.
He shares, "I love guiding young scholars through life.
I am thrilled to see our scholars graduate and become successful in their chosen career. That is like my deal with the Lord to help uplift the poor, especially students. Every now and then, when I hear some success stories of our beneficiaries, I feel so good and so encouraged— like being supplied super doses of vitamins and being given the thumbs up sign by our dear Lord."
He adds, "For me, aside from the financial assistance, what is more important is the values formation for the youth. We emphasize to our scholars that we would like them to be physically, emotionally, socially, intellectually, and spiritually balanced. Good grades will land them on a good job. But it is their good character that will keep them there."
Yes, God has heard pleas for assistance for our youth. And He shows He continues to listen through Pag-asa ng Pamilya.