HE CARES MISSION PART 7 From Street Child to Company Supervisor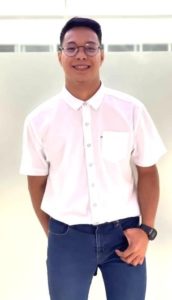 JOHN PAUL OBINIA told The Feast Family that he came from a broken family. His grandmother,
Lola Elena Calanoga, a massage therapist, and his mother Nelia, a barangay staff, struggled to support the family.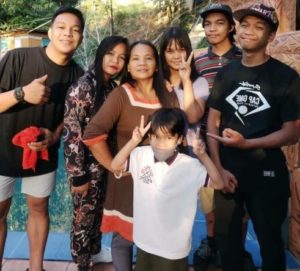 Here they are today happily making the Victory and thumbs up signs, from left:
John Paul, sister Donia Paula Obinia, mother Nelia, sister Clarissa, Mark Joshua, King Nelson, and nephew Jann Paulo.
At an early age, John Paul already learned how to earn money on his own.
He ventured to be a mangangalakal– collecting junk—so he could have money for the needs of his family.
He continued to be a junk collector from elementary up to high school. He went to Project 6 Elementary School, Ernesto Rondon High School.
Learning That God Cares
In 2005, John Paul, then only 10 years old, learned about the He Cares Mission– and that God really cares for him.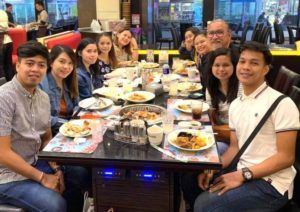 He happened to be with other kids collecting junk at Barangay Project 6 in Quezon City. Some volunteers from He Cares approached them and invited them to a feeding program for street children. There, they met He Cares founder, Bro. Joe Dean Sola, and other kids.
In 2008, He Cares granted John Paul a scholarship. Thus, he was able to go to college—at the Quezon City University– earning a Bachelor of Science degree, major in Industrial Engineering.
He Cares also supported John Paul's sister Clarissa. She studied the same course as John Paul did, and she is now in her fourth year at Quezon City University. Here is Bro. Joe Dean with successful He Cares Mission beneficiaries, clockwise, from left: Ronald Alcaraz, Joe Melyn Balino, Verginia, Jemalyn, Vangeline, Verlyn, Bro. Joe .Dean, Pauline, and John Paul.
Paying It Forward
In 2014, grateful for the He Cares blessing, John Paul paid it forward by volunteering as a youth leader.
"I started enjoying the weekly He Cares Mission program and eventually, I became one of the volunteers," John Paul shares.
John Paul liked the most helping build the He Cares foundation, fellowship with his co-volunteers, sisters, brothers, and the kids they are serving.
"I am happy helping preparing the food for the kids," John Paul muses. He points out the best lessons he learned in He Cares: "Always trust in the
Lord and have faith in Him. Think positively no matter what challenges you have to face in life."
Today, John Paul is a full time employee as a Project-in-Charge at RFDG Construction and Development Corporation.
From street child to company supervisor. Yes, indeed, God cares—for John Paul, for all His people.
–With reporting by Cybill P. Bayto