PAG-ASA NG PAMILYA Part 4
Feast of Hope
By HERSHEY ALDAY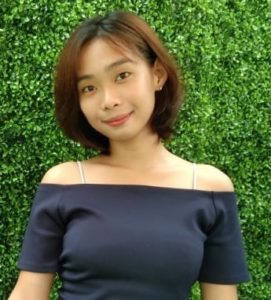 THE Pag-asa ng Pamilya Scholarship Foundation has given me education – both academic and spiritual.
We are a family of modest means. My father Roberto and mother Michelle are caretakers in a resort, earning for the basic needs of my sister Shelbert and me. Yes, just the basics—hardly nothing more for our education.
Sounds like a jargon already, but I am here to attest that God is good.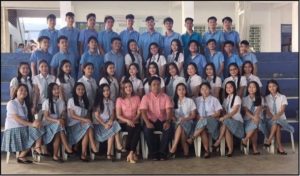 By His grace, I have a cousin, Camille Alday, who happens to be a godchild of my grandmother, Lola Ching Certeza. And Lola Ching just happens to know about the Pag-asa program.
Learning about it, I got excited and ventured to apply for the scholarship. And again, by God's grace, I was accepted! I became a scholar when I was in Grade 12 at the Janosa National High in Binangonan, Rizal.
Here, at right, is my class photo, Grade 11 in Janosa High.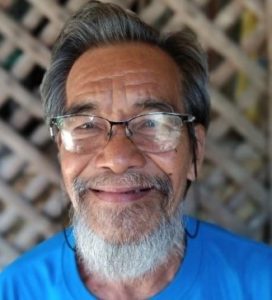 With the Pag-asa grant, I now worry less about my school needs. Like, before, I didn't have a mobile phone. So, I used to borrow one from my Lolo Domingo Alday (right).
But now, I have my own. I'm so thankful. Especially, because of the Coronavirus Disease (COVID) quarantines we have to do School-From-Home, so, I need a phone for the online classes.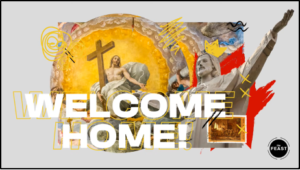 Spiritual Home
I am grateful that I have a grant for my academics —for this led to a bigger, priceless blessing: The Feast! Sis. Rowena Cequeña, a board member of Pagasa, introduced to us scholars The Feast online— called The Feast-at Home– sharing the link to our group chat.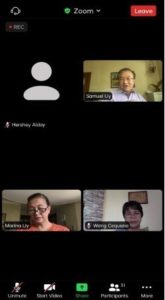 I first attended The Feast-at-Home in December 2021. And, this poster on the site welcomed me home! Yes, my spiritual home. What a joy!
You see, I used to be a lector in our church in Bangad,
Talim Island, in Binangonan, Rizal where my family and I used to live. There, I attended church every Sunday. But we moved to Cavite, so I stopped serving, especially when I started college.
Through The Feast, I felt the Lord calling me back to know Him more, to serve Him. Because at The Feast
I am learning not only about religious matters but practical lessons on how to be a true disciple of our Lord Jesus.
The Feast has helped me face life with courage, as I learned here my now favorite Bible verse, Isaiah 41:10: "So do not fear, for I am with you; do not be dismayed, for I am your God. I will strengthen you and help you; I will uphold you with my righteous right hand."
I am so grateful, that even online, our Pag-asa leaders are kindly taking care of us. Above right is a screenshot during our Zoom meeting with Pag-asa scholars and directors, from left: me, Mr. Samuel Uy, president of Pag-asa, his wife,
Sis. Marina Uy, and Ma'am Sis. Rowena Cequeña.
I'm currently in first year college at Amable M. Aguiluz College (AMA), working on a degree as Bachelor of Science in Business Administration Major in Marketing.There are times when I find studying hard because I prefer the face-to-face interaction classes. I understand the lessons better that way. Still, I get motivated to do well because my priority now are my studies.
I want to graduate and find a job so I can help my family.
Though we still have our day-to-day problems, I always find comfort and security knowing that the Lord is my strength. Indeed, as I learned in The Feast another promise of God, in Exodus 15:2: "The Lord is my strength and my song; he has given me victory. Whenever you feel weak, always remember that there's a God who's always with you to lift you up, don't lose hope because he gives you strength and he's not abandoning you."