PAG-ASA NG PAMILYA Part 5
Double Grant By JASMIN DE LA CRUZ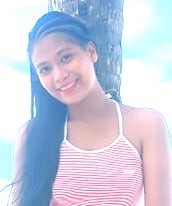 PAG-ASA NG PAMILYA is a foundation providing scholarships for youth in need.
Pag-asa has given me a double grant—academic as well as spiritual
Life wasn't actually easy for my family.
It was a struggle for my parents Alan and Joselyn to provide for the education of my siblings John, Jastine, Jerome, and me.
Elementary and high school were not so much a problem because there were the public schools that offered free tuition.
I went to Pugad Lawin High School in Quezon City where we live.
Still, it was a struggle for us to afford other expenses— for required school activities and for materials for projects.
Blessings
By God's grace, my mom became an employe of Shepherd's Voice Publications Inc. (SVP), a spin-off Ministry of the Light of Jesus Family, the faith community founded by Bro. Bo Sanchez.
Since she was with SVP, Mom eventually came to know about Pag-asa ng Pamilya.
In 2014, my mother applied for a scholarship for me. And by God's mercy, I received the scholarship grant that very year.
I'm now in my second year in college at Bestlink College of the Philippines, working on a degree as Bachelor of Science in Hospitality Management.
And now, I don't worry anymore where to get cash for my school needs, even for my food and transportation.
The Feast
Since she was with SVP, Mom also eventually came to know about The Feast, the weekly faith gathering of the Light of Jesus.
So, since we were kids, my mother has been bringing my siblings and me to The Feast at the Philippine International Convention Center (PICC).
And Mom signed us up to join the Awesome Kids Ministry which takes care of the children while the parents attend The Feast. And there, I learned a lot— how to write, draw, and talk to God through prayer. I learned to relate harmoniously with the children as well as our Ministry servants — building the self-confidence I still have to this day.
I will never forget those happy times during my childhood at The Feast.
At left, here we are with Bro. Bo Sanchez during an LOJ Team Building event in 2018, from left: mother Joselyn; little brother Jerome; Bro. Bo; little sister Jastine; eldest brother John Rol; me; and father Alan De La Cruz.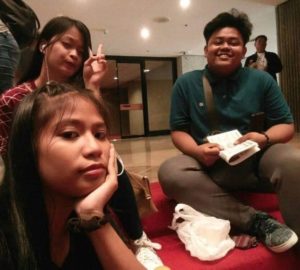 And at right, here I am making the Victory sign as I ham it up with my friends at The Feast, Rovie Joy Pinkian and Jose Angelo Vasquez.
Yes, Victory is how I define my life now— made possible through the Pag-asa ng Pamilya and the Light of Jesus Feast.
And I am simply grateful Mom applied for a Pag-asa grant for me. I am doubly grateful she
brought us kids to The Feast. I can say that the lessons I learn at The Feast help me in living my life focused in faith.
Still, there are more lessons I am excited to learn— academic and spiritual.