Dire Days in Anawim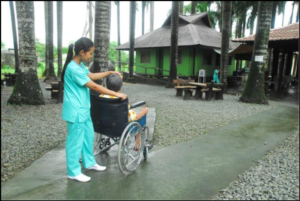 AS the Coronavirus Disease (COVID) Pandemic continues to hit us, our Mercy beneficiaries face a dire situation.
To stem the spread of the disease, the government has imposed community quarantines, if not total lockdowns. Thus, donors cannot visit our Mercy homes. Sadly, lesser visitors means lesser donations.
Such as being experienced by our Anawim Home for Abandoned Elderly in Rodriguez (Montalban), Rizal.
Most donations to Anawim are spent on basics such as food and medicines. With less contributions, Anawim has to find sources for other needs of our lolos and lolas. One of such needs: adult diapers.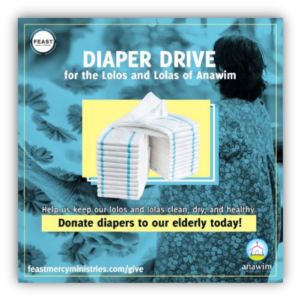 Right now, Anawim is serving 65 elders. And the average expense
for adult diapers is Php 128,700 monthly. That means Anawim is spending Php 1,980.00 per elder per month.
So, Anawim has launched
a Diaper Drive.
Small amounts gathered together will surely make a big difference to the operations of Anawim.
If your feel the Lord is touching you to support this campaign, kindly go to https://bit.ly/FMMDiaperDriveCampaign or to donate actual diapers, please send a message to the Feast Mercy Ministries Facebook page.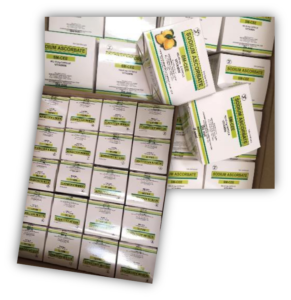 Thank You!
Thank you very much, Sir Gerald Mata and family
for donating vitamins for our beneficiaries. The Feast Mercy Ministries distributed
the donation to Anawim Lay Missions,
Grace To Be Born for pregnant women
in crisis,  and Jeremiah Foundation shelter
for abused girls.
If you prefer to give in-kind donation, please send the items to 60 Chicago St, Pinagkaisahan, Cubao, Quezon City.