ANAWIM HOME for ABANDONED ELDERLY PART 1 Counting My Blessings
By ANA MARIA D. NAVAL

I'M ANA. I've been through life's ups and downs. I've survived as I've received from our good God a number of blessings which, also by His grace,
I've been able to pay forward to those in dire need— as I was before.
This is my story.
I'm one of five children growing in a family I'd call dysfunctional— to say the least. That's because my mother was a battered wife.
But God has not abandoned us, showering us instead with blessings after blessings.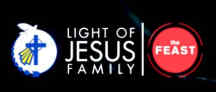 Blessing No. 1.   My very first blessing was my mother was able to find relief for us. She consulted a priest– I forgot his name– who helped my mother meet Bro. Bo Sanchez, founder of the Light of Jesus Family (LOJ) and its faith gathering called The Feast.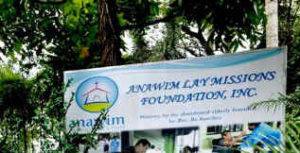 Knowing our ordeal, Bro. Bo kindly extended to us the benefits of LOJ's Mercy Ministries.
Prompyly, he arranged that we live in Anawim– Home for Abandoned Elderly — which also provides shelter for other indigents should the need arise.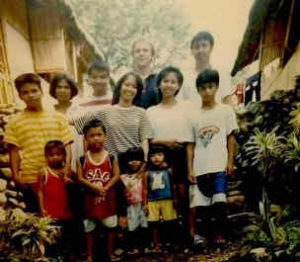 Trials and Triumphs
We started living in Anawim in 1995 and we stayed there for almost five years.
Here is an old photo taken in 1996 or 1997 when volunteers of The Feast and Fr. Steve Tynan (back row, in blue shirt), LOJ's spiritual adviser, visited Anawim with Bro. Bo (back row, extreme right). My mother is the one wearing white beside my brother Gilbert, (in striped yellow). I am that little girl, front row, in pink.
But, tried as she must, my mother could not adjust to life in a sheltered home. She decided to look for a job so we could move and live on our own.
Blessing No. 2. So, second blessing, Mom found a job as a caretaker in a resort.
At the same time, she worked part-time as a house cleaner for us to be able to survive day by day.
Blessing No. 3. Third blessing, Mom was able to send us to school. But yes, we've not been spared from life's downs.
Alas, when I was in my first year of high school, my mother got sick and she had to be confined in hospital. She could no longer afford to send us kids to school. So, again, she asked Bro. Bo for help.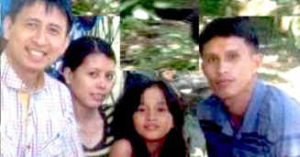 Blessing No. 4. Again, Bro. Bo came to our rescue. He arranged that I stay in Anawim together with my brother Albert, and Anawim also hired him as a maintenance worker.
Here we are in 2014, from left: Bro. Bo; yours truly; my brother's daughter Angelica; and my brother, Kuya Albert.
Blessing No. 5. Anawim's executive director, Bro. Caloy Dimson, knowing Mom could no longer afford to send me to school, introduced me to Pag-asa ng
Pamilya, established by Bro. Reylindo Ortega to provide scholarships for out-of-school youth.
So, as a fifth blessing, I became a Pag-asa scholar and I was able to go on to second year high school.
Blessing No. 6. I stayed in Anawim while I was studying in high school–
at San Isidro National High School. I still stayed in Anawim up to my college days at the University of Rizal System, Rodriguez Campus, where I finally earned a degree as Bachelor of Science in Social Work. Sixth blessing!

Blessing No. 7. After I graduated, as seventh blessing, I became a social worker for our Jeremiah Foundation for abused girls. I was happy as I felt I'd begun "paying forward" the many blessings I've received.
But still, I needed more experience as a social worker. After one year and six months at Jeremiah, I decided to resign and try a job outside the LOJ Community.
Blessing No. 8. I got a good enough job not only to help me improve my social work profession. l also got enough income to be able to help provide for our family. I was even able to extend help to my sister for her children's needs—
until I had my own family.
Blessing No. 9. I met and married Arvin Naval and I got pregnant last year, 2022.
Problem: I could not mix being a wife and mother with my very demanding job. So, I was forced to resign.
Blessing No. 10. Then, I found out from one of Jeremiah's staff that they needed a part-time social worker. So, tenth blessing, I started working for Jeremiah again.
Blessing No. 11. With my income, I've been able to help hubby Arvin to finish the construction of our house.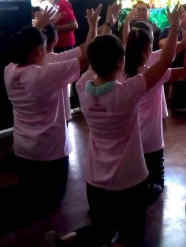 Blessing No. 12. I've also been able to extend support to my Mom and sibs.
Yes, it's been a roller-coaster life. But as you can see, I'm counting the blessings, more than the challenges.
What I love now is, yes, I am continuing to pay forward those blessings to the girls of Jeremiah.
And what I am deeply grateful for is this steadfast faith which I've received since at LOJ and its Mercy Ministries I've found our Lord Jesus– or by His amazing grace, He has found me!
All Glory to God!
Published by THE FEAST MERCY MINSTRY (March 5, 2023)