JESUS CHRIST CARES for CANCER FOUNDATION PART 1 Continuing the Ministry By GARY PUNO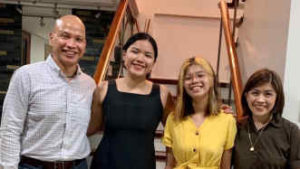 I SERVE as a Board director of Jesus Christ Cares for Cancer Foundation.
Before JCCCF, I served in another Mercy Ministry of the Light of Jesus Family— the Tahanan ng Pagmamahal, actively supporting the Ministry with my family. Here we are, from left: yours truly; eldest daughter Ginny; youngest, Geri; and my wife Gigi.
Tahanan serves abandoned, neglected foundlings and surrendered children.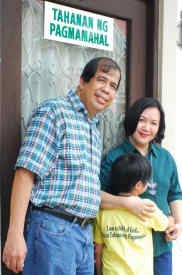 It's at Tahanan that I met Bro. Rey Ortega, JCCCF founder, and his wife, Myrna.
The individual stories of the orphans were too heartbreaking but these never broke their hearts. Instead,
I felt their determination to study.
Being a believer that education is a great equalizer in our society, my family and I have pledged a monthly contribution to JCCCF, which was used to provide education for the orphans and whatever Tahanan needed then.
My family, particularly my kids, were also in charge of fulfilling the Christmas wish list of the orphans.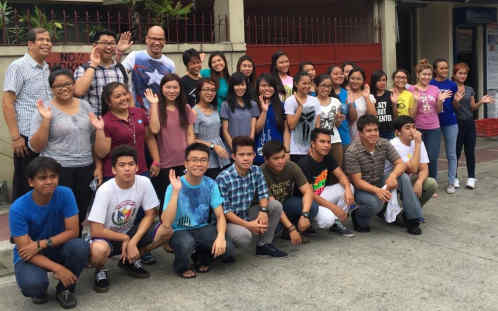 Calling
Sir Rey exposed me to the other LOJ Mercy Ministries.
One, the Pag-asa ng Pamilya which provides scholarships to youth in need. Bro. Rey invited me to give a talk to the scholars and their families. Above, here we are with a batch of our scholars and their parents: Sir Rey (back row, extreme left) and Bro JC Libiran (beside him) who also gave a talk.
Sir Rey also asked me to assist him with some of the activities for H.A.I.L. Mary (Healthcare Assistance for the Indigents and Lepers of Mary) and Jeremiah
33: 6-7 Foundation, our shelter for abused minor girls.
Sadly, Sir Rey suffered cancer and this led him to establish Jesus Christ Cares for Cancer Foundation.
I will never forget that day I was walking in a mall, when Sir Rey called me on my mobile phone. He apologized because he said he had kept something from me— that he was diagnosed with cancer.
People who saw me walking in the mall then must have thought I was going through something really bad— because I was crying like hell.
Then, Bro. Rey asked me, "Can you be one of the founding directors of JCCCF?"
Without even understanding the responsibilities of a founding director, I gladly said, "Yes!"
In hindsight, that somehow stopped my emotional outburst.Why? Honestly, I had no idea. Did I just run out of tears then? Probably.
Bro. Rey passed away on July 1, 2017, after a brave battle with cancer. He was 70 years old.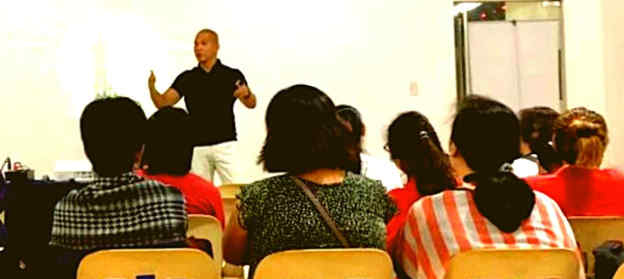 Serving My 'Idols'
When Sir Rey was still alive and was actively leading JCCCF, I merely followed what the group agreed to do then— aside from fulfilling my family's monthly pledge to the Ministry. That was our way of giving forward.
It was when Sir Rey left us that I got more actively involved with JCCCF.
I wanted his selfless legacy to help cancer victims among the poorest of the poor to be alive – even if he was already gone.
On November 21, 2018, I was invited to give a short inspirational talk to my idols (above). Yes, I call the JCCCF beneficiaries my "idols" just like the orphans at Tahanan ng Pagmamahal and the scholars at Pag-asa ng Pamilya.
I was jittery because I never met any of them before. My close relatives
and friends know that I'm a weakling when it comes to seeing people with medical conditions— I faint at the sight of blood. That's why I wasn't able to fulfill
my late dad's dream for me of becoming a doctor
Fortunately, the JCCCF audience made me feel very comfortable during my talk. That was definitely one of my most memorable talks. I know my voice cracked several times because I was trying to hold back my tears— yes, I'm such a cry baby!— when I saw the smiles, the extra twinkle in their eyes, and their eagerness to find out what I was about to say next. Those were more than enough for a speaker to feel so fulfilled.
But, wait. There's more! After my talk, some of them approached me to personally thank me for giving them an extra boost to go on with whatever they were going through. One of them even wrote a poem about what I shared
with them. I was humbled.


I felt the appreciation shown by the JCCCF beneficiaries was just too much. For what? For just sharing some personal stories with them for a few minutes. That's all! Anyone can do that. It wasn't such a big deal but for the beneficiaries, it was a big thing!
A big thing for me is this blessing: keeping alive Bro. Rey's Ministry for the least, the lost, the last.
I feel this is a big grace— I am deeply grateful for the privilege of serving with the indefatigable JCCCF Board members with no less than Bro. Hermie Morelos, chairman of the LOJ Mercy Ministries and who also serves as JCCCF vice chair.
Above, here we are during a Board lunch meeting hosted by JCCCF Chairman Bro. Alo Gelano at the Lyon's Café in Shangri-la Plaza, from left: Gil Ramos, head, Admission and Aid Committee; his wife, Dang, auditor; Maritess Cordero, secretary; Hermie Morelos; yours truly as Board director; and Alo Gelano.
Being with my JCCCF idols, I remembered that the saying, "It's better to give than to receive," was not only applicable in boxing.
Try going out of your way to serve the less fortunate. Or try sharing His blessings – your time, talent, and treasure – with them. Or try simply putting
a smile on a beneficiary's face. Believe me, you won't regret it!