JESUS CHRIST CARES for CANCER FOUNDATION PART 2 Come, for Everything Is Now Ready
15 When one of those at the table with him heard this, he said to Jesus, "Blessed is the one who will eat at the feast in the kingdom of God." 16 Jesus replied: "A certain man was preparing a great banquet and invited many guests. 17 At the time of the banquet he sent his servant to tell those who had been invited, 'Come, for everything is now ready.' 18 "But they all alike began to make excuses… —The Parable of the Great Banquet, Luke 14:15-24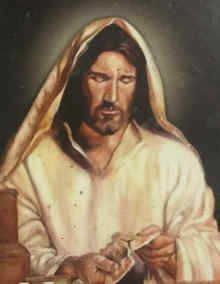 DON'T we all sinners like to sit at the table where everything is ready? Where we don't have to wait and suffer in hunger?
Jesus made this possible through the Cross.
He made everything ready for us and paid for our sins.
All we have to do is repent and dine with Him at His table.
Jesus Christ Cares for Cancer (JCCFC) Foundation presents today the fruit of God's preparation at His table— the fruit of His faithfulness. That's why we are capable to serve others because God already served the food for us—Jesus, our Bread of Life.
7th Anniversary Celebration
On October 8, 2022, Jesus Christ Cares for Cancer celebrated its
7th Anniversary over lunch with the Board of Directors and staff of the Ministry.
Bro. Hermie Morelos, chairman of our Light of Jesus Family Mercy Ministries, and also serving as vice chair of JCCFC, expressed deep gratitude to God for the Anniversary celebration: "Maraming salamat po sa pagtitipon na ito. Tinawag Mo kami upang magsilbi…— Thank You, Lord, for this gathering. Thank You for calling us to serve.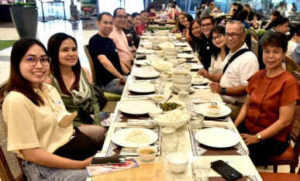 Above, officers and supporters, from left: Rowena Cequena, head, Finance Team; Dang Ramos, auditor; Gil Ramos, head, Admission and Aid Committee; Hermie Morelos, vice chairman; Marin Uy, director; Maritess Cordero, board secretary; Alo Gelano; chairman; Francis Ortega, representing his sister Claire Ortega-Reyes, auditor. Francis and Claire are children of JCCFC founder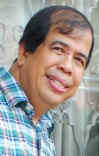 Rey Ortega (left).
At right, joining the
celebration: Cybill Bayto (white shirt),
The Feast Family reporter-writer, and to her left: Jing Rangasajo, Mercy Ministries executive assistant.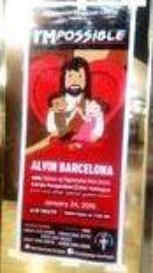 Blessings
Indeed, there are so many blessings JCCFC thanks for. Here are our JCCFC milestones as of October 2022:
Benefit Concerts
At the request of our founder, Bro. Rey Ortega, Feast Builder and Preacher Bro. Alvin Barcelona staged a benefit concert for the Foundation dubbed I'm Possible.
Feast Builder and Preacher Bro. Adrian Panganiban and Bro. Michael Angelo Lobrin, inspirational speaker, supported the Concert which featured special guests Niki Yokingco, Cynthia Garcia, Darius Razon, Barcelona Academy, and Tahanan Ng Pagmamahal artists.
Proceeds from ticket sales and individual patrons financed JCCFC's cash aid program for some 50 beneficiaries in 2016.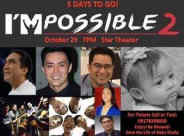 The show was so successful that the group mounted
I'm Possible 2, again led by Bro. Alvin Barcelona and Bro. Michael Angelo Lobrin.
The show featured actor Lance Raymundo, the Himaya Band, M3SY Singers, Jhyleanne Rington, Al Aguilar, among others.
The Concert helped fund the liver transplant of a baby.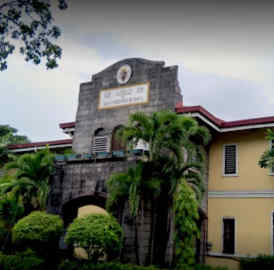 Lodging House for Cancer Patients
For treatments, cancer patients from far-flung areas need to come and stay in Manila, usually at the Philippine General Hospital (PGH).
JCCFC teamed up with the Asilo de San Vicente de Paul Orphanage to provide a lodging house for them.
General Assembly
At the initiative of servant- leaders, JCCFC hosted a monthly get-together with beneficiaries and their families from April 2018 to February 2020. The general assembly was abruptly suspended when COVID-19 struck in March 2020.
The monthly gathering was organized to provide spiritual nourishment and uplift the morale of cancer patients and their immediate family members. Some of the activities held and special guests invited to the monthly gathering are:
Motivational talks. Speakers included social media evangelist Fr. Luciano Felloni, Fr. Arlo Yap, SVD, Fr. Michael La Guardia, SDB, Bro. Arun Gogna,
Bro. Obet Cabrillas, Bro. Gary Puno, celebrity psychiatrist Dr. Bernadeth Manalo, among others.
Healing Mass presided by Fr. Fernando Suarez.
Counselling service and art therapy with the Light of Jesus Pastoral Care Center volunteers.
Tips on services offered by non-governmental organizations (NGOs) and government agencies presented by Carewell Foundation.
Free professional massage therapy courtesy of HaGod Alternative Medicine and Learning Center under the helm of Omil Lameda.
Free beauty makeover by Mary Kay beauty specialists, with free cosmetics and personal care products from Malou Nohara.
Kilay At Gupit (eyebrow and hairstyling) courtesy of Gino Medina's Artista Salon hairdressers.
Christmas concert starring Bro. Adrian Panganiban, Man with a Million Voices Lucky Robles, Feast Mega Manila Youth leader Zildjian Pigao, and singing Supreme Court Judge Eugene Paras.
Feast Video featuring Bro. Alvin Barcelona, Bro. JC Libiran, and Bro. Dr. Didoy Lubaton.
Lunch was served and cash aid given to the patients after the main program.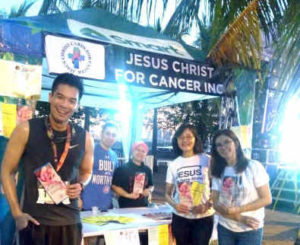 Charity Run
AffiniTea, milk tea maker, sponsored a charity fun run dubbed It's All About Jesus— the first time JCCFC was chosen as a beneficiary of a charity fun run. Special thanks to Feasters Mark Liu and Mark Villapa for organizing the event and spearheading the donation. Happy to serve, from left:
Towpy Tejano, Feast Bay Area voiceover artist; Alo Gelano, JCCFC chairman; Betty Correos, beneficiary; Maritess Cordero, board secretary; Divine Grace Isidro, coordinator.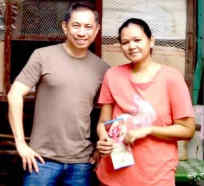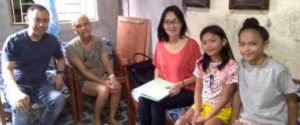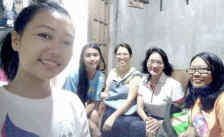 Home Visits
Prior to the Coronavirus Disease (COVID) Pandemic, JCCFC directors and coordinators traveled as far as Guagua, Pampanga, in the north to Sta. Rosa, Laguna, in the south to minister to cancer patients requesting financial assistance.
The home visits enabled the Mercy Ministry to properly assess the needs of the patients and their families.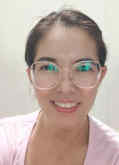 Online Remittance
The global COVID Pandemic posed new challenges to JCCFC. The Foundation gives financial assistance to patients during its monthly general assemblies. But to follow Pandemic protocols, we had to put on hold the monthly assemblies. Moreover, beneficiaries whose family members lost their jobs needed help more than ever.
By God's grace, despite the difficulties, the cash aid program continued through online cash remittances. We have Sis. Divine Grace Isidro to thank for facilitating the bank transfer and GCash remittances every month since March 2020.
Sis. Divine also serves as a coordinator on top of her full-time job at the Catholic Filipino Academy.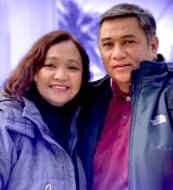 Admission and Aid Committee (AAC)
To determine the proper service for the beneficiaries, JCCFC has formed the Admission and Aid Committee (AAC), headed by the husband-and-wife tandem of Bro. Gil and Sis. Dang Ramos. Bro. Gil created a set of criteria for evaluating the application of cancer patients in need
of cash aid. Bro. Gil and Sis. Dang are active servant leaders of the Feast Bay Area Couples Ministry and they support other LOJ mercy ministries.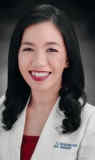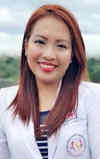 Volunteer Doctors
One of the biggest blessings JCCFC received is having hardworking, dedicated doctors as volunteers: Dr. Dyan Sabalvaro (right) and Dr. Adel Gonzales (extreme right).
They go over medical records potential beneficiaries submit. They do so on top of their full-time jobs and family responsibilities. Their recommendation is a crucial element in the AAC's overall assessment.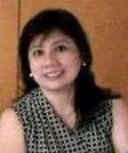 Prayer Partners
JCCFC Prayer Partners are silent heroes. These intercessors, led by Dr. Lota Fragante, serve the Lord by praying and offering Holy Mass for specific cancer patients assigned to them. The time and energy they devote have yielded miracle healing for a number of beneficiaries.
We believe prayers are more important than the money we give them.

The Feast
Our beneficiaries first experienced the lively and life-changing Mass and Worship at the Feast Bay Area (FBA) afternoon session led by Bro. Alvin Barcelona and Bro. JC Libiran in 2018.
Some beneficiaries also took part in our Christmas fundraiser at the Feast Bay Area morning session with Bro. Bo Sanchez and Bro. Audie Villaraza in December 2019.
Above, at the Feast Bay Area Philippine International Convention Center (PICC) on December 22, 2019, during a fundraising campaign, from right: Feast Builder Bro. Audee Villaraza; JCCFC chairman Alo Gelano;
Maritess Cordero, board secretary; and cancer patients.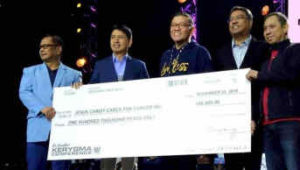 Feast Conference
JCCFC has been a regular beneficiary of the Kerygma Conference, now named Feast Conference, the annual inspirational learning event of the Light of Jesus Family.
Here, during the turnover of portion of proceeds of the Conference on November 25, 2018, from left: Bro. Hermie Morelos, LOJ Mercy Ministries chairman; our founder, Bro. Bo Sanchez; Bro. Randy Borromeo, head of the Shepherd's Voice Radio and Television Foundation which mounts the Conference; Bro. Arun Gogna, Feast Bay Area District head; and Bro. Alo Gelano, JCCFC chairman.
Ready Now
God started JCCFC. And so to Him, our praise and deepest gratitude forever.
JCCFC's success over the years would have not been possible without the dedication of the people who promptly answered God's call to love and care for the sick. We honor and thank our directors and other volunteers, those who support the Ministry, and donate generously. To them, we firmly assure the fulfillment of the promise in Philippians 1:6:
"I am certain that God, who began the good work in you, will continue His work until it is finally finished on the day when Christ Jesus returns."
God fulfills the promise also for all those He has prepared His Banquet of Love:
Come, for everything is now ready.