GRACE TO BE BORN PART 1 Climbing Out of Poverty By JINKY T. GILO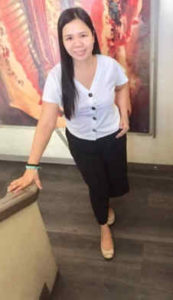 I SERVE as a social worker in Grace To Be Born.
Social work is helping vulnerable individuals to face their dire situation and guiding them toward a better life. Social workers are committed to the welfare of those in need.
Like me. Yes, I was close to being a welfare case myself. And it had been a hard climb for me to get out of poverty.
I come from a rural village in Iloilo. My father Rodrigo is a farmer, a solo parent for us six children—as our mother Lourdes succumbed to a heart ailment when we were just kids.
Yes, I know poverty, the reason I chose social work as my profession. By God's grace, I earned a bachelor's degree in social work at Central Philippine University in Iloilo on October 26, 2014.
By this time, my father was not getting any younger. So, I took over as the breadwinner of our family.
I left Iloilo to work in Manila. I started with a three-month contract with the Baclaran Church as a graveyard shift social worker at its Crisis Intervention Center. Yes, it was only a casual job. When my contract expired, I was jobless, unable to send money to my family.
Desperate, I thought I'd just go back home. But I would be going back to our old house that sorely needed fixing.
Blessed Journey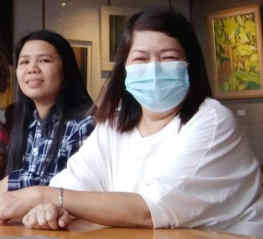 It's been a blessed journey. I stayed in Manila, struggling to find work, scouring recruitment websites. I found several offers. But what
I got interested in was this hiring post on JobStreet.com. for a social worker for Grace
To Be Born. I applied for the post, and promptly, I got a call from Ester Palacio (right), director of Grace. I went for the interview, passed it, and so, I started serving in Grace in April 2016.
With a regular job, I've been able to better fend for my family. We were able to fix our house. I got to help my brother Mark in finishing his studies. He's now done college and he's now supporting our family too.
Along my journey, I met the love of my life, John Kenneth Gilo.
We tied the knot first, through a civil wedding.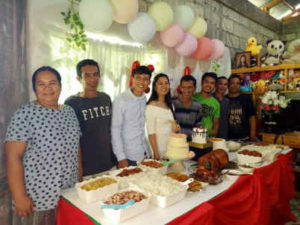 Here we are celebrating, from left: my sister Ritchel; brother Roland; John, and yours truly; my father Rodrigo; and brothers Mark, Vicente, and Randy.
Later, John and I went on for a good and honest blessed church wedding.
And a most precious blessing: serving the Lord through serving the mothers and children of Grace.
Thus, for me, God has well fulfilled His promise in Jeremiah 29:11:
For I know the plans I have for you declares the Lord, plans to prosper you and not to harm you, plans to give you hope and a future.
This is a promise God is definitely fulfilling in Grace– yes, giving every child the grace to be born.