Challenges… and God's Response
By CYBILL P. BAYTO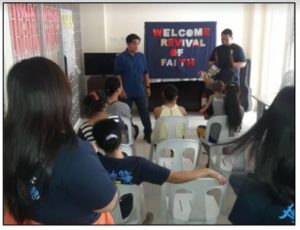 MARCH being National Women's Month, The Feast Family is focusing on women not only of the month but all days being taken care of by Grace To Be Born, our Feast Family's partner beneficiary devoted to taking care of unwed pregnant mothers in crisis.
In our issue last Sunday, March 7, 2021, we presented the mission and vision of Grace. For those who missed the issue, here's a recap:
Grace To Be Born is a non- profit and non-government shelter for abused and abandoned pregnant women. Aiming particularly to prevent abortion, Grace provides shelter for the women throughout the nine months of their pregnancy.
Just like most pregnant women, each Grace mother undergoes regular medical checkups, receiving the prescribed diet, including vitamins, to make sure she is healthy and strong enough to give birth to her baby.
As she waits for the time she would deliver her baby, she attends livelihood training workshops, along with other mothers in Grace, so that she will have a means of earning income to be able to fend for her baby.
And, most important, she goes through spiritual renewal and pastoral counseling to give her hope for a life of dignity after her ordeal.
COVID Challenges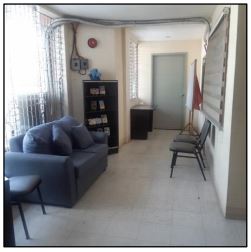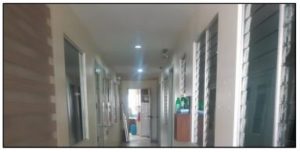 Empty hallway and visitors' lounge speak volumes of how, just as it has wreaked havoc worldwide, the Coronavirus Disease (COVID) has not spared Grace To Be Born from its menace.
Observing Quarantine distancing protocols to prevent the spread of the disease, Grace has limited visits to the shelter. Thus, we could not go to Grace for updates on its activities. So, for this issue dated March 14, 2021, The Feast Family checked on Grace via online interviews.
First, financial difficulties. Following Quarantine protocols, Grace has limited
visits from supporters who usually come with donations in cash or in kind.
Also, the Ministry is facing banking technical difficulties, thus it has hardly
received donations online.
So, the Ministry is facing cuts of resources for its daily operations.
Second, because of Quarantine limitations, some Grace personnel cannot report for work. Thus, lack of personnel has slowed down services for the mothers and the babies.
Third, Quarantine protocols have made it difficult to bring a mother to the hospital for her regular monthly checkups.
Also, hospitals nowadays are so occupied with COVID patients, they struggle to give time and space for the Grace mothers' regular monthly checkups.
Once a mother has given birth to her baby, the next problem, also because of Quarantine, is the difficulty of sending the mother back to her family.
For one reason or another, some mothers cannot bring their babies home. So, Grace puts up the babies for adoption.
By God's grace, there are kind parents, even from abroad, who want to adopt the babies. Grace has already successfully matched some babies with their respective ideal adoptive parents. But nowadays, because of Quarantine, a couple cannot come to get the baby they are adopting, or the Ministry cannot bring the baby to them.
God's Response
Amid the dire situation, God is working without let-up in responding to the challenges Grace is going through.
First, about finances. God has touched members of our Feasts to support Grace. The Ministry has more than ever relied on contributions from our Feasts received by the Light of Jesus Family.
And LOJ's Finance Department, headed by Sis. Rowena Cequeña, has made sure Grace gets its regular funds for its basic necessities.
Second, the Lord has been taking care of Grace personnel. Those who cannot come for work do their best to accomplish their tasks online.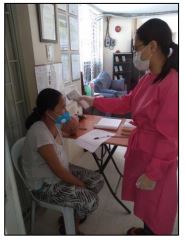 Grace also checks the health condition of those who are able to report for work, checking their vital signs regularly. Grace health officers make sure the employees observe the usual fitness drills— having a balanced diet of nutritious food, even taking vitamin supplements, exercising. And, of course, observing the anti-COVID protocols— monitoring each staff's temperature for signs of infection, requiring everyone to wear face masks, wash hands, even take a bath before they attend to the mothers and the babies.
The shelter also regularly cleans and disinfects all facilities.
Third, God has also tapped the Barangay in Pasig where the Grace shelter is located. One, the Barangay helps in conducting the mothers' checkups via the Zoom app as well as video conferences to check on the health of the babies.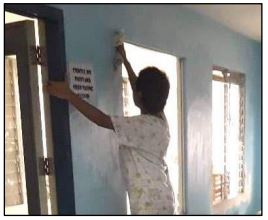 Two, for checkups that cannot be done online, the Barangay coordinates with the Department of Social Welfare and Development (DSWD) to provide transportation for the mothers' hospital checkups or when the time comes that they already have to give birth.
Still, as we write this, the light at the end of the COVID tunnel remains far, even unseen. Worse, there are news reports that variants of the virus have emerged, and instead of decreasing, the number of victims is escalating.
Thus, Ministry needs all the help it can get so that yes, a baby can be given the grace to be born.