GRACE TO BE BORN Part 1
By Faith, Not By Sight
IF you've been a regular follower of The Feast Family, you already know that Grace To Be Born was established on May 8, 2009. So, this May 8, 2022, Grace To Be Born is already 13 years old.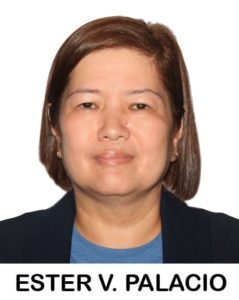 We celebrate Grace To Be Born's 13th Founding Anniversary by reminiscing blessings in this our journey to help pregnant women in crisis and yes, give their baby the grace to be born.
I've been very blessed to be the executive director of Grace To Be Born. This post has given me the priceless opportunity to make good use of my education as Bachelor of Science in Social Work, the degree I earned at Mirriam College, formerly Maryknoll College.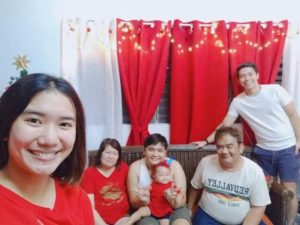 I've also been blessed with a loving family.
Here we are, from left: daughter Marie Renee; me; son Genaro holding Marie's baby, our grandson Avery; and Marie's husband, Avery Celestina.
Joy in Service
We are a simple family, blessed with unconditional love for each other—yes, grace that has inspired me to choose this mission serving mothers
and the babies.
In 2011, a friend told me that a Catholic faith community, the Light of Jesus Family, was looking for a social worker. I applied for the post and as our good God would have it, I became a social worker at Grace on June 1, 2011—and in time,
I was appointed as executive director.
I love serving here in Grace. I am very happy and grateful that I am able to serve the mothers and their children in the shelter.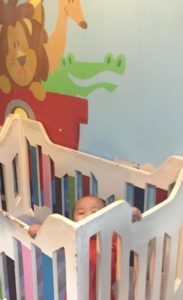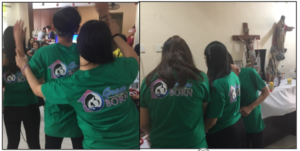 Above, the mothers entertain visiting donors at Christmas time. At right, attending Mass, a most important part of their spiritual nourishment.
At extreme right, a baby peers from his crib, so longing for attention from the guests. Each baby gives joy in the shelter, making my mission lighter.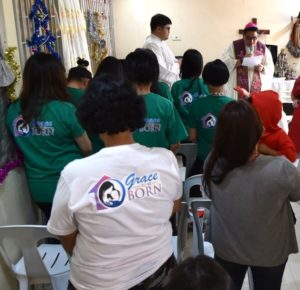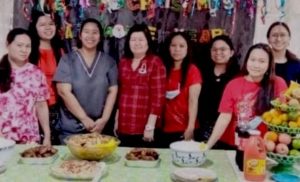 Blessings and Big Dreams
Serving with the Grace staff is also great joy for me.
Here is a photo taken during our Christmas celebration last year with our staff and volunteers, from left: volunteer Mel Dela
Gente; staff Jinky Gilo, Rochelle Del Monte; me; Anna Ojero, Joy Reyes, Anne Alianza, and Tin Sampang.
Grace has opened so many doors for me. Learning about the dire situation of the mothers before they came to Grace, I've well appreciated my family members and I've become closer with them.
I serve God, but as we often say, God cannot be out-given. God has returned to me the little I've given to this Ministry. I've well received financial blessings.
The best blessing is while we see to it that our mothers are spiritually nourished, we servants have also been filled with spiritual food—at the Mass held at Grace, and The Feast weekly.
And another blessing I'm so grateful for is that I've been able to share God's love to my nephews and nieces, encouraging them to participate in the Church.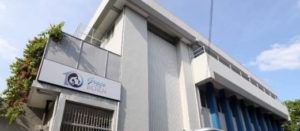 Yet, I still have big dreams— big dreams especially for our Grace To Be Born Ministry.
I have plans for the future of Grace and by the grace of God,
I believe that these plans will materialize in His Perfect Time.
As 2 Corinthians 5:7 puts it:
For we walk by faith, not by sight.