HE CARES MISSION PART 3
Battling Giants, Armies on the Streets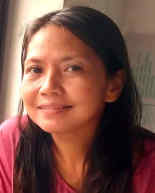 JUDITH ENRIQUEZ works as an executive assistant of He Cares Mission.
She shares: "I basically do kinds of errands for Bro. Joe Dean, He Cares founder, and his wife Sis. Ardis. Like I take care of purchasing supplies, filing of legal documents, sending letters via email to donors, maintaining our social media accounts, and checking maintenance of the building. I also handle all the needs of our programs and services."
Such gargantuan duties and responsibilities may already be God's plan for Judith even way back ancient times. For her name has been part of ancient Bible stories.
The name Judith stems from Hebrew origins meaning from Judea.
Judea is Greek and Roman adaptation of Judah. And from the Bible, we know that Judah was a son of Jacob. Because Jacob struggled with an angel, God changed his name to Israel meaning let God prevail. And so, from Jacob, the succeeding generation of Jews have been called Israelites.
Judah was founder of the Kingdom of Judah, a most powerful kingdom later ruled by King David and King Solomon. And, most important to us, from their lineage would come the Messiah, our Lord Jesus, who was born in Bethlehem, a small town on the hills of Judea. Yes, located in present-day Middle East, Judea was part of the ancient kingdom of Israel.
The Jews were God's chosen people, selected to be in covenant with Him, as we read in Deuteronomy 7:6: For you (Israel) are a people holy to the Lord your God. The Lord your God has chosen you out of all the peoples on the face of the earth to be his people, his treasured possession.
And from such grace, we have embraced this belief, this faith that we too are God's chosen beloved.
God's Call
Judith may well say that she has been called to be among God's chosen servants.
Way back in the 1980s, Bro. Bo Sanchez, founder of our Light of Jesus Family, also founded a spin-off ministry, Catholic Alliance for Evangelization and Discipleship (CALLED). Yes, to evangelize— teach the Gospels, and spread God's call for people to be His disciples.
Judith's elder sister Edel answered that call. She joined CALLED. She also became a reader of Kerygma, the inspirational magazine published by the Shepherd's Voice Publications (SVP) also founded by Bro. Bo to reach hundreds more through media. There's a portion in the magazine informing readers they could write Bro. Bo. So, Edel wrote him and asked how she could love God more.
Bro. Bo replied, giving her the schedule of the meetings of Daughters of Jerusalem (another ministry for women) in Cubao. She invited an officemate and together they attended the meeting. Then, they became regular members.
Edel encouraged Judith to join the group for the youth– Youth Mission for Parishes and Communities (YMPACT) where she worked for three years.
Also, Edel suggested to Judith to serve as volunteer in SVP. And Judith did. Joining SVP was a wake-up call for Judith.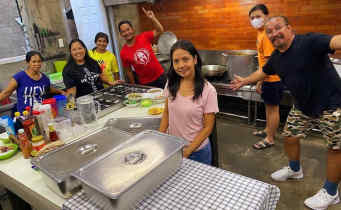 She says: "Although, I was attending Mass regularly, I didn't have a personal relationship with Jesus– not until I attended the Light of Jesus Crossroads retreat for new members held at the Maryhills Retreat House in Antipolo in May 1993.
She adds: "That was the time I began my journey with the Lord in a personal way."
In 1999, she served as full-time administration staff for the LOJ Counselling Center.
In time, Judith got acquainted with Bro. Joe Dean (right, in black shirt) who invited her to join He Cares Mission. "I started as volunteer," she shares. "And in 2003, I decided to work fulltime." Also, she began to attend The Feast held at the Bureau of Soils and Water
Management (BSWM) office on Visayas Avenue, Quezon City led by Bro. Eng Si.
The Heroine
Through her name, we associate Judith not only with the ancient Israelites but also, specifically, with one of them.
We read the story in the Book of Judith.
Among Israel's heroines was Judith, a beautiful widow who lived in Bethulia, said to be a town near Jerusalem in Israel.
Although favored by God, Israel sinned against the Lord—their major transgression was idolatry, choosing to worship other gods.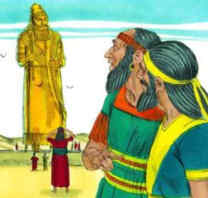 The Lord was so angry with Israel, He stirred powerful kings aiming to expand their territories to conquer Israel. One of them was King
Nebuchadnezzar of Babylon (Mesopotamia in West Asia, now Iraq).
Nebuchadnezzar ruled from 605-562 BCE (Before the Common Era – or religious neutrality—not just Jewish nor Christian).
He ruled over the territories along the Tigris-Euphrates Rivers (today known as Iran, Iraq, Turkey, and Syria). When he was born, Babylon was under the rule of Assyria (located northern part of Mesopotamia). But in time, Nebuchadnezzar drove away the Assyrians and he became known as king of Assyria as well.
Nebuchadnezzar built a golden statue of himself and demanded that politicians worship his image (Daniel 3:1,5). He sent his army to destroy nations who refused to follow his decree.
At right, image of the golden statue of King Nebuchadnezzar with Jews Meshach, Shadrach, and Abednego refusing to bow before the statue. The king had them thrown into a fiery furnace but they were not burned. The king saw a fourth man walking with them in the flames– said to be like the Son of God. Photo by BibleArtLibrary on Getty Images.—from freebibleimages. org
Yes, one nation which refused to follow Nebuchadnezzar was Israel where the Jews worshipped just one God, Yahweh.
Nebuchadnezzar's army, led by its general, Holofernes, set out to conquer Israel's prime city, Jerusalem. To the Jews, this must be, bottom line, sacrilegious as Jerusalem was their holy city, the seat of their Temple.
On their way to Jerusalem, Holofernes' warriors were about to rampage through Bethulia, Judith's town. Terrified, the leaders decided to surrender to Holofernes if God does not save them in five days.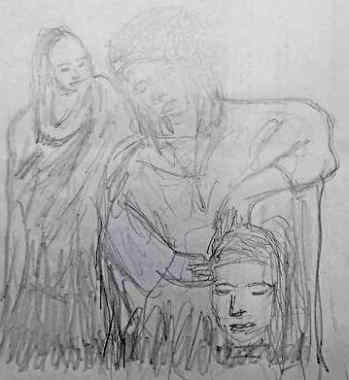 The Winner
Judith, a pious woman, thought that was such a blasphemous demand on God.
She told the leaders: "Nay, my brethren, provoke not the Lord our God to anger. 15 For if he will not help us within these five days, he hath power to defend us when he will, even every day, or to destroy us before our enemies. 16 Do not bind the counsels of the Lord our God: for God is not as man, that he may be threatened; neither is he as the son of man, that he should be wavering. 17Therefore let us wait for salvation of him, and call upon him to help us, and he will hear our voice, if it please him. (Judith 8:15-17).
With such a fervent faith, Judith took matters into her own hands—or her charm.
With a maid, she hied off to the camp of Holofernes, pretending to side with him. Knowing beautiful Judith supported him, Holofernes must have said, "Cheers!" raising a glass or more of wine, got drunk– and while he was down and out, Judith beheaded him!
Judith instructed her maid to put Holofernes' head in a basket so, as they walked out, no one in the camp knew what just happened to their general. Judith then arrived in Bethulia, holding Holofernes' head by his hair, brandishing the head in front of everyone!
Seeing that his army had no more leader, the Jews gathered enough courage to attack Holofernes's men, delaying if not totally frustrating their plan to conquer Jerusalem.
Judith thus was hailed her nation's heroine.
Judith showed to the people—and to this day, to us– that the weak can overcome the strong, the underdog can win— if we have complete trust in God. That through Him we can do the impossible like David defeated Goliath, like Judith subdued Holofernes and his army.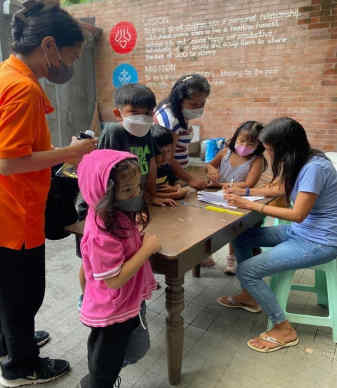 A Different Battle
Judith of He Cares has a different battle.
She is single and practically alone as her parents already passed away. She has two siblings, already in their 50s and already have a family of their own.
"My greatest blessing is He Cares has become my family," she says. "I also met a lot of good people who have become my friends. They are helping me in my journey with the Lord."
Yes, Judith needs an army of her own to support her in her mission to minister to street children. Above, Judith (in blue shirt and denims) with the children.
That is the army we know as He Cares Mission—out to battle poverty.
Poverty is the giant, the ferocious army that wayward children battle with on our streets. They need, maybe not one beauty brave enough to behead a drunkard. But one with courage, emboldened by deep trust in God to be able to bring those kids to a home where they will be cared for.
Judith has been blessed with faith to serve in such a home—in He Cares where she is assuring the children that yes, God truly cares for them.
This story was first published in the Feast Family Onlilne News Magazine.
Published by THE FEAST MERCY MINSTRY (August 27, 2023)