ANAWIM YEAR 27:For Lola Tina: 'Nothing Is Impossible' Part 4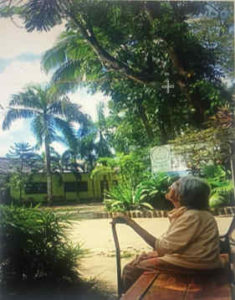 BEFORE coming to Anawim, she lived a harsh life– to say it mildly— caught as she was in unfortunate twists and turns of her family life.
So, to protect their privacy, we changed details about those involved in the story she tells Anawim Herald.
"There are only two of us children in our family," she starts. "My younger brother and I lived with our parents in the homof our father in the Visayas."
When she was only six years old, her parents separated. And she and her brother got separated too — she living in Luzon with her mother, her brother staying with their father.
Later, when she got older, she now and then visited her father who already had another family. In one of those visits, she met a man with whom she would have a son. Their relationship, however, would not last long. They separated and she moved back to her mother's hometown, bringing along her son.
To survive, she worked as a laundry woman, and despite her meager income, she was able to send her son to a private school until he finished college .
In time, her son got married. And then, she says, there came a time her son and his wife could no longer afford the rent of the house they were living in, so the couple and their children transferred to another town.
Left alone, she rented a room behind their house– until she could no longer afford the rent. So, she says, she had to stay in an abandoned vehicle.
"To survive, I went begging on the streets," she adds.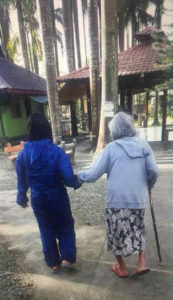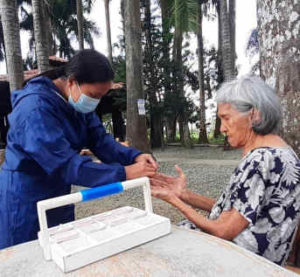 Then, a New Home
Soon, a concerned neighbor arranged that she be admitted in a half -way home run by the Social Welfare and Development Office in the city. There, a social worker eventually referred her to Anawim which readily admitted her.
Today, in her late 80s, Lola Tina, as everyone lovingly calls her, enjoys walking amid the palm trees surrounding the resort-like cottages of Anawim. In this, her new home, medical staff and caregivers attend to her daily.
"There was a time when I wanted to end my life…" Lola Tina reveals.
"But these days, God always reminds me how good and how faithful He has been to me. Today, whenever I feel down, He lifts me up and He turns my burdens into blessings."
We asked Lola Tina what's her favorite Bible verse.
Her answer: "Luke 1:37: Nothing is impossible with God."
That's the story of her life.
–Reprinted from Anawim Herald