ANAWIM YEAR 28 PART 2
An Anawim for God's Anawim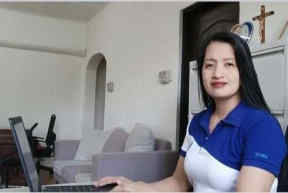 I REJOICE with Anawim on this, the 28th Year of our Ministry where
I happily serve as Center Administrator of our Home for Abandoned Elderly.
Anawim is a Hebrew word which means
God's poor. I was one.
Yes, I come from a family of modest means. But a family full of love. Both my parents worked as farmers. They usually left the house early in the morning and arrived home late in the afternoon. But even as they struggled to make both ends meet, they made it a point to have time for us seven children.
We lived in Banaue, Ifugao. I studied at Kinakin Elementary School located in Banaue, graduating in 1996, and Immaculate Conception School, also in Banaue, graduating in 2000.
I remember during my elementary days, every time there were school activities or projects where they were needed, my parents were always at our side to support us. They instilled in our mind the importance of education, loving the things that we are doing, and a good relationship with the people around us. This is why I was inspired to pursue and excel in my studies.
Sadly, when I was only 13 years old, my father died, succumbing to an illness. But life had to go on with my loving mother solely, courageously fending for us.
Finding Anawim
By my college time, we transferred from Banaue to Baguio City.
Knowing well the life of people in need—as I was one– I took up Social Work at Saint Louis University, Baguio City, graduating in 2004, and eventually
I became a registered social worker.
Then, I met Bernardo Binohhi in Banawe. He courted me in Baguio, and we got married in 2005. A year after, 2006, I fortunately worked as a social worker in an institution for the differently-abled children in Baguio City. I worked there almost five years.
Through those years, we were blessed with three children.
And because of rising needs of my family, I had to look for other job options.
I surfed the Internet and I chanced upon a post of the Anawim Lay Missions (ALMS) Foundation hiring for a registered social worker. So, I immediately inquired for the details through email.
I found out ALMS runs the Anawim Home for Abandoned Elderly, one of the Mercy Ministries of the Light of Jesus Family founded by lay preacher Bro. Bo Sanchez, here, at right, with me amid the lush greenery of Anawim.
Bro. Rey Ortega, then among the servant leaders in the LOJ Mercy Ministries, responded to my email. And long story short, I was hired as Anawim Center social worker on April 11, 2011. Year 2020, I was promoted as Anawim social services head.
And a year after, I was promoted as the Center administrator but still acting as the social services head.
When I started in Anawim, I had to transfer from Baguio City to the Anawim Center in Montalban (now Rodriguez) Rizal, leaving my husband and kids in Baguio. I usually went home to Baguio every week.
But thank God, after a year,
I was able to bring my family with me in Montalban.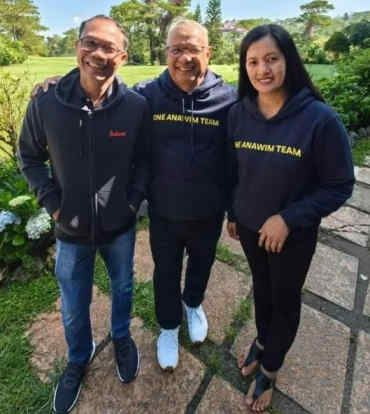 Administration Programs
As Anawim Center administrator, I oversee the overall operations of the Center, attending to both personnel and client members or resident elderly.
I confirm admission/discharge of members. I formulate plans,
programs, and policies and submit them for approval to our Anawim Executive Director Bro. Carlos Dimson, here at right, with Bro.
Hermie Morelos (center), Chairman of LOJ Mercy Ministries and also Chairman of Anawim's Board of Trustees.
I then ensure implementation of approved programs/policies.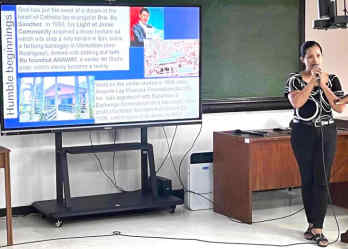 As social services department head, I supervise the day-to-day work assignments and distribution of workload of the social workers and social welfare aides.
Among other related services,
I also ensure that Anawim complies with all the laws and regulations of the Department of Social Welfare and Development which are pertinent to Anawim.
Here, I am presenting Anawim's programs in a recent seminar.
Overload of Blessings
Yes, heavy, full time, overtime job. But I don't call it that way. For me, Anawim is a load, overload of blessings.
Every day, I thank our loving God for these blessings. To mention some:
I've grown in my spiritual life. There are lots of spiritual enhancement activities in Anawim that allows us to grow spiritually.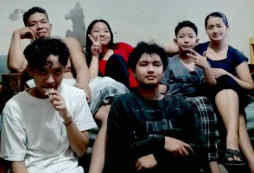 We have a Feast in Anawim with Bro. Hermie Morelos as our Feast Builder. Anawim Feast Light, as we call it—because it's a mini-version of the Light of Jesus Family—holds our prayer gathering every Wednesday.
My husband and children family have also become closer to God because I also share to them what I am learning in Anawim. My two children used to volunteer as an altar server in the Anawim Chapel.
Blessings, back row, from left: my husband Bernard, daughter Bea Mae, son Brent, and me. Front row, from left: sons Berhel and Ben Malic .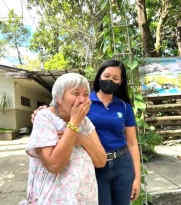 A family aside from my own biological family. I feel Anawim is my second home because in Anawim, we treat each other as brothers and sisters in Christ. I gave birth to my fourth/ youngest child in Anawim.
And so, I really feel the care and support of my Anawim family.
I work and serve at the same time. I love to take care of my mother but I couldn't because she is in the province.
By serving the elderly in Anawim, I feel I am also serving my mother while I am working— and that gives me a feeling of fulfilment.
My self-confidence is well uplifted. I am so blessed to have leaders in Anawim who believe in me and allow me to bring out the best in me and so with the other Anawim servants. We feel their love for us and so we also love serving in Anawim.
Yes, I am here, very blessed to serve the anawim—as I was once. To let everyone know that poverty is never a hindrance for God to reach out to those who feel the least and abandoned. He is our God who every day fulfills His promise: "For I know the plans I have for you," declares the LORD, "plans to prosper you and not to harm you, plans to give you hope and a future."
This story was first published in the Feast Family Online News Magazine.
Published by THE FEAST MERCY MINSTRY (October 8, 2023)