ALL OUT SERVICE
"And now these three remain: faith, hope and love. But the greatest of these is love."
-Corinthians 13:13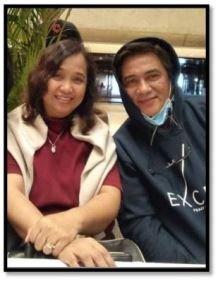 Today, we are introducing Jesus Christ Cares For Cancer (JCCFC) volunteers. Bro Gil and Sis Dang Ramos have no limits to how they give their time, talent, and treasure in serving the Lord.
In 2015, Bro Gil and Sis Dang were invited by Bro Ray Ortega, their Caring Group head, to serve in JCCFC. Bro Gil became one of the directors of the ministry since its inception in 2015. He is in charge of admission of qualified beneficiaries as head of JCCFC's Admission and Aid Committee, while his wife, Sis Dang has been a volunteer editor of all our community, the Light of Jesus' Mercy Ministries including JCCFC.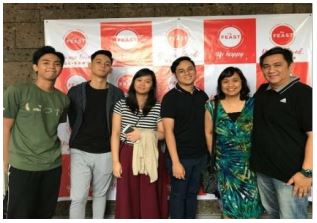 Their passion to serve God also inspired their children to serve as well in various Feast Bay Area ministries.
Their sons Amiel and Arvin are servants of OPM Music Ministry in Feast Ermita. Angelica, their daughter joined Music Ministry at Feast MOA, and Angelo is a servant in OPM Music Ministry at Feast Light Prima Residences Condominium. Gil and Dang are servants at the Feast Bay Area AM Session, Caring Group head, now called Light Group, in Couples Ministry. Mercy Ministries
I learned to commit myself in serving the cancer patients, giving my time and making it as a priority in all my other services especially when there are scheduled activities of JCCFC." Bro Gil said.
"In JCCFC, I learned to communicate with the cancer patients, talked to them in person, and most of all, I felt what was it like to have cancer because it was when we decided to serve JCCFC that I was diagnosed with cancer in 2018." Sis Dang said. By God's grace, she overcame it and was healed. Serving the Lord is life changing, and it is an opportunity to share the overflowing love of God to those who need it most. We are called to embody the love of Christ to others and Bro Gil and Sis Dang are one of JCCFC's selfless volunteers who untiringly and lovingly serve God through helping our cancer patients.
"Whenever I see cancer patients who have glimpse of hope it also affects me one way or another. It gives joy in my heart." Bro Gil shared.
"I became more focus with my health and have awareness that our life on earth is short and uncertain." Sis Dang warmly said.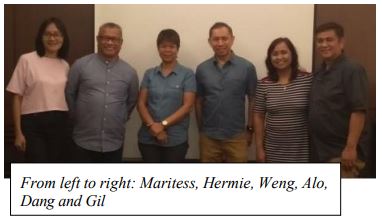 They also gained friends who have a heart like Jesus in serving the least of our brethren. Gil and Dang are able to appreciate life. "Heaven is not for those who live long but for those who live in faith", Gil said as mentioned in one of the sermons of Fr. Dave Concepcion.
Gil and Dang became closer to God. They became more generous in giving their time and even treasure.
Indeed, "…in all things God works for the good of those who love him, who have
been called according to his purpose." -Romans 8:28