JEREMIAH FOUNDATION PART 2 Abby: 'Why Am I Here?'

"BAKIT nasa Jeremiah ako?"
This was one of the questions she asked when we interviewed a child from Jeremiah Foundation, the home for abused girls which we are featuring for this Mercy series in the February issues of The Feast Family.
Briefly, Jeremiah Foundation was a brainchild of Bro.
Rey Ortega, longtime devoted member of our Light of Jesus Family, who based the name of the Foundation in the story of the Hebrews.
The Story of Jeremiah
According to the Biblical narrative, Abraham, the Hebrews' patriarch, was so faithful to God that He promised Abraham and his generation will live in Canaan.
The Hebrews were called Israelites from Abraham's son Jacob, who was re-named Israel, meaning let God prevail, because yes, he willingly let God prevail in his life. In time, Israel was divided into two kingdoms: Israel and Judah. Judah, meaning praised, was the son of Jacob from whose generation would come the Messiah.
Jerusalem, the capital city of the United Kingdom of Israel, had been attacked, captured, recaptured, destroyed by various tribes or kingdoms.
But God, forever faithful to Israel, promised in Jeremiah 33:6-7: Nevertheless, the time will come when I will heal Jerusalem's wounds and give it prosperity and true peace. I will restore the fortunes of Judah and Israel and rebuild their towns.
Such a promise would be fulfilled and ancient Canaan is now known as the Levant region of present-day Lebanon, Syria, Jordan, and Israel.
So, Jeremiah 33:6-7 has often been quoted to give hope for those in despair.
Like the abused girls Jeremiah Foundation is now taking care of.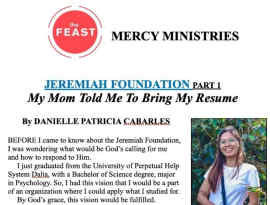 Answer to the 'Whys'
We started our series on the Jeremiah Foundation in our February 5, 2023, issue with the story of Danielle Cabarles (right), in-house Center counselor for Jeremiah. That means she gets to live with the girls helping them cope with their day-to-day whys.
Like Abby. As in every article on Jeremiah, we are not disclosing the child's real name nor her photo to protect her privacy.
Abby, of course, is in Jeremiah because she was sexually abused. We can answer Abby's question — the circumstances why she is in Jeremiah. But the better answer for her is to lend an ear to her musings.
Abby says she likes to read. She likes ice cream. She likes to play badminton and volleyball, and she likes outdoor activities. She also likes to have conversations. She speaks in beautiful Tagalog, but for mass communication,
we translate her words in English.
Even though Abby doesn't understand why things happen, her gratitude overpowers her every why. She is thankful for gifts she received last year.
"I got a human sized teddy bear, shoes, school supplies, and many more," Abby smiled that precious smile we cherish among our Jeremiah girls.
When they came to Jeremiah, the girls hardly smiled. But yes, Abby can smile now.
That's because the Jeremiah counsellors like Danielle Cabarles have been focusing not only on the psycho-social needs of the girls, but also, most important, on the spiritual nourishment the girls badly need— to know about God, have faith in Him, and trust that their dark circumstances do not define their future.
This is the reason she is in Jeremiah.
"Before, I didn't know God. I didn't know much about Him," Abby admits

She adds, "Pero ngayon po madalas na akong magdasal kasi natutunan ko po sa Jeremiah na magdasal araw araw…— But now, I often pray because I've learned in Jeremiah to pray every day…"
So now, she is lifting to the Lord a fervent wish: "I want to finish school." Yes, she has confidence her prayer will be answered.
Like God granted her one ardent wish.
"For my birthday, I wished that my mother would come visit me," she shares. "My mother came and hugged me."
— As told to Cybill P. Bayto
Published by THE FEAST MERCY MINSTRY (February 12, 2023)