A Road Less Travelled By DR. MA. BERNADETTE MANALO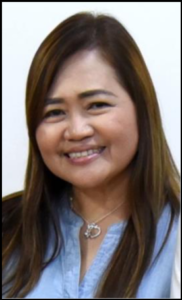 I BORROW my title from the iconic book Road Less Travelled by Dr. M. Scott Peck. In his book, Dr. Peck, a psychiatrist, presents how one may walk courageously through the path of pain and suffering— yes, the road less travelled, if not totally avoided.
I earned a degree as Bachelor of Science in Biology at the University of Sto. Tomas, and went on to study medicine at the West Visayas State University, College of Medicine. Now, like Dr. Peck, I am a psychiatrist myself, serving as a consultant at the St. Luke's Medical Center Quezon City and St. Luke's Medical Center Global (BGC). I am also associate professor II at St. Luke's College of Medicine.
And, now, I have this road I tried to travel less: the way to the Coronavirus Disease (COVID) wards in the hospital I work in.
Thoroughfare to Duty
When the COVID Pandemic hit the world, like most doctors, my life changed drastically. Doctors died at the call of duty. Fear engulfed us. I tried not to step into the COVID wards— until one day, my call of duty made me do so.
Devotion to duty has been engrained in me since way back my teen years, inspired by my mother, Sol M. Manalo, a judge. She was close to the religious order as she nearly became a nun. So, the nuns treated me well. And by God's grace, my spiritual journey started when I was still young at the Colegio De Las Hijas De Jesus.
Thus, it has become natural for me to serve God in various ways.
I was just in high school when I offered my talent in playing the piano in the celebration of the Holy Mass and school programs.
In college, I served as a writer of Pax Romana, school organ of the University of Sto. Tomas, dedicated to evangelizing mission of the Catholic Church through the promotion of peace and unity.
When I got married, my husband and I were active in Couples for Christ.
Light of Jesus Highway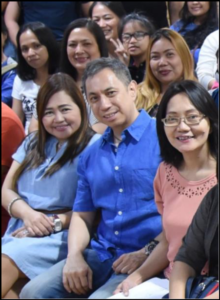 I found the road to the Light of Jesus Family through friends who attend The Feast, the faith community's prayer gathering. I attended The Feast once at the Philippine International Convention Center (PICC).
My faith enhanced, I've embraced this, my favorite Bible verse: When a believing person prays, great things happen. – James 5: 16
And indeed, I've been blessed with great things— especially ministries for the Lord.
From Feast PICC, it took me just a few more steps to the Jesus Christ Cares For Cancer (JCCFC), through a family friend, Alo Gelano, the Foundation's chairman. At right, here I am with Bro. Alo, Sis. Maritess Cordero, board secretary, and some beneficiaries.
As a medical practitioner specializing in mental health, I have been actively supporting JCCFC since 2018. I gave a talk on Having a Positive Mindset Amid Challenges for cancer-stricken children and adults in one of the Mercy ministry's monthly assemblies.
For the JCCFC general assembly in February 2020, I brought Gio Medina, the owner of Artista Salon, and his hairdressers for Kilay at Gupit, a makeover treat for the beneficiaries suffering loss of hair—a side effect of chemotherapy to arrest the spread of their cancer.
The pampering, giving a new look to the patients, was a big boost to their self-esteem and mental health. The general assembly was doubly special as it was the last get-together before the Pandemic struck in March last year.
More Trails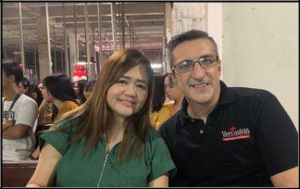 Through JCCFC, I met Fr. Luciano Felloni (right) of Parokya Ng Kristong Hari in Quezon City. The providential meeting led to mission work for their parishioners. It started with a seminar on December 8, 2019, for indigent families on coping with stress and life's challenges. This was followed by a similar talk for the youth, an online program in tandem with Fr. Felloni and Fr. Allan Samonte concerning depression vis-a-vis coping mechanisms, and counseling youths with troubled mind and suicidal tendencies.
JCCFC actively supports Asilo de San Vicente de Paul in Manila, and Bro. Alo brought me to the orphanage to hold consultation sessions with three cancer patients who were suffering from anxiety and other emotional concerns.
Family Lane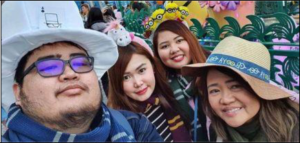 Over and above my many trips, the one I've taken to build a family is most rewarding as my children are turning out to be following my footsteps. Here we are, from left: Aldwin, 28, Philosophy graduate of the University of Sto. Tomas; Alyanna, 25, Pharmacy graduate and medical student at Fatima University; Agnes, 29, an entrepreneur and veterinary medicine student at De la Salle University; and me.
Road I Didn't Want to Travel
Yes, I've traveled a number of roads, been here and there, done this and that.
But the COVID road definitely scared me.
I was deeply fearful and did not even know how to do donning and doffing. I was horribly scared and I prayed long. I even told God and signed a contract with Him that I should never have COVID so I could help people.
My first COVID patient was an eminent surgeon and my former clinic mate. He was well-loved and called me his favorite shrink. He suffered from COVID in the intensive care unit (ICU) for three long months– intubated, alone, and unwilling to live anymore, as his doctors said.
I believe the Pandemic underscored my spiritual journey as it showed love and concern for others.
Pagmamahal sa kapwa. That's our service.
No, it wasn't easy to tread the COVID road. But I've long learned and been inspired by what Dr. M. Scott Peck said in his book:
Life is difficult. This is a great truth, one of the greatest truths. It is a great truth because once we truly see this truth, we transcend it. Once we truly know that life is difficult—once we understand and accept it—then life is no longer difficult. Because once it is accepted, the fact that life is difficult no longer matters.
So, yes, today, I am walking bravely on this road less travelled.